Issue: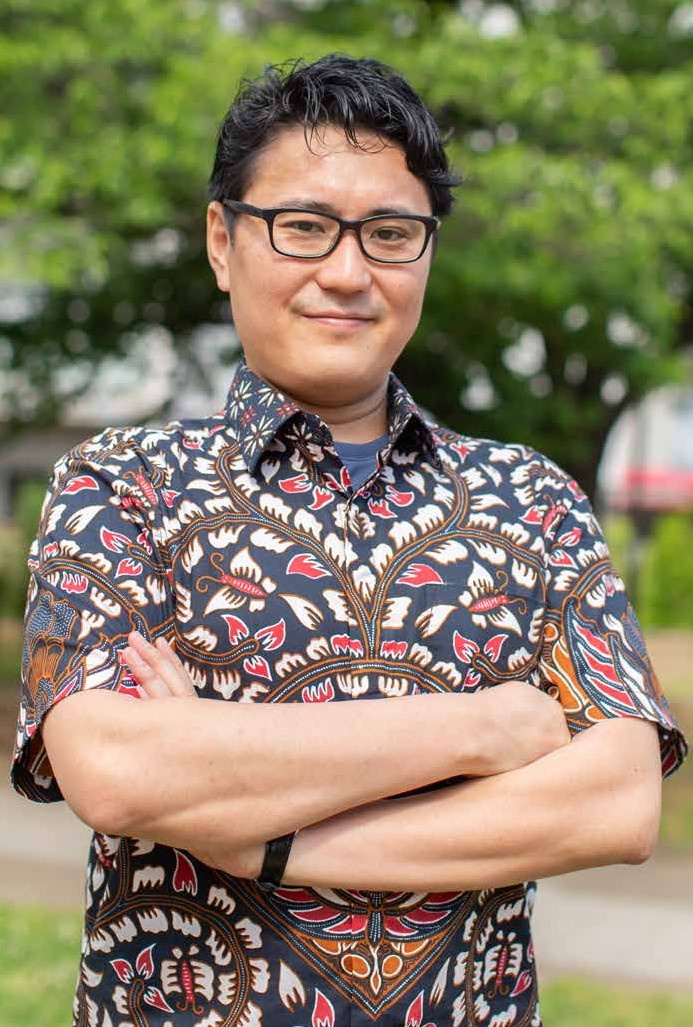 Not graduating high school and then working for TEPCO for seven years on the maintenance of power cables under Tokyo is far from a typical career arc for a bilingual Japanese journalist.  Though with the name he bears, Kantaro Suzuki was perhaps always fated to take the road less travelled.
"My grandfather was a shinyo tokkotai (motorboat suicide unit) stationed in Taiwan," explains Suzuki in a socially distanced interview via Zoom.  "He was waiting for the order to attack when Kantaro Suzuki, a former navy commander who became prime minister at the end of the war, convinced the Japanese government to surrender so his life was saved."
"I WANTED TO DO SOMETHING TO CONTRIBUTE TO SOCIETY, AND OBAMA'S 'YES WE CAN' SLOGAN KIND OF INSPIRED ME"
His grandfather wanted to name his own son after the PM, who survived three assassination attempts, but decided that the postwar era was maybe not the time for such a moniker. It was given to his grandson instead. Suzuki began teaching himself English while at vocational school and by the time he was ready to quit TEPCO had become proficient enough to win a scholarship to a college in Ohio on the basis of his application essays. While majoring in East Asian Studies, with minors in Geography and Chinese, Suzuki says his view of Japan's role in the war was impacted, not least by "many deep conversations with a great Chinese professor, who was intimidating at first."
Not interested in becoming a journalist at the time, Suzuki recalls how the "passionate debates" on campus about then candidate Barack Obama raised his awareness of politics and the media. "I wanted to do something to contribute to society, and Obama's 'Yes We Can' slogan kind of inspired me," he says, and led him to journalism.
Returning to Japan, he began a master's in journalism at Waseda University in 2009, writing about the rise of the Democratic Party of Japan and other political issues of the day for domestic magazines while studying. Struggling to make ends meet as his course came to an end and considering giving up on his new career, the triple disasters of 2011 led to a gig as a news assistant at the New York Times' Tokyo bureau. His contacts and inside knowledge from his TEPCO days proved invaluable, but coverage wound down in the aftermath, and Suzuki "looked for a new challenge. I wanted to be a reporter, like the guys I'd been working with."
His heart set on working in one of Asia's growing economies where he could utilize his English and Japanese, Suzuki coldcalled the Daily Manila Shimbun, a bilingual Japanese paper in the Philippines. Although impressed by his experience at the NYT, the editor said they had no vacancies. "I told him I was coming anyway and that I'd bought a ticket," recounts Suzuki with a laugh. "I said I would work for free for a month and if they thought I was worth hiring they could take me on as a full-time employee."
Working brutally long hours, he covered politics, business, Filipino 'comfort women' and crimes involving expat Japanese, as well as 2013's super typhoon Haiyan. "I was one of the first journalists to land and there were still bodies in the streets," says Suzuki. While there, short of supplies, "I had to beg the military for water and food."
Having spent nearly five years in the Philippines, where he met his wife, Suzuki left in July 2016, a month after Rodrigo Duterte took office. "He was not the reason I left, but all my sources at the ministries were out," says Suzuki.
Back home again, he began writing for Buzzfeed Japan, but found he was ill suited to churning out articles at breakneck speed and the associated demands of social media. A year later, he began freelancing again, writing articles and working as a photographer and live streaming producer.
In 2017, he teamed up with Norimitsu Onishi, with whom he had worked at the NYT in 2011, for a feature on isolated elderly people. Titled "A Generation in Japan Faces a Lonely Death," it became a Pulitzer finalist. "We talked every day for months with elderly people about life and death and I learned a lot," Suzuki says.
Another inspiring story was a recent piece on a Cambodian paraathlete who was raised in Japan after being born in a refugee camp in Thailand and is now a coach of young rowers. The article, in English, was his first for a Cambodian news agency, and collaborating with media across Asia is something Suzuki is keen to do more of. He is also set on covering the largely untold stories of the growing number of Asians working as interns or trainees in Japan.
Suzuki says his early belief that as a journalist he would "change society directly or make the world better . . . was actually wrong." He now thinks, "You have to distance yourself, you're not an activist, you're a reporter. I was also very idealistic; I didn't think there were dishonest journalists, but now I know there are," adds Suzuki with a wry smile.
Despite some tough times and a little disillusionment, Suzuki is sure he made the right choice in his change of career. "Financially it's tough, but I enjoy this reporting job," says Suzuki. "The idea that through my reporting and writing I can inspire someone, or trigger or motivate them, is just fantastic."
---
Gavin Blair writes for publications in Asia, Europe and the US.