Issue:
Have a book inside you that is just dying to escape? Here's a way to let it out.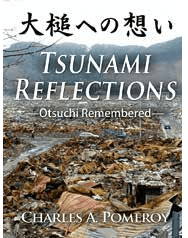 ANYONE WITH A book idea, or even a finished manuscript, knows how difficult if not impossible it can be to attract the attention of a traditional publisher. Very few publishers these days will even look at a manuscript unless it comes from an agent. For my memoir about Japan's 2011 tsunami, the initial interest shown by one traditional publisher faded as the estimated retail price climbed, thanks to my desire to include some 113 color photos and maps. On top of a declining interest in the subject matter by the public, that slammed the door on any deal.
My subsequent decision to check out self publishing possibilities for an e-book led me to Telemachus Press, one of a number of services for self publishers. Under this imprint, authors become "micro publishers" who pay for the services but own all rights to the book. Telemachus offers a number of options, including editing, design, and formatting as well as several publishing packages for both e-books and print on demand (POD) books. In return, the author/micro publisher, receives up to 70 percent in royalties from book sales (the booksellers retain 20 or 30 percent). It's a good deal if the book is successful.
The Telemachus response to my initial contact was a proposal to do a POD book as well as an e-book. They made the case that a POD book can be ordered one book at a time, anywhere in the world, and has the advantage of a relatively low production cost without warehousing problems. The clincher was their estimated retail price $5.99 for the e-book and $14.99 for the POD version. This was much lower than a traditional publisher, even with all those color photos. And their sales estimate would take me past the break even point, which had been a major concern.
I made the commitment in May of this year. Four months later, at the end of September, Tsunami Reflections, was launched as an e-book on the distribution networks of both Amazon and Smashwords. Though less familiar than Amazon, Smashwords is a major distributor of indie books to outlets like Apple's iBooks, Barnes & Noble, Kobo and many others.
The POD edition was made available worldwide in early October by Lightning Source, which can print and bind books individually at plants in the U.S. for North America, in the U.K. for Europe, and in Australia for Asia. Lightning Source is a subsidiary of Ingram, a major worldwide book distributor.
Although making the POD version available through brick and mortar outlets was also an option, the cost for making those arrangements and the necessary marketing efforts were beyond my means. Such traditional outlets are for a novelist with visions of a blockbuster, not for a retired and aging journalist reflecting on a recent disaster.
Also worth mentioning is that working with the Telemachus staff editor, project coordinator, production people and cover designer turned out to be a breeze. They were user friendly and professional, especially the editor who prompted a number of rewrites. After several tries, incorporating unfamiliar Japanese calligraphy on the cover of the book was neatly done by the designer. The project manager's role included welcome guidance for this neophyte in making separate contracts with Smashwords and Lightning Source in order to receive royalty payments.
The total out of pocket cost for the package and editing service I selected was a bit under $4,000. It could have been done at lower cost by going directly to Smashwords, which offers publishing services as well, but that would have required technical expertise beyond my capabilities in formatting an acceptable manuscript for publication. Telemachus seemed to offer a less stressful way to do this. (Amazon offers a similar publishing service through its CreateSpace service, but the cost of their POD color printing would have meant a higher retail price for my book.)
With self publishing, marketing and promotion is the responsibility of the author. So those higher royalties may do little more than help an inept marketer like me break even, but I will be happy with that. After all, my purpose in writing the book was simply to provide some personal insight on the tsunami and its aftereffects.
Goodreads, the "world's largest site for readers and book recommendations," offers some help in this regard. I joined and have been assigned a profile page, including a blog. They also offer low key promotional services at relatively low cost, but I have yet to work out a strategy to take advantage of this.
For those interested, a POD copy of the book is now available in the FCCJ library. It details the fate of Otsuchi the hometown of my wife, Atsuko, where we had built our retirement home and is a microcosmic look at the effects of the horrific tsunami that destroyed Japan's Sanriku Coast on March 11, 2011. The narrative provides geographical and historical context and reflects on the tsunami's aftermath, loss of family members and home, mass funerals, cultural aspects, humanitarian efforts and plans for recovery. As mentioned earlier, many color photos and maps are included.
I look forward to letting everyone know in a few months how my experiment with this new paradigm in publishing has worked out. By the way, this article is in no way a blanket endorsement of the companies named, but simply a record of my short career as a self publisher.
---
Charles Pomeroy retired from journalism 10 years ago and now devotes his time to writing books.