Issue:
March 2022
Former prime ministers Kan and Koizumi oppose "green" atomic option in FCCJ appearance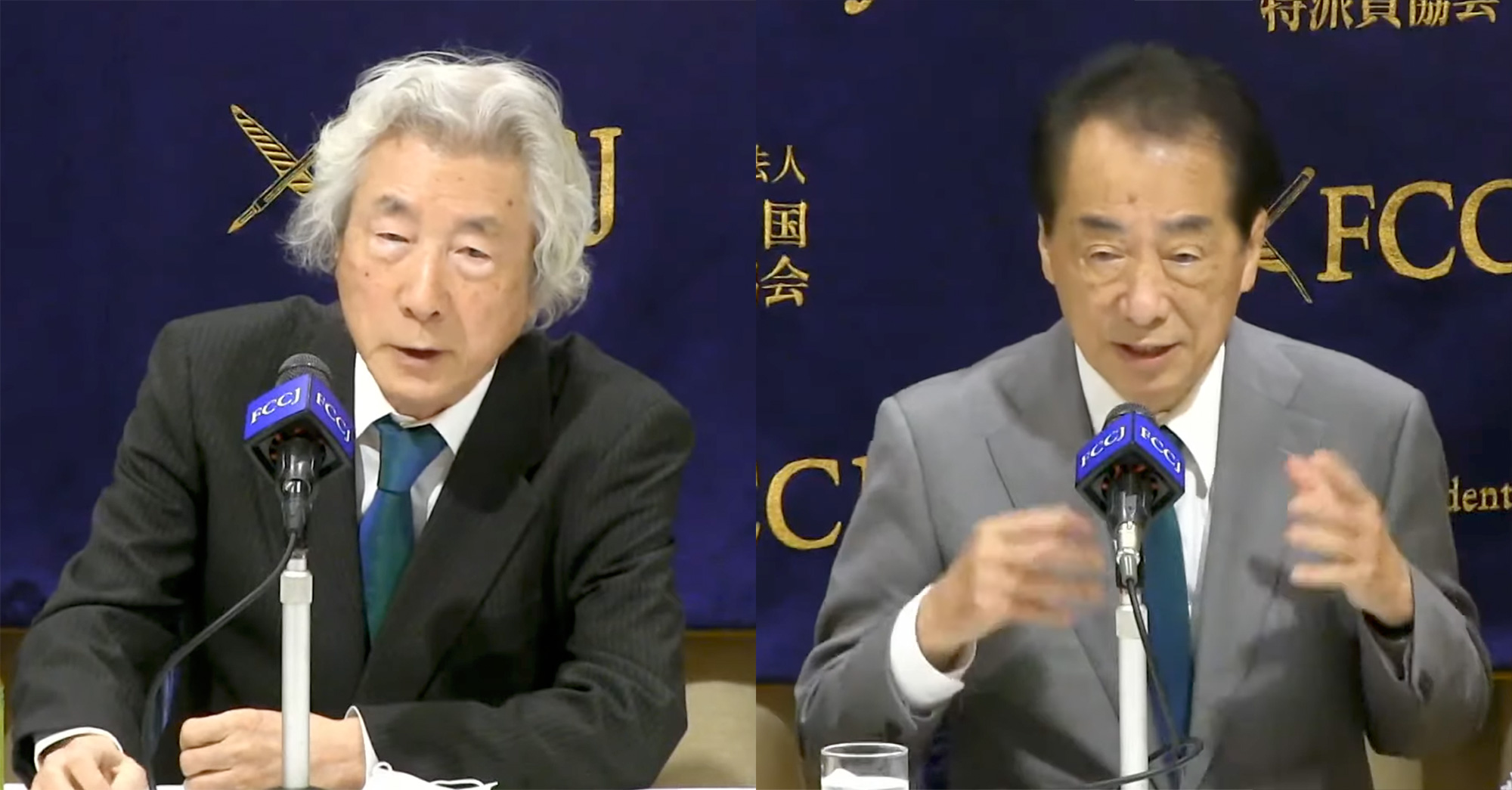 For former Japanese prime ministers Junichiro Koizumi and Naoto Kan, nuclear power is the villain of the 2011 Fukushima disaster. But others, both in Japan and overseas, see it as the key to addressing the climate crisis and securing reliable energy supplies in the future.
Kan's opposition to nuclear power was influenced by the fact that the Tohoku earthquake, tsunami and nuclear meltdown occurred on his watch in March 2011, while Koizumi's opposition is based more on environmental grounds.
But both former leaders, who spoke together at the FCCJ on January 26, appear to be at odds with changing international views on the necessity for a nuclear role.
What emerged from the United Nations COP26 climate summit in Glasgow at the end of last November was that the world is highly unlikely to meet commitments, set out in the 2015 Paris Agreement, to limit global warming to well below 2, preferably to 1.5 degrees Celsius, compared to pre-industrial levels.
The reason for doubt is that the world's leading emerging economies, notably China and India, appear unwilling to cut greenhouse gas emissions if it means sacrificing what they see as their right to achieve the same level of economic development that advanced economies have enjoyed.
This implies that emerging economies' use of fossil fuels – mainly coal but also oil and natural gas – will continue at current levels or even rise in the foreseeable future. Renewable energy sources – solar, wind, wave and hydrothermal - could in theory take over much of fossil fuel's role in generating power, but their output depends on weather conditions.
That being the case, a nuclear power renaissance is being seen as a means of supplementing fossil fuels and averting a threatened new dark age of power shortages and climate emergencies. Relatively recent advances in nuclear power technology that render it safer and cheaper than in the past (according to its promoters) are also bolstering support for the nuclear option.
Opposition to nuclear power remains strong, however, and the anti-nuclear stance of former leaders such Koizumi and Kan carries particular weight given that Japan has slashed its nuclear power output since Fukushima, while Germany and other countries have phased it out.
Koizumi and Kan refused to accept that nuclear is a "green" form of energy. Instead, they used their Club appearance to protest a European Commission move to "include nuclear power in the EU taxonomy to facilitate investment in projects that tackle climate change and other projects related to sustainability".
"Nuclear power cannot be safe," they said in a joint submission to European Commission President Ursula van der Leyen, adding that "promoting [it] can ruin a country". Radioactive waste from nuclear reactors "and the inevitable risk of major accidents threatens the survival of the global environment and the human species", they said. Kan argued that Japan had enough alternative sources of power to meet the country's energy needs without a role for nuclear.
Koizumi denied it was irresponsible to support a ban on nuclear power given its potential role in combatting climate change. Even so, support for nuclear appears to be growing even in Japan, the first country in the world to be targeted by atomic bombs, and where memories of the Fukushima meltdown are still fresh.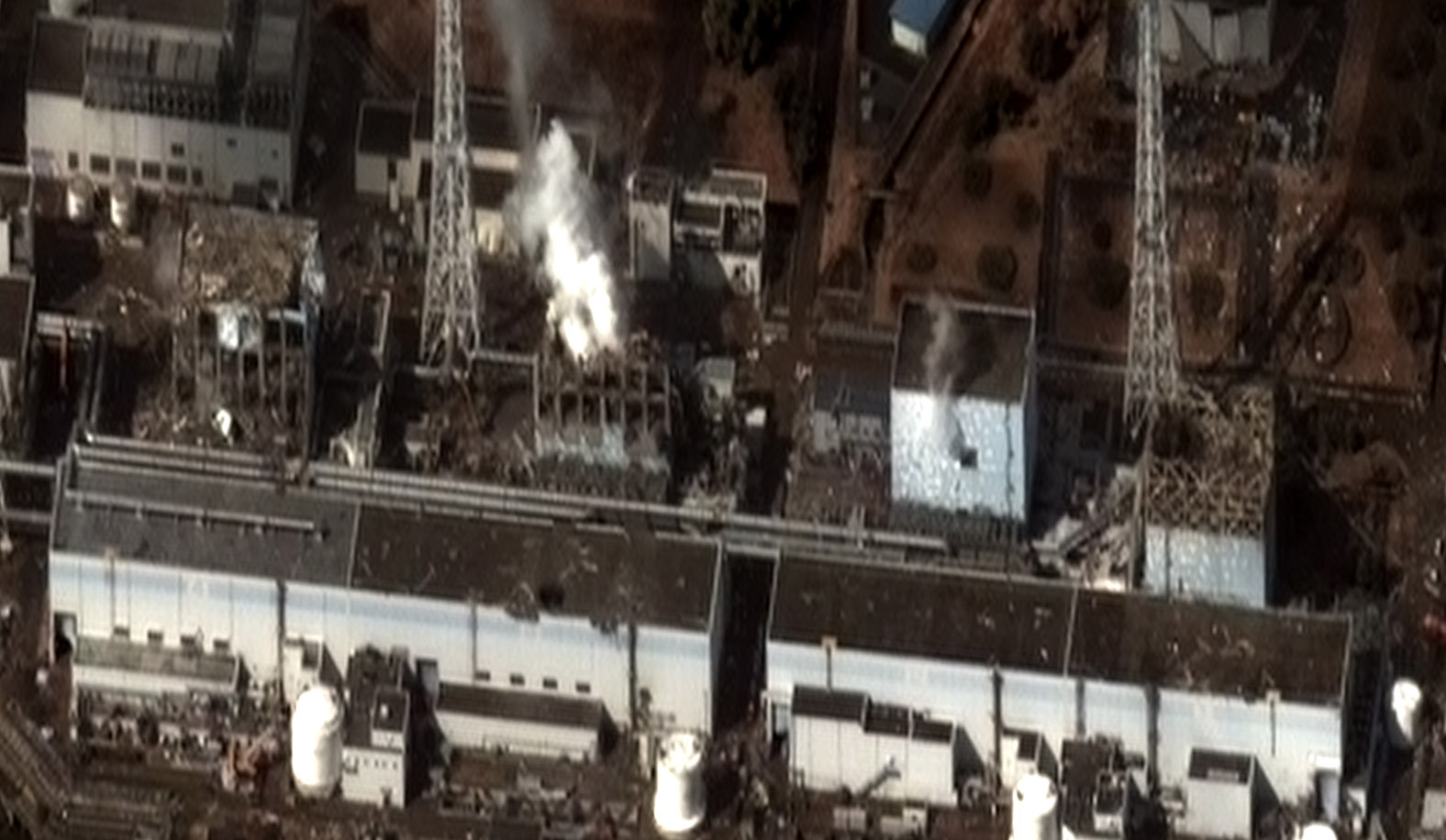 Just days after the FCCJ event, Kyodo News reported that the Japan Atomic Energy Agency, together with Mitsubishi Heavy Industries and Mitsubishi FBR Systems, had signed an agreement with Terra Power LLC to build a fast breeder nuclear reactor in the U.S. with assistance from the U.S. energy department. As Kyodo noted, this came after industry minister Koichi Hagiuda "vowed to bolster development of next-generation nuclear power technology in cooperation with the U.S."
The discussion in Japan is no longer centred on building huge and costly installations such as Fukushima Daiichi along its quake-prone northeast coast. Instead, the debate has shifted to small modular reactors, or SMRs, of the type pioneered in China and which are being researched in the U.S., Britain and Japan. These are said to be safer than conventional nuclear fission reactors and much cheaper and easier to operate.
In Britain, Rolls-Royce is developing SMRs, describing them as an "innovative solution that will redefine methods of delivering low carbon power", while China can claim to be the world's biggest proponent of new nuclear energy technology. It connected its first SMR to the grid at the end of 2021 – the world's first "pebble-bed" modular high-temperature gas-cooled reactor, which uses helium, not water, to drive turbines. It is designed to shut down passively, in contrast to systems (such as those that were in place at Fukushima Daiichi) that may not be able to trigger safety measures if the power supply fails.
But Koizumi and Kan remain unconvinced by these developments in nuclear technology. "Let us stress that a nuclear-free and decarbonised world is possible," they said in their submission to the EU.
---
Anthony Rowley is a columnist and contributor for The South China Morning Post.