Issue:
January 2022
Obituary
Fred Hiatt, Washington Post Editorial Page Editor, Former Tokyo Co-Bureau Chief, 1955-2021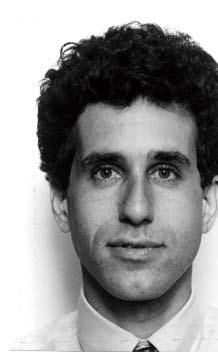 Fred Hiatt, editorial page editor of The Washington Post, passed away in New York on December 6. Veteran FCCJ members will recall Fred and his wife Margaret (Pooh) Shapiro as the Post's co-bureau chiefs in Tokyo from 1987 to 1990. Fred had been shopping with family the day before Thanksgiving when he collapsed on the street. Though rushed to a nearby hospital thanks to a 911 call made by a stranger, Fred failed to regain consciousness. He was 66.
Lengthy and detailed obituaries in both The New York Times and Fred's own paper paid homage to his legacy not only as staunch defender of human rights and democratic values but also as a news professional imbued with seemingly effortless charm and sense of decency.
Colleagues from his Tokyo days echoed these same feelings. The New York Times reflected on Fred's more than two decades "atop one of the nation's most visible and influential opinion platforms" where he had worked "to support justice and human rights." Fred offered dissident Saudi journalist Jamal Khashoggi a column in the Post, and when the latter disappeared after entering the Saudi consulate in Istanbul never to return, Fred left a blank space on a page where Khashoggi's column usually ran.
Fred also wrote in support of Burmese political leader Aung San Suu Kyi when she was in prison, later criticizing her when she publicly backed the military junta's genocide of the Rohingya minority. Freedom House has announced it had established the Fred Hiatt Memorial Fund in honor of Fred's "defense of democracy and freedom." Fred's decision to support the US-led invasion of Iraq, however, triggered criticism, but more often than not, he called the shots right. In 2016, after an interview with then presidential candidate Donald Trump, Fred wrote an editorial describing Trump as unfit for office. Fred was a Pulitzer finalist three times, including for his piece on Trump.
However, Fred's passing called attention not only to the enormous influence he had wielded in Washington for more than two decades, but also to the gentle manner he used to nurture a team of some 80 writers, bloggers, video artists, and guest columnists. MSNBC's Jonathan Capehart, a writer-turned-TV star, described Fred as "one of those kind-hearted people who knows everything about everything". Capehart recalled that Fred, when first inviting him to join the Post's editorial team, had expressed concern over the potential strain that moving to Washington might put on Capehart's marriage. Openly gay, Capehart pointed out to viewers that Fred had used the word "marriage" to describe Capehart's same-sex relationship 16 years before it was either socially acceptable or legal to do so. Capehart, who eventually did join the Post, where he remains as a blogger, finished his broadcast, his voice cracking with emotion, expressing thanks for the years he spent learning from "that kind, exacting, caring man".
In a eulogy in The Atlantic, author Anne Applebaum pointed to Fred's conscious refusal to cultivate "a personal brand". Applebaum observed: "The loudest, most prominent voices in public life are not always the most influential. Some of the people who leave the most profound impact – the ones who actually shape the thinking of a generation – do so quietly. Fred Hiatt was one of those people." Applebaum praised Fred for trying to "create a forum, located squarely in the center of public life, where civilized debate could take place among people of good faith who all recognized, more or less, their opponents' right to speak and believed, more or less, that it was important to be decent and polite while that debate was unfolding."
Fred's passing seemed to have awakened political commentators in the United States to the fact that the civilized policy discourse that so many Americans in public life had lamented as a relic of a bygone era had been preserved at least on the Post's editorial pages.
Obituary writers, however, made only passing reference to Fred's eight years abroad as foreign correspondent. After Tokyo, Fred and Pooh moved to Moscow, where as joint bureau chiefs they reported from 1991 to 1995 on the collapse of the Soviet Union. Ironically, the short shrift given to Fred's time abroad was entirely in keeping with an article Fred wrote in 2007 lamenting the sad decline in foreign coverage by US media. In that opinion piece, titled "The Vanishing Foreign Correspondent", reprinted in the March 2007 issue of the Number 1 Shimbun, Fred pointed to cost-cutting by a new breed of publishers interested less on covering events in Jerusalem than in Jersey.
Those who knew Fred from his years in Tokyo recalled a reporter who combined professional excellence with personal civility. William Horsley, BBC Japan correspondent from 1983 to 1990, remembered being "mightily impressed by the ease and speed with which Fred mastered the Korean language to a decent level. We both joined an FCCJ Korean course in anticipation of the Seoul Olympics and he quickly left me and others far behind, with almost insulting ease. There was something of the naturally gifted, naturally entitled about a very smart colleague, who in my experience was also unfailingly courteous".
Kathryn Tolbert, former AP Tokyo reporter who moved to the Post, wrote in an email: "As an editor on the foreign desk when Fred and Pooh were in Moscow, I found him to be the kind of correspondent whose first instinct was to say yes to an editor's request, no matter what. If you had to wake a correspondent up in the middle of the night, he was the one you'd want to call."
My own occasional encounters with Fred, though brief, corroborate all the above. In 1997, during a six-month stay in Washington, I visited a friend at the Post and ended up in Fred's office for a chat. I cannot recall precisely what world events we talked about but I remember clearly that Fred, already a shaper of US public opinion, took time out from editorial writing to speak about a book he was working on. It was a children's book, titled If I Were Queen.
In 1992, Fred published The Secret Sun, a mystery thriller set in Japan and laced throughout with satirical comments on coverage by US correspondents during the years of acrimonious US-Japan trade relations. A roman a clef, complete with thinly disguised versions of real-life Tokyo-based foreign reporters of that era, the book contains wry references to an author of a highly successful Japan-bashing book that the visitor had written after a mere three months in the country. Secret Sun's hero is a young reporter sent out to cover Japan so that his paper's publisher could boast of having "our man in Tokyo". The plot follows the hero's attempts to cover a real story while being hounded by his editors to replicate whatever the publisher had read that morning in the New York Times. Secret Sun, like its author, is full of wit and charm, while displaying serious concern for the state of journalism.
---
Andrew Horvat is visiting professor at Josai International University and vice-director of the Josai Institute for Central European Studies