Issue: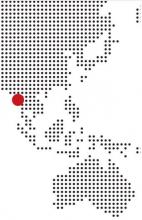 Gwen Robinson on why the Thai capital is the best location for an Asian-based correspondent
---
THE TRAFFIC STILL SUCKS. THE NAMES ARE AS unpronounceable and unspellable as ever. The opium warlords have long died out and the spooks have moved on to more conspiratorial pastures. Even the old guerrilla conflicts across Thailand's borders have for the most part calmed down, while the nasty regimes notably the one in Myanmar have metamorphized into beacons of democratic reform: well, at least, most of them are trying to.
But Thailand and more specifically, Bangkok remains an ideal base for Asia correspondents, as I realized when I returned to live here in late 2011 after 22 years away.
As a story in its own right, Thailand is not the center of intrigue and danger it was in the swashbuckling 1980s: your heart sinks when an editor wants an analysis of Thai politics or farmer protests over the Thai rice subsidy scheme. How to make it interesting when even explaining the rice scheme, or the clash between yellow and red shirts and the military over the Thai constitution, takes hundreds of words? And natural disasters are huge but grim stories to cover, as many Bangkok-based correspondents found from the 2007 Southeast Asian tsunami.
Thai politics and natural disasters, the big stories for a Bangkok-based correspondent are different now it's all about "ASEAN connectivity," China's strategic moves, the opening of Myanmar and rising economic activity in Thailand, Vietnam and neighboring countries.
Back in the late 1980s, life was somewhat wilder. Journalists sneaked across borders to cover guerrilla conflict in Cambodia, ethnic Karen fighters in Myanmar or opium wars in the northwest. Vast refugee camps sprawled along both borders. Everyone was on "coup watch" and Myanmar monitoring in Bangkok, and the nightclubs of Patpong seethed with shady characters and correspondents (frequently one and the same) exchanging information and making contacts.
Wong's, off Sathorn Road, the legendary all-night dive that drew journalists far and wide in the Vietnam War era, is still going. But like the Foreign Correspondents' Club of Thailand, now housed in comfortably tatty premises on top of the Maneeya Center after downgrading from the Dusit Thani hotel, it's not what it used to be.
Even so, the old club just like Wong's can still draw a crowd on a Friday night, or for the occasional press event and the FCCT annual ball.
Among other compelling reasons to choose Bangkok:
1) Logistics: The city is still an Asian hub, having cleverly capitalized on the rise of no-frills travel to establish a two airport dynamic that herds all the budget airlines into the old Don Muang terminal. You can fly Yangon-Bangkok return for as little as 4,000 baht (about $130), and it takes just 55 minutes. New intriguing routes include Bangkok to Mae Sot and onwards to the old colonial port town of Mawlamyine in eastern Myanmar, until July only reachable by road from Yangon.
2) Costs: Unlike some places where correspondents still convince editors they're in hardship posts while laughing into their mojitos, Bangkok's attractions as a relatively cheap and pleasant base are no secret. Prices have risen for many key things. But it's worth noting you can still get a bowl of noodles for $1, a Thai massage for $10 and that property rentals are still amazing value compared to the eye watering prices in Hong Kong, Singapore and even Yangon. A large, two bedroom apartment in central Bangkok can be had for as little as $700 to $1,000 per month.
3) Lifestyle: The "yuppification" of Bangkok is transforming the city into a consumer paradise. The gleaming shopping malls, like Central World and the fast rising Central Embassy and Emporium II, are worthy of Singapore or even Tokyo. Thai food, if you're a fan, is unbeatable whether it's a simple bowl of spicy noodles or sumptuous multi course meals. In the 1980s, the range of other cuisines was limited although surprisingly good. But Bangkok has now become a gastro mecca with outstanding Japanese, French, Middle Eastern and Italian restaurants crowned by my favorite, Appia, a rustic Roman trattoria on Soi Sukhumvit 31.
For war correspondents of yesteryear, the color and danger are still there, in pockets: a vicious secessionist conflict in the south and occasional clashes between red and yellow shirts and the military. Fighting continues in northern Myanmar between Kachin ethnic rebels and the military, while security concerns continue over Thai-Cambodian territorial disagreements.
These days, though, many of us are chasing bankers and businessmen rather than coup plotters and CIA agents. Our thrills are often reduced to hair raising dashes through Bangkok traffic on motorbike taxis or covering an angry farmers' protest over rubber or rice prices. Maybe it's a sign of the times but that seems to be enough danger for many of us Bangkok hacks.
---
Gwen Robinson was until June the Financial Times regional correspondent based in Bangkok. She is now senior fellow at the Institute for Security and International Studies at Chulalongkorn University in Bangkok and an occasional contributor to the FT, Nikkei Asian Review and other publications.