Issue: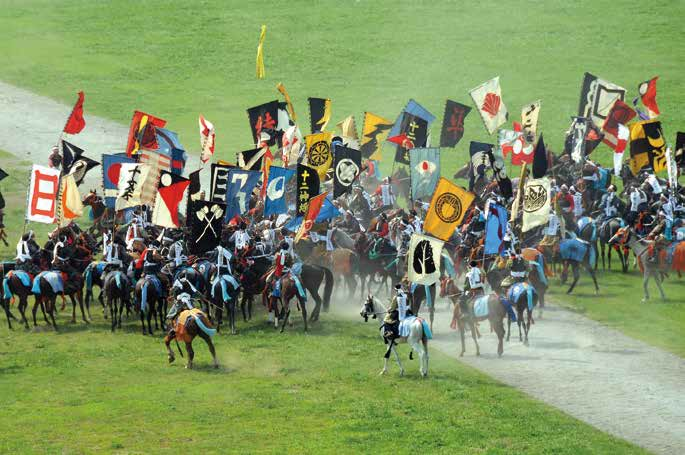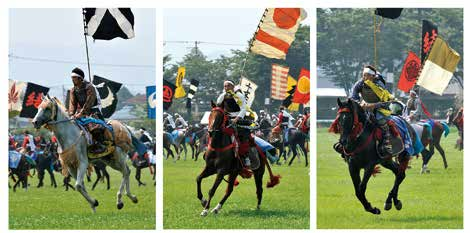 THREE MONTHS AFTER 3/11, WE MET horses that had been rescued from the tsunami and areas around the Fukushima nuclear reactors. They were being cared for at the Soma Nakamura Jinja historically, the location for the 1,000-year-old Soma- Nomaoi Horse Festival. Now the shrine was the center for relief operations in Fukushima.
One year after the disaster, the Festival was revived. In the heat of July, about 400 riders dressed in samurai armor engaged in races and mock cavalry battles. We have been documenting the festival since its resumption and will be there again this year, cheering the horses and their riders, and praying for the area's recovery.
The dates for 2014 Soma-Nomaoi Festival are July 26, 27, and 28.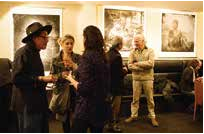 OPENING NIGHTS
Each month's exhibition starts with an opening night for the artist. Here are shots by Club member Martin Hladik (photographer with MH Agency) of two recent water themed shows. Left, Everett Kennedy Brown at his "Sea of Fertility" exhibition of wet-plate photographs of the sea around Chiba; and Taisuke Yokoyama at the party for his photographs around the lives of two watermen, Jacques Mayol and Tiger Espere.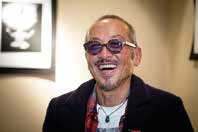 ---
Heard at the Club
"I don't think anything of his comments now, but Mori-san may have some regrets about what he said."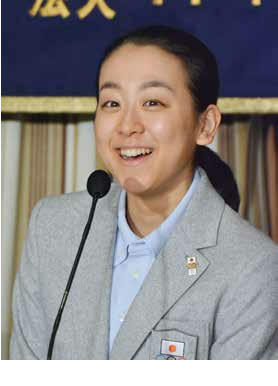 ---
FCCJ IN KANSAI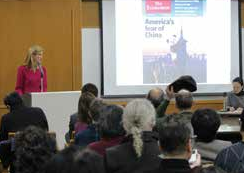 FCCJ PRESIDENT LUCY BIRMINGHAM SPOKE TO audiences in Osaka and Kyoto on Jan. 25 about the state of the foreign media in Japan, and FCCJ's role in protesting last year's new state secrecy laws. The Knowledge Capital complex in Umeda, along with Kansai Scene magazine, sponsored the Osaka talk, which drew about 40 people, including local journalists, diplomats and business leaders. The Kyoto talk was co-sponsored by the Kyoto City International Foundation and attended by about 60 people, many of whom expressed concern about the state secrets law. It was covered by the Kyoto Shimbun.
— Eric Johnston
---
JOIN THE MOVIE COMMITTEE . . .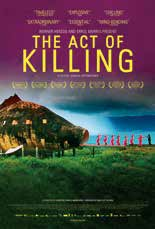 . . . AT 6:00 PM ON THURS., MAR. 20 for the most talked-about film of the past or perhaps any year: Joshua Oppenheimer's The Act of Killing. The mega-award-winning documentary focuses on the Indonesian genocide of 1965-66, exploring what one critic calls "the psychological gestalt of a country in which mass-murderers brag about their slaughtering and still intimidate their neighbors with complete impunity." After we meet two of the executioners, boastful that they've killed hundreds of "Communists" in styles inspired by classic Hollywood gangster movies, Oppenheimer allows them to reenact their atrocities. By doing so, he had hoped to get beneath their skin, to probe for something deeper, to capture their conscience, to elicit a moral response. What he achieved is absolutely shattering. This is a must-see.
(Denmark/Norway/UK, 2012; 159 minutes (Director's cut); in Indonesian with English and Japanese subtitles)
---
RAKUGO NIGHT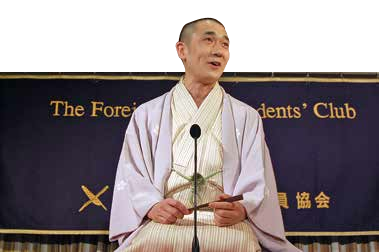 UP-AND-COMING RAKUGO PERFORMER Kokontei Bungiku drew in a sell-out crowd of 160 at an "Edo Setsubun Rakugo Night" on Feb. 3 staged by the Special Projects Committee.
A graduate of prestigious Gakushuin University, Bungiku served his apprenticeship with the renowned rakugoka, Kokontei Engiku. In 2009 he was recognized by NHK by the award of the broadcaster's New Entertainer Grand Prize.
Part sponsors of the evening were the Kato Kichibei Shoten sake brewery, which provided generous supplies of their best brews to lubricate the evening.
---
NEW MEMBERS


TSUTOMU ISHIAI was named Foreign News Editor of the Asahi Shimbun in June, 2013, after serving in Cairo as the Middle East and African Editor. Ishiai joined the Asahi Shimbun in 1988 after completing his B.A. of economics at Waseda University. He worked in Washington D.C. from 1996 until he was transferred to Cairo in 1998, where he served as Middle East correspondent until 2001. Ishiai returned to Washington from 2002 to 2006 as Sr. diplomatic correspondent, and focused on U.S. foreign policy toward the Middle East. He is the co-author of Guantanamo, what is going on at the U.S. anti-terror camp in Cuba? and Japan's Grand Strategy and its Constitution. Since 2009, he has been a visiting fellow at Center for Interdisciplinary Study of Monotheistic Religions at Doshisha University. He lives in Tokyo with his wife and son.
LIU TIAN is China's Xinhua News Agency correspondent responsible for political and diplomatic stories from its Japan Bureau. He came to Japan over one year ago on his first assignment abroad. Prior to this, from July 2011, he worked as an editor at the English-language desk of the International News Department in Beijing. Tian received a master's degree in international relations from China's Foreign Affairs University in Beijing after majoring in English at the University of International Relations. His dispatch to Japan caught him by surprise, since his second foreign language is French.
REGULAR MEMBERS
Liu Tian, Xinhua News Agency
Tsutomu Ishiai, Asahi Shimbun
PROFESSIONAL/JOURNALIST ASSOCIATE MEMBER
Jeffrey Quigley, The Diplomat
ASSOCIATE MEMBERS
Sarah Wooten, Delegation of the European Union
Yoshiaki Nakamura, Nippon Steel & Sumikin Technology Corp.
Akira Tanabe, Career Development Associates
REINSTATEMENT (ASSOCIATE)
Hiroo Tanabe, Ozma Inc.
---
NEW IN THE LIBRARY
Japan Company Handbook: Winter 2014
Toyo Keizai, Inc.
Toyo Keizai, Inc.
An Encouragement of Learning
Fukuzawa, Yukichi; translated by David A. Dilworth; introduction by Nishikawa Shunsaku Columbia University Press
Religion in Japan: Unity and Diversity
Earhart, H. Byron Wadsworth Cengage Learning
Seijoki no Kikoenai Heya
Levy, Hideo Kodansha
A Room Where the Star- Spangled Banner Cannot Be Heard: A Novel in Three Parts
Levy, Hideo; translated by Christopher D. Scott Columbia University Press Gift from Mr. Hideo Levy
Men of Uncertainty: The Social Organization of Day Laborers in Contemporary Japan
Gill, Tom State University of New York Press Gift from Mr. Tom Gill
Shot by Both Sides: A Novel
Goto, Meisei; translated by Tom Gill Counterpoint Gift from Mr. Tom Gill
Okinawa and Jeju: Bases of Discontent
Kirk, Donald Palgrave Pivot Gift from Mr. Mr. Donald Kirk
Britain & Japan: Biographical Portraits, vol. viii
Compiled and Edited by Cortazzi, Hugh Global Oriental Gift from Mr. Peter O'Connor
The Eternal Japan
Huq, Monzurul Bengal Gallery of Fine Arts Gift from Mr. Monzurul Huq
Law, Policy, and Technology: Cyberterrorism, Information Warfare and Internet Immobilization
Reich, Pauline C./Gelbstein, Eduardo Information Science Reference Gift from Ms. Pauline C. Reich
Back to Work: Why We Need Smart Government for a Strong Economy
Clinton, Bill Alfred A. Knopf Gift from Mr. Robert Walter Whittemore
The World in 2014
The Economist The Economist Gift from Mr. Frankie F. L. Leung