Issue:
Kiyosato Museum of Photographic Arts:
Selection from the Young Portfolio Acquisitions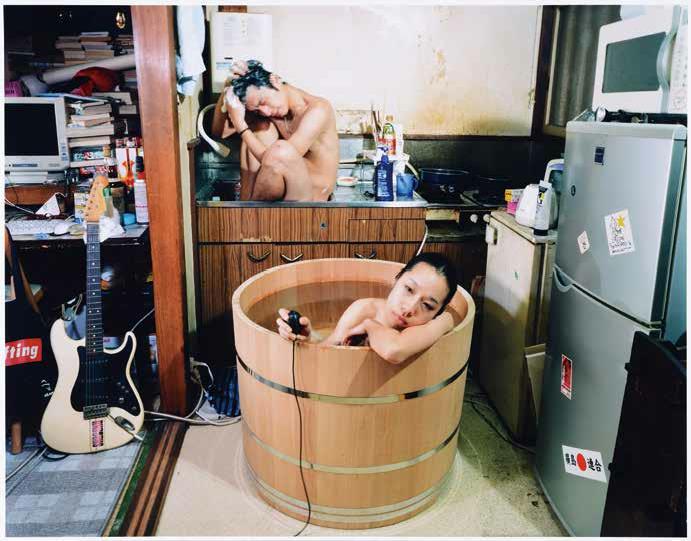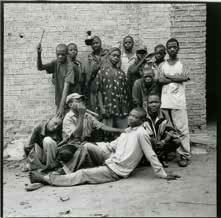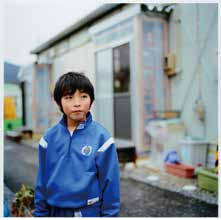 Above, Mariko Sakaguchi, One Hundred Views of Bathing (2010) Left, Ryo Kameyama, Katanga Province in the Congo: The Aftermath of War Surrender, Mai Mai local militia (2006) Below, Takuma Imamura, From Rikuzentakata: Yuki Araki (10) who wants to become a professional baseball player or run a bar (2012)
Those exhibiting are: Issui Enomoto, Miyoko Ihara, Takuma Imamura, Ryo Kameyama, Kenji Kawamoto, Ken Kitano, Tomoaki Makino, Mariko Sakaguchi, Noboru Taguchi, Hisako Sakurai and Kaori Yoshihara
KIYOSATO MUSEUM OF PHOTOGRAPHIC ARTS (K'MoPA) opened in Yamanashi Prefecture in 1995 and has since focused much of its activity on its project, "Photographs by the Next Generation: Young Portfolio."
This is a cultural program aimed at helping the youth of the world through photography, to present young people with a challenge, to pass on the fundamentals of photography itself and to open up a future for young people and photography.
The Museum invites young people (up to the age of 35) to submit works. It acquires and exhibits the best – presenting young people's talent and true worth to the world.
Over the last 20 years, it has received a total of 112,259 works by 9,466 people from 74 countries, with 5,460 works acquired for the collection. This FCCJ exhibition consists of photos from some of the Japanese photographers among the selected.
All the works acquired can be viewed on the Museum's website: www.kmopa.com.
Kiyosato Museum of Photographic Arts is supported by a grant from the Shinnyo-en Foundation.
HEARD AT THE CLUB
"I plan on doing this as long as people continue to enjoy what I'm doing. When things settle down, I'll probably end up entertaining kids in Funabashi kindergartens or nursery schools. Pusha!!!"
Funabashi city's unofficial superstar mascot character Funassyi on his future in show business
March 5 at the FCCJ
REMEMBERING ROBERT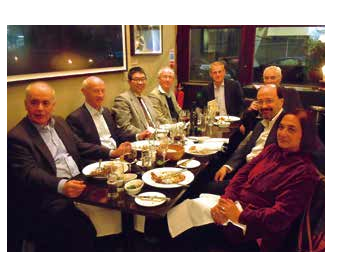 British journalist Robert Whymant, who died tragically in the Asian tsunami of 2004, was a Tokyo correspondent of the Guardian, Daily Telegraph and the Times, and author of an acclaimed biography of Soviet master spy Richard Sorge. Each year a dinner is held in London in his memory. This year's brought together four Tokyo colleagues of Whymant – Bill Emmott and Hugh Sandeman (both ex-Tokyo correspondents of the Economist), William Horsley (ex-BBC) and Peter McGill (ex-the Observer) – as well as Mainichi Shimbun European bureau chief Takayasu Ogura, Japan fund manager and writer Peter Tasker, author Justin Wintle, and head of the Commonwealth Journalists Association Rita Payne. Clockwise from left are Wintle, Sandeman, Ogura, McGill, Horsley, Tasker, Emmott and Payne.
— Peter McGill
JOIN THE FILM COMMITTEE . . .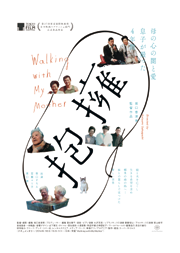 . . . for two documentary screenings with Q&A sessions in April: On Tues., April 14, we sneak preview Walking with My Mother, a searing exploration of family, loss and finding hope. One of the most talked-about films at the 2014 Tokyo International Film Festival, it offers an unflinching portrait of 78-year-old Suchie Sakaguchi, as she tries to cope with the loss of her daughter and the fast-dwindling health of her husband. An undeniably disturbing film shot by Suchie's director son over a four-year period, it amply earns its happy ending.
On Wed., April 22, we are hosting a special screening of the sumptuously photographed documentary KanZeOn, coinciding with the April launch of the Japan Sound Portrait, a project to create a crowd-sourced "sound map" of Japan to share with the world as the Tokyo 2020 Olympics approach. The UK-Japan film envelops viewers in the sights and sounds of Japan, moving evocatively from forest to temple to mountaintop, celebrating the deep resonance of sound within Japanese cultural identity its songs, stories, rituals, performances, faiths and traditions and exploring the mysterious bonds between the ancient and modern, between the spiritual and sensory.
— Karen Severns



REGULAR MEMBERS
ERICH BONNERT is a freelance business and technology journalist from Germany. After several years in editorial positions at a computer magazine in Stuttgart, he became a freelance reporter in 1996 and moved to the U.S. He reported from Silicon Valley as a correspondent and columnist for the German business weekly Wirtschaftswoche until 2002. He continued to write for tech and business publications such as Heise in Germany, Cash in Switzerland and Monitor in Austria. Erich has been working in Japan since 2014. His work has appeared in Technology Review and VDI Nachrichten, among others. He lives in Tokyo with his wife and daughter.
TSURUO MOCHIZUKI has been the deputy managing director of NHK World since June 2014. After entering NHK in April 1983, he has held posts as a business and economic news correspondent, a Washington-based economic correspondent, and bureau chief of NHK's Seoul office from May 2000. He became the international news editor in Tokyo in 2004. He was head of the general bureau for Asia, based in Bangkok, and the head of the general bureau for America, based in New York, prior to his present posting.
GAKU SHIBATA is an international news editor at the Yomiuri Shimbun. He joined the paper after graduating with an economics degree from Keio University in 1987, and worked as a staff writer for political news, as a correspondent based in Okinawa and Washington, and as an editorial writer. He was the Washington bureau chief and general American bureau chief from 2011 to 2013.
PROFESSIONAL/JOURNALIST ASSOCIATE MEMBERS
Kosei Kobayashi, Sekai Bunka Publishing, Inc.
Kaoru Nagai, ALC Press Inc.
Kota Otani, LINE Corporation
ASSOCIATE MEMBERS
Kamal Attanayaka, M.K. Trading Company
Warren A. Stanislaus, Rebuild Japan Initiative Foundation
Hiroshi Kimura, L&J Law Office
Shigeru Makino, Fairness Law Office
Akio Matsubara, Toyoda Gosei Co., Ltd.
Hajime Takatsuji, Yamadaya Manjyu
REINSTATEMENT (ASSOCIATE)
David G. Fisher
Rike Wootten, Gotairiku Partners
Yaeko Sagawa, Sakura Golf Co., Ltd.
New in the Library
Sayonara, Bulle: Kriminalroman
Carsten GermisRowohlt Taschenbuch VerlagGift from Carsten Germis
Mezameyo! Nippon: Rengokoku sensho shikan no jubaku kara no dakkyaku
Henry S. Stokes; Takahiko Ueda; Hiroyuki Fujita (ed. and trans.)Nisshin HodoGift from Hiroyuki Fujita
Chugoku kyosanto: Shihaishatachi no himitsu no sekai
Richard McGregor; Masayo Kotani (trans.)SoshishaGift from Richard McGregor
The Republic of China yearbook 2014
Department of Information Services, Executive Yuan (comp.)The Executive YuanGift from The Taipei Economic and Cultural Representative Office (Japan)
Quiet Deterrence: Building Japan's New National Security Strategy
Rebuild Japan Initiative FoundationRebuild Japan Initiative FoundationGift from Koichi Ishiyama
Samurai Revolution: The Dawn of Modern Japan Seen Through the Eyes of the Shogun's Last Samurai
Romulus Hillsborough Tuttle Publishing
Tobi: joku suhyakumetoru o kakeru shokunin no himitsu
Hiroaki TagoSosensha
Minshuto seiken shippai no kensho: Nihon seiji wa nani o ikasu ka
Nihon Saiken InitiativeChuo Koron Shinsha
The Book of Yokai
Michael Dylan Foster University of California Press