Issue: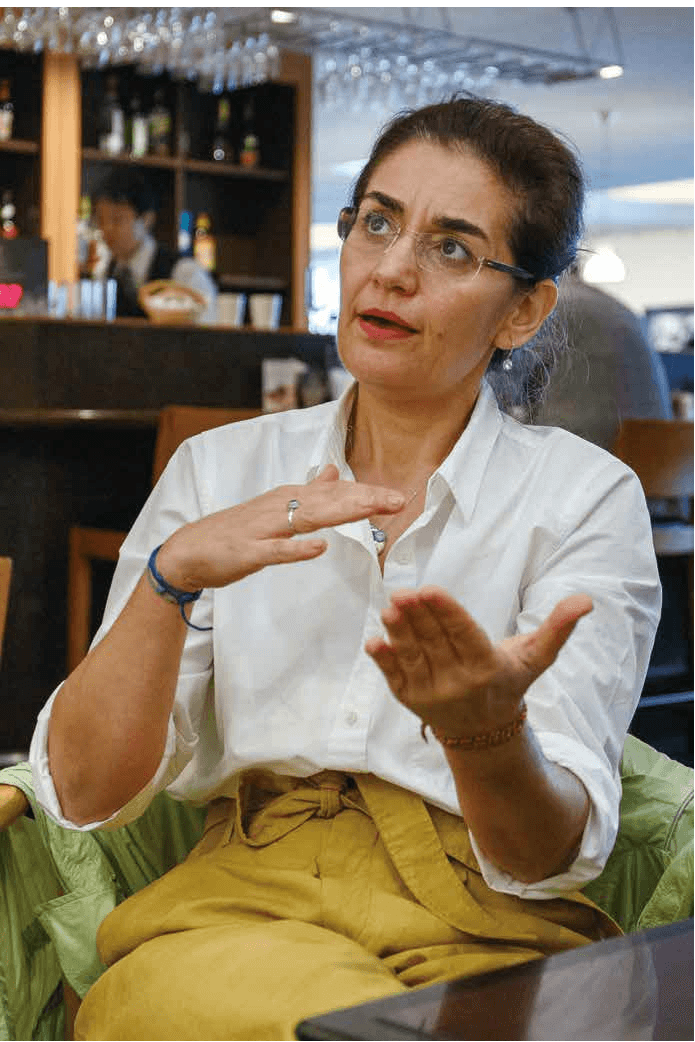 In journalism, as in life, it's often about being in the right place at the right time. Ilgin Yorulmaz seems to have made that something of a specialty since turning her hand to news reporting from the arts and culture features that she previously created.
Take this example: Izmir-born Yorulmaz was aboard a flight from New York to Istanbul in June 2016, just 48 hours after three terrorists used automatic weapons and suicide bombs to kill 46 people at Ataturk Airport. She was able to interview people on the flight about their thoughts and concerns as they approached their destination as well as speak with officials and witnesses in the airport after landing. By the time she arrived at her ultimate destination, Izmir, she was ready to file news stories for The Huffington Post and other outlets.
Example two: Less than one month later, as she was preparing to leave Turkey for New York, a faction of the Turkish military attempted a coup against the administration of President Erdogan. Fighting broke out on Turkish streets, leaving as many as 248 dead, before pro government forces ultimately fended off the coup.
Being at the center of events that made headlines around the world was, Yorulmaz agrees, a formative experience for any journalistic career seeker. "Seeing Turkish civilians give their lives to resist the coup that night was extraordinary. They were not simply 'casualties' and I felt privileged to tell their story.
"In journalism, I always ask myself 'Whose truth are we telling here?' I warn my Western colleagues reporting complicated conflicts in the non Western world to avoid catering to predetermined audiences within a narrow band width progressive or conservative even if it means arguing against your editor sometimes," said 46 year old Yorulmaz, who is half Turkish and half British and now serves on the FCCJ's Professional Activities Committee.
"SEEING TURKISH CIVILIANS GIVE THEIR LIVES TO RESIST THE COUP THAT NIGHT WAS EXTRAORDINARY. THEY WERE NOT SIMPLY 'CASUALTIES' AND I FELT PRIVILEGED TO TELL THEIR STORY."
YORULMAZ FIRST CAME TO Japan in 1993 as a graduate student at a university in Niigata Prefecture, where she studied Japanese and international relations as a prelude to a diplomatic career. After completing the course, she joined a market research company and stayed a further five years, during which she discovered a talent for writing analytical reports.
Moving to London in 2000 with her husband, she completed a course on feature writing at Central Saint Martin, the University of the Arts London and began contributing design, art and lifestyle features to magazines, including Maison Francaise and the Turkish edition of Vogue.
Yorulmaz continued to write for Vogue while she was back in Istanbul with her growing family between 2007 and 2015, before her husband was offered a job in New York. "I had been wanting to go into journalism full time and I could see the industry changing, so I decided to do the 10 month masters course at Columbia University," she said. "It was very intense, but there was so much for me to learn about journalism. There were new skills to master, such as podcasting and video production and we also had some wonderful professors, including Bob Woodward."
She was present at President Obama's last White House Correspondents' Dinner in 2016, ending with his infamous "Obama out" mic drop. "The presidential election campaign was an interesting time," she said. "Quite often I found myself as the only Muslim in a room, trying to explain and change attitudes towards my religion."
Yorulmaz brought that same desire to increase understanding others to her reporting. "I found myself interested in writing about New York's subcultures, about ethnic minorities, religion, LBGTQ issues," she said.
And while she is uncomfortable with the direction that the U.S. has taken under President Trump, Yorulmaz says she can understand its origins. "When I spoke to people in Milwaukee, for example, I could understand the concerns they had for their jobs and the economy. I heard the anger over the regulations they felt Obama had imposed on them," she said. "Smaller companies were struggling to pay their taxes and there was real resentment in a lot of the country."
In 2017, Yorulmaz's husband took a position in Tokyo once again and she is happy to be back here working as a journalist. She contributes to the BBC World Service's Turkish language programming and has ambitions to follow through on digital projects, using new ways of creating content.
"The media here is just one area in which Japan needs to transition in many ways," Yorulmaz said. She's keen to work at a university with a journalism program to pass on some of the skills and knowledge she has learned in the industry to up an coming Japanese journalists.
"I think Japan is trying to change but there are too many cultural and heritage barriers that are holding it back," she said. "Look at China, where everyone uses electronic money for everything; Japanese still want to have bills in their pockets."
But Japan also has an important role for the rest of the world. "Japan is the laboratory for the rest of the world," she said. "The population is ageing fast. At first glance a story about people renting strangers to act as members of their families at formal occasions is just a 'crazy Japan' story. But it's bigger than that and can tell us a lot about society here.
And, she says, these aren't isolated stories. "I can very easily see stories like this appearing in Europe in 20 or 30 years," she added.
---
Julian Ryall is Japan correspondent for the Daily Telegraph.