Issue: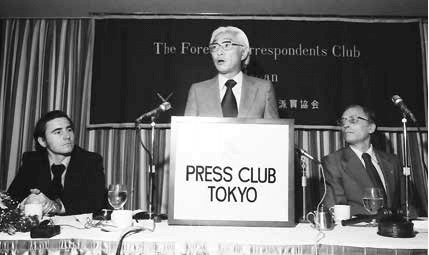 Sony's top executive Akio Morita updated Club members on his company and its latest technological wonder, the Walkman, on Oct. 25, 1979. Seated to his left is Jack Russell (NBC), sitting in for FCCJ president Swadesh DeRoy (Press Trust of India). To his right is Board member Loic Salman (AFP).
Born in Nagoya on Jan. 26, 1921, Akio Morita was raised in a sake-brewing family, but went on to graduate with a degree in physics from the Osaka Imperial University. That was followed by a 1945 commission in the Japanese Navy, and to a friendship with Masaru Ibuka. In 1946 the two men launched Tokyo Tsushin Kogyo, with Morita's family as a major shareholder. The company's first major product came in 1950 when it marketed Japan's first tape recorder. It then licensed transistor technology from Bell Labs and in 1957 launched a pocket-sized transistor radio, a great success that led to the company's 1958 name change to the Sony Corporation.
In 1961, Sony Corporation of America became the first Japanese company to be listed on the New York stock exchange. Their string of successes is legendary: the first transistor TV set in 1960, the Walkman in 1979 and the Discman in 1984. It was only interrupted by their 1975 Betamax video cassette, which was eclipsed by Victor Japan's VHS format launched the following year.
Morita diversified the company through acquisitions, including in 1988 that of CBS Records and then in 1989 of the Columbia Pictures Entertainment group. In 1988, Time named him one of the 20 most influential business leaders of the 20th Century.
He was also an author. His second book, Made in Japan, was a 1986 English-language autobiography written with the assistance of former FCCJ president Ed Reingold (Time) and Japanese journalist Mitsuko Shimomura. In 1989, he co-authored with Shintaro Ishihara The Japan That Can Say No. The criticisms in the book of the U.S. caused some controversy, and Morita had his chapters removed before publication of the 1991 English edition and distanced himself from the book.
Morita, who suffered a stroke in 1993, stepped down as Chairman in 1994 and died from pneumonia on Oct. 3, 1999 at the age of 78.
---
– Charles Pomeroy,
editor of Foreign Correspondents in Japan,
a history of the Club that is available at the front desk