Issue: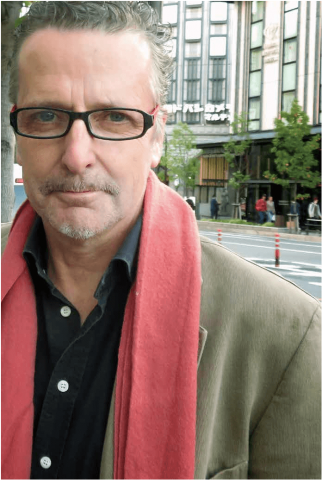 HE FOUND HIMSELF IN OTHER JOBS . . . PLAYING IN A PUNK BAND AND WORKING ON A ROAD GANG
Journalist, author, and photographer John Ashburne has always followed his own path. It led him to Kyoto, where he is one of the very few successful foreign freelance journalists based in the ancient capital. From there, amidst the ancient temples and shrines, Ashburne contributes, or has contributed, articles and photos to the Wall Street Journal, Forbes, the Japan Times, Newsweek Japan, Gourmet Traveler, Kyoto Journal, and a host of in flight magazines, among others.
Kyoto has a very different information sharing culture than Tokyo. Ashburne says the key to journalistic success there is that one must be extraordinarily patient and persistent and not facing an immediate deadline.
"Things move forward at a much slower pace in conservative, traditionalist Kyoto," Ashburne says. "Building sources and contacts over time is the only way to get things done. That means, naturally, you often approach stories over a longer gestation period. Though I still manage to find myself hurtling towards deadline more often than not."
A proud Yorkshireman, Ashburne arrived in Japan over 30 years ago. He came at the suggestion of a friend, after deciding a stint as a low paid grunt at an Oxford based publishing company owned by Robert Maxwell was not his life's calling. He first ended up in Gunma Prefecture and found a job commuting to a small Tokyo publisher, where he subedited material for high school textbooks.
Ashburne turned up to work one day to find the building surrounded by cops and angry men with punch perms and knock off Ray Ban shades. "The rightists had taken exception to the inclusion of sections on the Nanjing Massacre and the Comfort Women we were preparing," he says. "As a naive newcomer to Japan, I hadn't even considered that anyone might find these topics controversial. I certainly didn't imagine they'd still be ruffling feathers more than three decades later."
BUT LIFE IN GUNMA became a bit isolated. After numerous visits to Kyoto, Ashburne, like so many others, fell in love with the city's gallery and art scene. He made lots of Japanese friends, including musicians and arty types. "Once I started chatting to the Gunma scarecrows on a fairly regular basis, I knew it was time to make the next train ticket one way," he says.
Yet unlike most foreigners who come to Kyoto to seriously (sometimes too seriously) study traditional Japanese history, arts, crafts, culture, or Zen Buddhism, Ashburne was drawn more to the Kyoto that doesn't appear in tourist postcards, academic symposiums, government propaganda, or coffee table photo books. "I'm very much interested in what you might call the Kyoto Underground, the alternate society of radicals, musicians, people of the buraku, and others."
Ashburne got lucky again when he received his first real break as a Kyoto based writer from the legendary, Kobe based publisher David Jack, owner of the late, and still much lamented, Kansai Time Out magazine, which ran from 1977 to 2009. "Dave gave me the freedom to cover stories I wanted to write, and do so in my own voice," he says. "I met plenty of interesting characters, including former British PM Edward Heath, Richard Branson, and sumo wrestler Chad Rowan, aka Akebono."
The interview with Branson remains vivid in his memory. "I thought I'd been asked to be there as the photographer," he recalls. "But three minutes before the meeting, Dave turned to me and said 'John, you ask the questions.' I had to wing it, but found out I could do it."
ALONG THE WAY TO becoming an established freelance writer, Ashburne found himself in other jobs and projects, from playing in a punk band to working as a laborer on a road gang largely made up of Japan born Korean residents. A key turning point was when he met his wife, a remarkable woman who gave him access to many doors in notoriously closed Kyoto that would not have been possible otherwise. Those contacts, he says, plus an ability to speak Japanese, are crucial for journalists to succeed in Kyoto.
In addition to his writing, Ashburne is also a talented photographer. His works took first prize in the Mazda International Photo Contest two years in a row, and were voted the best in Japan a third year. Photography is a love he's had since childhood when the powerful impact of war photographs in his local newspaper deeply moved him.
"I grew up in Yorkshire with the massive Sunday Times and its photographs dropping through our letterbox," Ashburne says. "I suppose I was an unusually aware seven year old, because the Vietnam War filled my mind. First it was images of Phantom F4s. Later, with Don McCullin's 'Shell shocked U.S. Marine: The Battle of Hue,' and AP Photographer Nick Ut's 'Napalm Girl. ' Those images were seared into my mind, to the point where, by 1979, I wanted to be a war photographer."
That didn't happen, though the belief in photography as a form of journalism remains strong. Despite his love of the written word, Ashburne has a modicum of distrust in its ability to reveal truths and elicit emotions in the ways that the best photography does. Still, he says, at the end of the day, he's a freelance writer, a journalist.
"I'm one of those poor souls stuck between starvation and liberation, desperation and desire," he concludes. "All I can really hope for is a paycheck, a byline, some laughs, and the hope that sometime, somewhere, I've helped to tell the truth, large or small."
---
Eric Johnston is Senior Kansai Correspondent with the Japan Times.