Issue: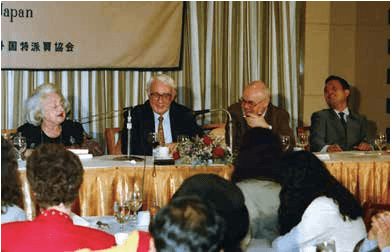 Betty Friedan—super-feminist, author, and former journalist—made a humorous point during a professional luncheon at the FCCJ on Sept. 27, 1995. Seated to her immediate left are Club president Jim Lagier (AP) and former president Gebbard Hielscher (Suddeutsche Zeitung). Her reputation as a leading activist in the feminist movement in the US attracted a high turnout by female Members, as can be seen in the photo.
Born in 1921 into a Jewish family in Peoria, Illinois, as Bettye Naomi Goldstein, Freidan became active in journalism at a young age. She graduated from Smith College with honors in 1942 with a major in psychology while editing the school's newspaper. In 1943, while on a fellowship at the University of California, Berkeley, she became increasingly active in politics, favoring Marxism.
Under the name Betty Goldstein, she worked from 1946 to 1952 as a journalist for UE News, a labor union publication. She retained this as her pen name following her marriage to Carl Friedan in 1947, a union that produced three children but ended in divorce in 1969.
Betty Freidan became a leader in the US women's movement after publishing her 1963 book, The Feminine Mystique. She followed that by co-founding the National Organization for Women (NOW) in 1966. She served as first president of that organization until 1970, the year she went on to organize a successful women's strike for equality with men. This was followed by organizing other feminist groups, whose activities led to the passage of laws that favored women's rights reform. Although her personality was described as "famously abrasive," she was not considered an extremist. The author of six books, Freidan remained active in women's advocacy and politics until the late 1990s
The recipient of many awards and honors, Friedan died of congestive heart failure at her home in Washington, D.C., on February 4, 2006, her 85th birthday.
---
– Charles Pomeroy
editor of Foreign Correspondents in Japan,
a history of the Club that is available at the front desk