Issue: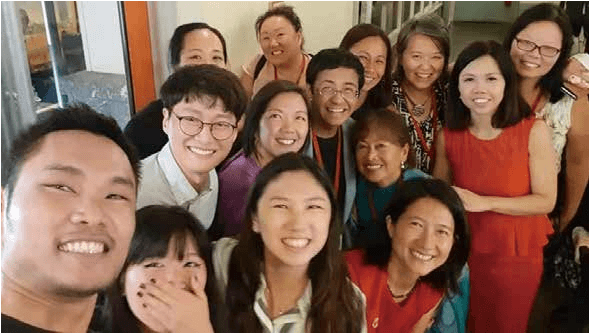 A journalism group that feels like family
More than two decades after its foundation, a US-based advocacy group's Asia chapter is deeply involved in building relations and developing new generations of journalists and leaders.
By Yuri Nagano
---
In the weeks running up to early June, I felt like I spent more time communicating with my alternate "family," a group of professional journalists, than with my actual one. That's because I am one of more than a dozen dedicated volunteers of the Asian American Journalists Association (AAJA)'s Asia chapter.
The 1,500 member strong AAJA was founded in 1981 by a group of Los Angeles based journalists to support those coming from the Asian American and Pacific Islander community. "We formed AAJA to increase the number of Asian American journalists, boost and improve coverage of Asian Americans and provide support and training for the networking and advancement of Asian American journalists," says cofounder Bill Sing, former editor and reporter for the Los Angeles Times.
It was during a time of recession when anti Asian sentiment raged in part due to strong Japanese auto imports. Shortly after AAJA's inception, a Chinese American named Vincent Chin was brutally murdered in Detroit, when two white autoworkers mistook him for Japanese, and assaulted him with a baseball bat. Chin died four days later. Both perpetrators pled guilty but never served jail time. Chin's death remains to this day a symbol of chilling racism against the Asian American community.
At the time, Asian Americans were badly underrepresented in newsrooms and in management, says Sing. Coverage of Asian Americans was often lacking or stereotypical, and few Asian American youth considered journalism as a career.
AAJA's mission continues. The underrepresentation of minorities in newsrooms persists, according to a 2018 American Society of News Editors survey: Minorities made up only 22.6 percent of the newsroom workforce, well below the US census data indicating some 39 percent of its population to be minority. Even here in Asia, filled with journalists of color, race has mattered. It turns out the top decision makers of Western media in New York are still predominantly white males and we are impacted by their decisions.
"NEWSROOM DIVERSITY IN RACE, ethnicity, gender, sexual orientation and every other way is so important if we in the news media are going to tell the story of our increasingly globalized world," says former AAJAAsia chapter president Ken Moritsugu, who is now Greater China news director for the Associated Press. "I am constantly learning from my colleagues who are not like me, and it makes me a better journalist."
How AAJA came to Asia goes back to two AAJA leaders from Portland, Oregon Allen Cheng and Alan Ota who moved to Asia to become foreign correspondents during the 1990s. "It was important to plant AAJA's flag in Asia because Asian Americans journalists back in the US would benefit from having a network in Asia. And it is, after all, where all of us originated from somewhere along our ancestral line," says Cheng, currently the founder and chief adviser of Beijing based risk management advisory Advise Insight Ltd. In 1996, the Asia chapter was formed.
Fast forward to 2010, AAJA Asia existed but growth had stagnated. That changed when then president Moritsugu proceeded to divide the chapter into subchapters with the largest membership clusters in Hong Kong, Tokyo and Seoul. It's a format that still exists today, with the addition of a South East Asia/Singapore subchapter that was added nearly five years ago. "By empowering rising leaders to develop subchapters in their cities, we were able to tailor programming to what people wanted locally and grow the organization exponentially," says Moritsugu.
COVERAGE OF ASIAN AMERICANS WAS OFTEN LACKING OR STEREOTYPICAL, AND FEW ASIAN AMERICAN YOUTH CONSIDERED JOURNALISM AS A CAREER
What was around 40 AAJA Asia members until then, ballooned quickly to around 200 chapter members. Asia is now one of the largest and most active of the 20 some AAJA chapters, and part of that is thanks to the launch of its annual flagship event called New.Now.Next Media Conference (N3Con).
N3CON STARTED IN 2011, with a vision to organize something lacking at the time in Asia a journalism conference for English based media. Beijingbased CBS News Asia correspondent and former AAJA Asia president Ramy Inocencio was one of the event's key architects. The conference was launched as a way "to build and connect together an inclusive network of peers who we could be friends with and learn from," he says.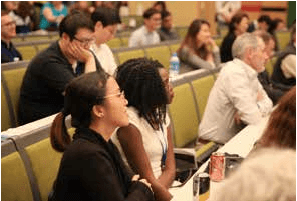 N3Con offers panels and workshops attracting 300 attendees from across the region. We've featured high profile journalists, including Filipino investigative journalist and Rappler CEO Maria Ressa, South China Morning Post CEO Gary Liu, CNN International anchor Kristie Lu Stout and many top newsroom managers including those from the New York Times, Associated Press and Bloomberg News. We've offered handson training workshops on data journalism from Investigative Reporters and Editors and leadership skills workshops from top US coaches. We've also offered newsroom tours. All this and more have been offered at a bargain programming rate of less than $100 for members.
One year we invited former AP photographer Jeff Widener, known for the "Tank Man" photo of a lone Chinese man standing up against a column of Chinese tanks the morning after the Tiananmen Square protests of 1989. Another year we invited journalists from the International Consortium of Investigative Journalists to speak on The Panama Papers. In the last couple of years, combating 'fake news' has been a key subject.
This year, N3Con was held from May 30 to June 2 at the University of Hong Kong the reason for the limited time I spent with my real family in the period leading up to the event. But it was worth it. Not only were we able to offer a job fair, but we recognized up and coming young journalists through a Digital Journalism Student Award supported by Google, and partnered with Columbia University to offer student fellowships. N3Con is now a financially self sustaining operation due to generous corporate donations, but it wasn't always so. (For several years, Cheng donated thousands of dollars of his personal money so N3Con could host, for example, a welcome mixer to kick off the conference on a high note.)
IN THE LAST FEW years, the chapter has been expanding its role. "AAJA Asia strives to be a bridge between local and international media in the region, offering a diverse and inclusive community to support professional journalists and the next generation of news leaders," says Hong Kong based K. Oanh Ha, current chapter president and senior writer for Bloomberg News. The chapter supports programming for media professionals in public relations as well.
Since last year, the chapter has been hosting video conference versions of N3Con dubbed "Digital N3." Held at several Bloomberg News bureaus in Asia and also U.S. cities including New York and Washington, D.C., these events explore such topics as reporting on North Korea.
Weekday and weekend events for veterans and students are being organized by regional chapter leaders. In Tokyo, for example, informal gatherings featuring local journalists dedicated to covering the Fukushima nuclear disaster have been held.
Subchapters hold mixers and regularly network with visiting AAJA members to their regions, throughout the year. For Tokyo, we've welcomed many U.S.based members including CNN columnist Jeff Yang. I've been able to network with members in New York or Washington, D.C. and other cities myself, whenever I've traveled.
Staying true to AAJA's journalistic values, chapter leaders have actively monitored the status of local press freedom. For example, this year AAJA Asia issued statements on the proposed extradition agreement in Hong Kong in June and on the public targeting of a member in Seoul from March.
Since 2018, AAJA Asia and Google have been teaming up to provide free training in digital tools for news gathering, reporting and storytelling under a special initiative called the AAJA Asia Training Network. The initiative has served over 300 journalists across the Asia region from Hong Kong to Singapore to Manila.
I feel grateful to have been able to find a journalism community in Asia I could belong to. I've found the mission to support diversity, growing leaders of color and calling out stereotypes and connecting and helping each other meaningful. It's truly been a privilege to be able to be part of AAJA and have a "family" I'm proud to call my own.
---
Yuri Nagano is an American business/tech journalist who has reported for news organizations including the Los Angeles Times and the New York Times. Since 2010, Nagano has served on the AAJA Asia board in roles including copresident.