Issue:
Needed, yet mistreated: the plight of foreign trainees
A visit to a shelter for abused members of Japan's Technical Trainee program, which invites workers from other parts of Asia to bolster the country's declining work force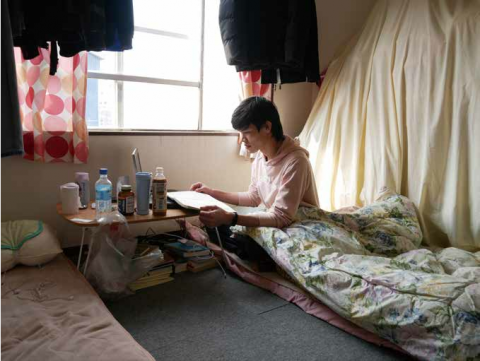 Even a year after the last operation, one can still see the deep, deforming scar on Nguyen Ba Man's thumb. The memories of his recovery are painful. "It was snowing. When I tried to leave the house, the pain grew stronger. I called the trainee organization, asking them to take me to the hospital, but nobody came," said Nguyen. "Eventually, I had to remove the stitches myself."
Nguyen is 22 years old, friendly and unassuming. He is sitting on a futon in a cramped shared room at a shelter for trainees in Hashima, a nondescript town of 68,000 in Gifu prefecture northwest of Nagoya. Its most prominent feature is its Shinkansen station, which connects the small and midsize suppliers in the area with Japan's economic centers. On his crossed legs lay a Japanese textbook and a notebook with handwritten Chinese vocabulary. Nguyen's goal: 150 new words every day. His rosécolored sweatshirt read "Count your blessings"—which could well be his motto.
The scar will keep reminding him of three years in his life which turned out quite different from what he had anticipated when applying to become a Technical Trainee in Japan. After he sustained a severe work-related injury seven months into his stint, his employer pressured him to return to work early, resulting in the wound repeatedly splitting open. To make matters worse, the brake company even burned his personal belongings when he left for a third operation, assuming he would not return. And Nguyen's experience is far from being a singular, isolated case.
Japan has been trying to combat the increasing lack of workers since the early nineties with the Japanese Industrial Trainee and Technical Intern Program, especially in fields requiring manual labor—like agriculture, seafood processing and textile production. In 2019, there were about 330,000 foreign trainees, accounting for one quarter of all foreign employees in Japan.
Were it not for the coronavirus pandemic, this figure would have kept rising. However, travel restrictions have caused some potential trainees to be unable to leave home, with the result that Japan is now facing a shortage of about 1,000 trainees in the agricultural sector alone, according to the agriculture ministry. Some 400 of them were to work for Nagano lettuce producers, for example, and now large parts of the crop might be left to rot in the fields.
Most foreign trainees are hired by small and midsize enterprises (SMEs). Their absence can be critical, as a textile company operator in Fukui prefecture explained to Kyodo news agency. Of roughly 20 Chinese trainees, six were prevented from entering Japan due to the entry ban covering parts of China and elsewhere. "It may be just a few people, but for small and midsize businesses it means a significant drop in manpower," said an official at the company.
The spread of the virus also prevented some trainees from taking the skill tests required to renew their visas after their three-year training period to extend their stay up to the five- year maximum. Others who wanted to return home could not. So far, the immigration office has shown some flexibility, granting four-month visa extensions in mid-March.
The Technical Trainee program was ostensibly set up as a form of overseas development assistance to teach trainees skills which they would be able to use upon their return home. However, all they usually learn are a few simple steps, and sometimes the industry does not even exist in their home countries. The program has enabled the conservative government to curry favor with right-wing supporters by inviting cheap manual workers, while renouncing any intention to allow proper immigration.
MODERN SLAVERY?
Critics call it modern slavery and human trafficking, rather than training. Even before they leave home, trainees have to pay the equivalent of several thousand dollars to agents. Once they are in Japan, their visa is tied to one specific employer—and some abuse this position by paying substandard wages or changing workload arrangements to suit their own needs. Trainees have to pay rent and utilities for housing that is often shoddy. Some employers confiscate passports. There have been reports of sexual abuse, of pregnant women being let go long before maternity leave, or of being coerced into getting an abortion. While there have been an average of 200 to 300 reports of abuse in recent years, in 2018 the number dropped to a little above 100. (The estimated number of unreported cases is assumed to be much higher.) According to a study from 2016, three quarters of companies who employed trainees reportedly violated labor law.
As a result, several thou- sand trainees take flight every year. They either join the ranks of illegal immigrants, or they ask trainee support groups for help. One such NGO is the Solidarity Network with Migrants Japan (SMJ) based in Tokyo, headed by Ippei Torii. He was given an award by the American State Department in 2013, as a "hero fighting for an end of modern slavery."
The shelter in Gifu is associated with SMJ and run by a Chinese-born lawyer who has spent several decades studying and working in Japan. Zhen Kai, a stocky 60-year-old, met Torii about ten years ago and turned a three-story building into a shelter. The ground floor houses the office of a local labor union which he runs. Zhen lives with his wife and son on the second floor, while the third floor accommodates a dozen foreign trainees from China, Cambodia and Vietnam. They stay there while they await results from applications for governmental support or from mediation and court cases.
Many have suffered both physically and mentally. In Nguyen's case, his injury was the result of an electric shock from the machine he was operating, possibly due to some miscommunication. A Chinese man sustained a severe eye injury when shucking oysters with a metal hook. A Chinese woman lost part of one finger at a farm when it got tangled up in a A visit to a shelter for abused members of Japan's Technical Trainee program, which invites workers from other parts of Asia to bolster the country's declining work force Needed, yet mistreated: the plight of foreign trainees rope; Another woman broke her back when she tried to jump to her death. The injury and death rate among foreign workers is far above the national average.
LANGUAGE BARRIERS
Among the biggest hurdles is the language barrier. A few weeks of token Japanese language courses are not enough to make inroads, and Japanese colleagues often show little understanding of the difficulties. After some initial attempts to help, they often withdraw, with the trainee ending up isolated and desperate.
That is what happened to 34-year-old ShiJianhua, a quiet woman with short hair, who arrived in Japan in 2015. Shihails from the mountains of Hubei province, a region now known worldwide as the origin of the coronavirus. Like many participants in the Technical Trainee program, she left behind two children and a husband to make money for their support. Before leaving home, she paid the equivalent of $12,000 to pay for language classes and agent fees.
In Japan, she worked for a paper company as a quality inspector. In her first post, her superior insulted her every day, but she had the companionship of other trainees. In her second position, there were no more insults, but also no oth- er trainees, and she was soon shunned by her Japanese col- leagues. The harsh work environment also took its toll. "It was very loud and hot, with paper dust everywhere." And she was being paid less than half the promised ¥200,000 a month.
Lucrative overtime work was only given to Japanese. Two years into the job, frightened after a recent murder case involving trainees in the area, she asked to change from night to day shift. Her request was denied, and feeling that was the last straw, Shi jumped from the roof of the paper factory. She survived with a broken back and was hospitalized for four months. At the time of our interview, two years later, she was still receiving daily physiotherapy treatment and monthly sessions with a psychiatrist to treat depression.
FATHER FIGURE
Most evenings, Zhen invites the trainees to the big table in his kitchen for dinner, often consisting of vegetables cultivated on their own little field 15 minutes away. Nguyen was lamenting the fact that trainees could neither select nor change their assigned employer, nor did they have time to study. "We come here, and we lose our rights," he said quietly. He felt that it was easy for companies to mistreat them, knowing any lawsuit would be difficult during the short term of the program. He believes the government should do more to support trainees.
Japan has vowed to improve things, including stricter control of employers and adding more language classes. In April 2019, it also created a new government agency in charge of an additional program with the goal of attracting 345,000 foreign blue-collar workers with specified skills within five years. However, even before the coronavirus pandemic, the program was less than successful. By the end of last year, according to a Japan Times interview with the commissioner of the new agency, only 1,700 Specified Skilled Workers had been accepted. 10,000 more were supposed to sit exams by the end of March.
Despite all that had happened to him, Nguyen appeared to be neither angry nor bitter. He said he wanted to study business upon his return to Vietnam, to become a manager. In the meantime, he had decided to make the most of his time in Japan to study Japanese and Chinese, and possibly English. "The future will be better with foreign-language skills," he said.
---
Sonja Blaschke is a Japan-based German freelance journalist and TV producer.