Issue:
FUKUSHIMA BY THE NUMBERS
---
Percentage of Fukushima rice which tested above 100Bq/kg limit
0%
Fukushima Prefecture, inspection period: 08/20/2015- 02/22/2016, 10,431,307 items
---

Percentage of seafood which tested above 100Bq/kg limit
2011: 39.8% of 1,972 items checked
2012: 16.5% of 5,580 items checked
2013: 3.7% of 7,641 items checked
2014: 0.9% of 8,722 items checked
2015: 0.05% of 8,577 items checked
www.jfa.maff.go.jp/e/inspection/index.html
www.fukushimaminponews.com/news.html?id=618
---
How much land area has been "decontaminated" at least once
As of Jan. 2016.
In Fukushima Special Decontamination Area (original evacuation zone) 11 municipalities total (213 km2) Decontamination completed: 6 (68 km) 32%
TAMURA, NARAHA, KAWAUCHI, OKUMA, KATSURAO, KAWAMATAIITATE…, MINAMISOMA…, …NAMIE…, …TOMIOKA …FUTABA…
---
Progress of decontamination
As of Nov. 2015. (Decontamination undertaken at least once; based on areas designated, not actual totals of what exists)
80%
of farm fields, public facilities
70%
of households
50%
of forests in living areas
40%
of roads
Number of evacuees
June 2012
164,218
Dec. 2015 (56,463 in Fukushima Pref., 3,497 outside)
99,991
www.japantimes.co.jp/news/2016/01/09/ national/fukushima-nuclear-evacuees- fall-100000/#.VpIFy5N96CW
www.pref.fukushima.lg.jp/uploaded/ attachment/151947.pdf
---

Number of Fukushima children diagnosed with thyroid cancer
From 1st round (preliminary baseline screening):
116 malignancy or suspicion of malignancy
100 CONFIRMED CANCERS
from 2nd round (full-scale screening):
51 malignancy or suspicion of malignancy
16 CONFIRMED CANCERS
116 CONFIRMED
(Total out of 167 suspected)
1st round target population: 367,685 screened: 300,476, results: 300,476
2nd round, 381,261 eligible236,595 screened, 220,088 results
http://fmu-global.jp/survey/proceedings-of-the- 22nd-prefectural-oversight-committee-meeting- for-fukushima-health-management-survey/
SADAKO OGATA, HUMANIST EXTRAORDINAIRE
---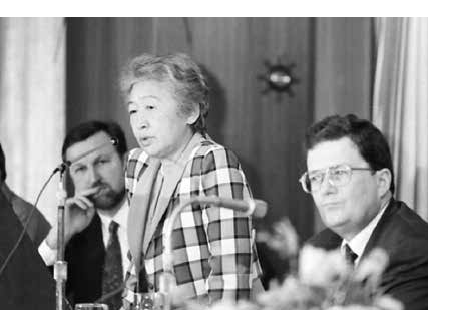 Sadako Ogata, two years after becoming U.N. High Commissioner for Refugees (UNHCR), voiced her opinions at the Club on June 23, 1992, while FCCJ President David Powers (BBC), in the foreground, and Clayton Jones (Christian Science Monitor) listen attentively. She was to appear again at the FCCJ as a guest speaker in 1999.
Sadako Ogata's life story is extraordinary. Born in 1927, she came from an illustrious family, with a former prime minister, Tsuyoshi Inukai – assassinated in 1932 by Japanese Navy officers – as her great-grandfather and a former foreign minister, Kenkichi Yoshizawa, as her grandfather.
Dedicating her early life to an academic career, Ogata followed up on her BA from Sacred Heart in Tokyo with graduate study in the U.S., earning an MA in international relations from Georgetown in 1953 and a doctorate in political science from the University of California in 1963. Returning to Japan, she lectured at Sacred Heart and the International Christian University, becoming an Associate Professor of Diplomatic History and International Relations there in 1974. In 1980, following a move to Sophia University, she became a professor, then Director of the Institute of International Relations, and in 1989 the Dean of the Faculty of Foreign Studies.
Ogata's scholarly work led to stints from 1968 onward with Japan's U.N. mission, and in 1978 she became envoy extraordinary and minister plenipotentiary. During this time she also served as Chairman of the United Nations Children's Fund (UNICEF) Executive Board, and from 1982 to 1985 she was Japan's Representative on the United Nations Commission on Human Rights. She assumed leadership of UNHCR in January of 1991, which she held until she retired in 2012.
Ogata contributed greatly to making this a better world, including writing books addressing refugee problems. She also raised a family, a son and a daughter, with husband Shijuro Ogata, a senior official of the Bank of Japan and a key person in opening the Japanese bureaucracy to the foreign press.
Sadako Ogata has been a dedicated tennis player since her student days and still plays at age 88, as attested to by Kazuo Abiko. A former president of the FCCJ and retired AP stalwart, Kaz recently partnered with her to win a doubles match at the Tokyo Lawn Tennis Club.