Issue:
THE PRINCESS, THE PRINCE AND THE MODEL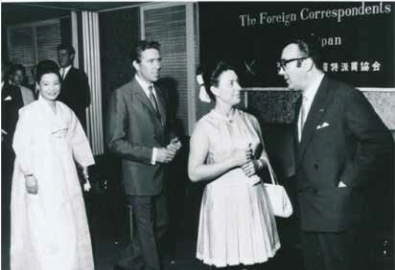 Sept. 29, 1969. Britain's Princess Margaret in conversation with Club President Ugo Puntieri (ANSA) at a press reception. As the younger daughter of King George VI and Queen Elizabeth, she was the only sibling of Queen Elizabeth II. Her husband, Lord Snowdon, is behind her, accompanied by Puntieri's wife in her native Korean dress. Although personable and charming, Puntieri's autocratic presidency of the FCCJ was a contentious one described in detail in the FCCJ history book. He ran for re-election in 1970, but was soundly defeated.
PRINCESS MARGARET WAS no stranger to controversy. Following an earlier romance with war-hero Peter Townsend a liaison frowned upon by the royal family and much criticized she married photographer Antony Armstrong Jones in 1960. He was made Earl of Snowdon in 1961 and she became officially "HRH The Princess Margaret, Countess of Snowdon." It was in that capacity that the royal couple visited Japan in connection with a promotional "British Week," designed to attract interest to British technology and products.
HRH and her husband attended a reception in their honor at the FCCJ toward the end of their hectic nine day visit. It was scheduled by a member of the British Embassy's organizing team who also happened to be an Associate member of the Club. He was Princess Margaret's cousin, Prince William of Gloucester, who in 1968 at age 27 had been assigned to the commercial section of the British Embassy in Tokyo.
Rumor had it, however, that another reason for her visit to Japan was to intercede in a reported romance between Prince William and Zsuzsi Starkloff, a divorced Hungarian model who was the mother of two children as well as Jewish. This background apparently made her unacceptable to the Royal Family.
I can attest to the romance being true, for I had gotten to know William at the Club, and I also had occasion to meet Zsuzsi with William at Anne Dinken's Kosher Deli near Roppongi. There was no doubt about their loving relationship.
William had a longstanding relationship with her until his death in an aircraft accident in 1972. Long an avid pilot, he was competing in an amateur air show race in England.