Issue:
FCCJ EXHIBITION
Mic Check Photos by Rob Gerhardt
In late 2014, protesters began gathering in New York City over the exoneration of the white police officer who shot and killed Michael Brown in Ferguson, Missouri. Shortly afterward, a second Grand Jury considering the death of Eric Garner led to the same outcome. Protesters continued to take to the streets for a long litany of names and the protests also included events to remember those from earlier incidents, such as Trayvon Martin and Amadou Diallo.
New York never saw scenes like those that played out in Ferguson or Baltimore. The police never used tear gas, heavily armored police vehicles never rolled through the streets, and people were not confronted by police with weapons drawn who looked more like soldiers than cops. But there were masses of protestors. There were times traffic was blocked on major streets and bridges. Insults and profanities were hurled back and forth. There were arrests. There were signs. There were chants of every kind.
My work has always been on the edge of journalism, documentary, and art. This way of working has put me in an odd space: too journalistic for the art world, and a bit too arty for the journalists. As a result, while my work has been published, it is more likely to be seen on the gallery walls of colleges and universities.
I use my work to try to start conversations. I know that just seeing my photographs is not going to change a viewer's mind. Very few photographs have that power. It is not an epiphany I am trying to create, but a way to get people thinking and talking. And to me that is what good journalism is: not telling people what to think but giving them the facts and information to think on their own.
The arc of history is a long one, and when things are viewed through the passage of time, the truly important events and movements stand out. And the Black Lives Matter movement, as a new chapter in the greater Civil Rights Movement, already is a part of history. This will not be the final chapter in the struggle for equal rights, but as the movement morphs into whatever is coming next, I will be there with my cameras to document that as well.
---
Rob Gerhardt is a social documentary photographer based in Brooklyn. His work has
been in numerous solo and group exhibitions and has been published internationally,
including in the Guardian, the New York Times, the Diplomat and the Hong Kong Free Press.
He is a member of the Foreign Correspondent's Club, Hong Kong
PRESS TOUR TO MoD ICHIGAYA HQ
The Special Projects Committee arranged a press tour to the Ministry of Defense Ichigaya headquarters on Jan. 9. Seven participants, all regular members, took part. The highlight of the tour was the historic Ichigaya Memorial Hall. Constructed for Army Cadet School in 1937, and used for the Tokyo War Crimes Trial from 1946, it provided the backdrop for novelist Yukio Mishima, who made his last speech on the front balcony before committing suicide Nov. 25, 1970.
---
The press tour group in
front of utility helicopter
UH-1H , "Hiyodori".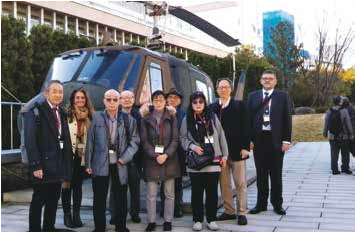 INCREASE IN RECIPROCAL CLUBS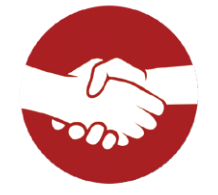 The FCCJ has been working to increase reciprocal club arrangements with press clubs, city clubs, and athletic clubs around the world. For visitors to Japan during the 2020 Olympics, FCCJ's facilities and location are very attractive. For FCCJ members, the availability of a club away from home when traveling overseas is beneficial. So far, several clubs have responded favorably: Frontline Club (London), Geneva Press Club, Jerusalem Press Club, National Press Club of New Zealand (Wellington), and the Press Club de France (Paris). Negotiations are underway with press clubs in Strasbourg, Angkor, Jakarta, Singapore, and Taipei. Many other clubs will be invited in coming weeks; the FCCJ web site will have the updated list of reciprocal clubs.
NEW MEMBERS

REGULAR MEMBER
Thomas Hahn was born in Munich, Germany in 1972 and spent his youth there. After serving as a hospital nurse, he studied drama, history and communication science at Ludwig-Maximilians- Universität in Munich and at the University of Kent in the UK and he graduated with a Master's degree in 1998. During his studies he worked as a freelancer for the sports desk of Süddeutsche Zeitung and for its local branch Starnberger Neueste Nachrichten. Since 1999 he has been an editor at Süddeutsche Zeitung, first working at the sports desk, covering several Olympic Games and world championships in athletics and nordic skiing. In 2014 he moved to Hamburg to work as a political correspondent for northern Germany. Then, in September 2019, he became correspondent for Japan and Korea based in Tokyo.
PROFESSIONAL JOURNALIST/ASSOCIATE MEMBERS
Alec Jordan, Custom Media K.K
STATUS CHANGE (ASSOCIATE TO PROFESSIONAL/JOURNALIST ASSOCIATE)
Hiromitsu Ida, Chuokoron-Shinsha In
ASSOCIATE MEMBERS
Masahiko Murayama, Mitsubishi Heavy
Industries F, E & T Holdings, Ltd.
Hajime Saito, Kandenko
Kiyoyuki Tsujimura, Carpediem, Inc.
Hirotake Yajima, Hakuhodo DY Media
Partners Inc
REINSTATEMENT (ASSOCIATE)
Kenichi Suzuki, Democratic Party for
The People
IN MEMORIAM
The FCCJ sends its deepest condolences to the family and friends of the late DON G. HOUK, who passed away as a result of a traffic accident in central Tokyo on Jan. 18. He was 87.
Don Houk was one of the oldest Associate Members having joined the Club in 1978. He was a popular and regular fixture of the open table.
He will be sorely missed
NEW LOCAL MEMBERSHIP CAMPAIGN
Save ¥100,000s!
For a limited period in 2020, the FCCJ will be offering very attractive special discounts on new individual Associate Members working in our home, the Marunouchi Nijubashi Building, as well as in the neighboring Meiji Life Insurance, Marunouchi Park, and Shin-Tokyo buildings.
New individual applicants for Associate Membership will receive a one-time discount on the existing ¥400,000 joining fee. With the one-time discount, the joining fee would be ¥200,000 for those over 40 and ¥100,000 for those between the ages of 35 to 40. Monthly dues of ¥17,500 and the relocation levy of ¥1,000 for Associates over 35 years of age will remain unchanged.
Existing members who introduce an accepted Associate applicant who joins the FCCJ will receive a credit of up to ¥25,000.
NEW IN THE LIBRARY
Japanese Politics – One Politician's Perspective: From the DPJ administration to the LDP-KOMEITO ruling coalition (2010-2019)
Yuzuru Takeuchi Bungeisha
"Abe Shinzo" Daikenkyu 「安倍晋三」大研究
Isoko Mochizuki; Yoshiro Sasaki and others KK Bestsellers Gift from Isoko Mochizuk
Japan's Infamous Unit 731: Firsthand Accounts of Japan's Wartime
Human Experimentation Program
Hal Gold; foreword by Yuma Totani Tuttle Publishing
Seiji no Riarizumu: Abe Seiken no Yukue 政治のリアリズム : 安倍 政権の行方
Takao Toshikawa Kadensha Gift from Takao Toshikawa
Jimaku no Naka ni Jinsei 字幕の中に人生
Natsuko Toda Hakusuisha Gift from Natsuko Tod