Issue: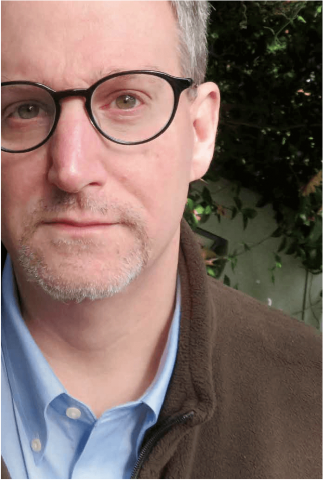 As the only full-time Kansai based foreign reporter writing about Japan in English, Eric Johnston has a different perspective on the news. And after more than 30 years in and around Japan's "second city," he does not feel overly envious of correspondents who find themselves rooted to Tokyo.
"If you enjoy being an 'outside' journalist, without the constraints and often complicated loyalties to sources that 'inside' journalists, especially in Tokyo, have, then it's definitely an advantage to be in Osaka," says Johnston, the senior Kansai correspondent for the Japan Times. "Distance allows for a more detached, critical view of the capital and its shenanigans, and the news coming out of it."
"STORYTELLING THAT AIMS FOR THE TRUTH RATHER THAN RECITES FACTS WILL NEVER DISAPPEAR"
Born in Pennsylvania, the 55-year-old Johnston studied business and communications as dual majors at the University of Pittsburgh with no thoughts of a career in journalism. But, intrigued by tales of the "economic miracle" taking place on the other side of the Pacific and books such as Ezra Vogel's Japan as Number 1, Johnston began taking Japanese language classes.
"To my surprise, I not only enjoyed it more than my other classes, but decided I wanted to become highly fluent," he says. "By the time I graduated in 1987, I was itching to travel and wanted an adventure."
Through a university friend from Kyoto, Johnston was able to find a job at an English conversation school in the ancient capital, enabling him to make a living while learning about Japan and picking up more of the language. Initially, he toyed with the idea of combining studying with travelling in the region.
That changed in 1988, when he was invited to write a story for a Kyoto-based student magazine, and realized he enjoyed it. A couple of years later, he was in the right place at the right time when the Osaka-based publisher of a Japanese trade magazine for the video arcade game and karaoke machine industries was setting up Japan Amusement Monthly, an English-language version of their publication. For the following three years, Johnston travelled to trade shows in the US, Europe and Asia, testing out foreign manufacturers' machines and writing about the latest releases from Sega, Namco, and Capcom in Japan.
IN 1994, JOHNSTON WAS asked by the Mainichi Daily News to write freelance articles on different aspects of the city from a foreigner's perspective. That soon evolved into a full-time position, although the English-language print version of the Mainichi was already under pressure by 1996.
"I was also ready to move on and do full-time reporting rather than mostly translating and editing, which had been my main job," says Johnston. "So when one of the reporters at the Japan Times' Osaka office said he was quitting, I applied and became his successor."
More than 20 years later, Johnston knows the decision was the right one. "The Japan Times is the ideal place because of 'trust,'" he says. "The editors in Tokyo, from the beginning, gave me a lot of freedom to do my own stories and allowed me to develop my career at my own pace with relatively little oversight. That trust continues to be strong, if not stronger."
There are a couple of disadvantages to being based in Osaka instead of the capital, he admits. Being at arm's length from the political and economic heart of the nation makes it harder to develop relationships with sources who can provide diverse and directly informed opinions on what is happening.
But he has no plans to swap Kansai for Kanto. "I prefer researching and writing from a non-Tokyo base in the selfish dream of reminding readers, for a half second, that 'Japan' does not automatically equal 'Tokyo,'" he says.
Among the many advantages is that Osakans are notably loud, brash, and quick-witted. "People are often more direct and opinionated than their Tokyo cousins, which makes for great copy if you're a journalist."
JOHNSTON IS PARTICULARLY INTERESTED in stories that examine some of the deeply entrenched political and social issues of the country from a different angle. Of the events from his career that have stuck with him, Johnston points to the 1995 Kobe earthquake and the "tension, excitement and sense of hope that climate change could be controlled that permeated the 1997 conference creating the Kyoto Protocol."
An interview with Harrison Ford in 2011 is also memorable, as well as watching US President Barack Obama pay his respects as the first sitting US leader to visit Hiroshima.
He is generally upbeat about the future of his trade. "Good storytelling that aims for the truth rather than recites a mere collection of facts will never disappear," he says. "It's a fundamental human need."
Johnston remains particularly optimistic about the future of individual acts of journalism. "But to make a difference in society," he says, "it has to continually reach a loyal community of followers who understand and accept that, unlike air, truthful information and storytelling is not free, can be quite expensive, and may not always make them 'satisfied customers.' That's a tough sell.
"That said," he continues, "I'm encouraged by reports in some parts of the world that news on printed paper is making a comeback."
---
Julian Ryall is the Japan correspondent for the Daily Telegraph.