Issue: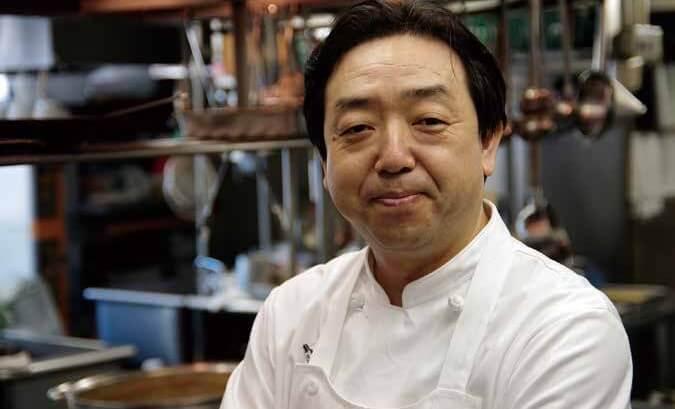 No. 1 Shimbun last interviewed FCCJ Executive Chef Tatsuo Kobayashi when he had just taken over the helm of the Club's busy kitchen last year. This former Iron Chef contestant (and winner), talked then of big plans and the challenge ahead. After six months of catering to the demands of Club members and a heavy schedule of event catering, we thought we'd check in and see how he was handling the pressure, and whether his goals and his idea of the perfect menu had changed.
Lucy Birmingham: What convinced you to sign on as the club's chef despite the many challenges you knew you would be facing?
Tatsuo Kobayashi: I'd never worked at a private club before so I thought it would be a good experience. I knew that it would be difficult, and I wanted to take on the challenge. I'm the type who's willing to take on anything.
Do you have a problem solving strategy?
I try to solve them on the spot.
What kind of issues are you facing?
It's probably my fault, but sometimes there are communication gaps. In most hotels and restaurants, parties and events are scheduled with time in between for food preparation. But at the FCCJ, events are sometimes bunched together, so the kitchen has to prepare event dishes and handle regular service for the restaurant at the same time. There are big overlaps and sometimes accidents happen. I'll be concentrating on a banquet, for example, and overlook a small event that's going on. I can handle it, but most of the staff don't have the professional experience needed in these situations. We can get into a panic situation.
Would more staff and cooks help remedy that?
Restaurant budgets everywhere have been shrinking so the number of staff and chefs has been shrinking as well. But it's not so much a matter of numbers; it's more about training and experience. We don't have a lot of professional level staff or cooks, and the younger cooks lack a sense of professionalism. It's not just at the Club, it's that way in the restaurant business overall.
What do you mean by professionalism?
Young cooks don't seek perfection. They only look at the surface how the dish appears and don't concentrate on the taste. I always taste the dishes I'm cooking and consider what needs to be added to make it perfect. A cut of meat, for example, may need to be grilled longer or less. I'm trying to make things that appeal to all the senses. Young people tend to give up easily on this.
Is it just a matter of training?
It's very difficult for a chef to train staff on the job, especially one-on-one. Many cooks are only capable of reaching a certain level. I'm trying to do training but I'm very busy with the many elements of my job, such as preparing menus, etc. I'm in a tough spot.
Don't young people train at cooking schools?
They do, so I don't know why their level isn't higher. It seems to be a problem with this young generation in particular.
Before joining the FCCJ you were in Seoul working as executive chef at a French restaurant. Do Koreans and Japanese have very different preferred tastes in food?
Yes, quite different. Koreans like sweet and spicy food. They don't like salt added into their dishes since they like to add the salt themselves. It's because they have very individual tastes, which makes it tough for a chef to create tasty dishes with a wide appeal. French food isn't so popular there. Italian food is.
Because the FCCJ is a foreign press club there's a big mix of foreigners and Japanese. It must be difficult to make your dishes consistently appealing.
It is quite challenging here because the Members have such a variety of tastes. There are some who don't like strong flavors and others who do. When I had my own restaurant I made things based on my own taste, and it catered to people who liked that taste. At the Club I need to serve what the Members want, even if it is impossible to keep everyone satisfied all the time. If 60 to 70 percent of the Members understand this and are happy, then I'm happy.
What kind of flavoring do you prefer?
That's a difficult question. I like to bring out the flavor of each ingredient so the Members can taste every ingredient individually. I'm trying my best to achieve that.
The salmon dish at a recent Book Break was delicious. Did you add something special?
In the middle of making the sauce, I tasted it, as usual, and decided to change the recipe. I thought a bit of mustard would improve it so I added some mustard seeds. Whenever I'm making something, I always change the recipe a bit, even right before it's served. So often what is served is slightly different from what's on the menu. Sometimes I tone down the flavors or increase them. I'm always thinking of ways to make the dish better. I want to make the dishes as perfect as possible so the Members will be happy.
Are you concerned about food safety after the Fukushima disaster?
Right now, I'm not too concerned about food safety. But because we have to support the Japanese economy and the local Tohoku producers, the kitchen buys some products from the region.
The government says the food in Tohoku is within safety limits. Do you believe that?
I want to believe it. Even so, we make sure that all ingredients used in the club have been tested for radiation. We don't buy products from Fukushima.
How about rice and fish?
Japan is very strict about rice and we can only use Japanese rice. We don't use a lot of fish from Tohoku since its safety is still uncertain. Although we have a lot of requests, I don't want to serve oysters or shellfish from Tohoku, even if the region is famous for them. We mainly buy fish coming from Japan's southern regions, and though there's still a variety of seafood and fish to choose from, there is less of a choice than in previous years.
How about oysters from abroad?
I've never served oysters from abroad, only those grown in Japan. But I'm thinking of using New Zealand oysters because I've heard they're good.
What about other ingredients?
All our shrimp comes from abroad, as well as asparagus and other special ingredients. Like most restaurants, we mainly buy foods produced in Japan, especially when they're in season. I avoid Chinese produced foods as much as possible. They are not rated highly and there are problems with agricultural chemicals.
What are your goals now?
For now, I just want the situation in the kitchen to calm down a bit. I want to train the staff more. And, most importantly, I want keep the Members happy.
Do you ever get advice from other chefs?
Yes, I do seek advice from friends who are chefs. If they come to the club kitchen for a look, they're always very surprised. They'll say to me, "Wow, you've got a very tough job." I ask them if they'd like to try it, but they always have a quick response: "No thank you!" (Laughing)
Do you have a chance to get feedback from Members?
Some Members have wandered into the kitchen to tell me they have or haven't liked a dish, and I'm very thankful. When we're busy, I can't really attend to visitors, but Members are very welcome other wise. It's important that I get feedback. Then I can adjust the taste little by little to make the food better and better.
The layout is very different from most restaurant kitchens, yes?
In the Club it's very easy for Members to enter the kitchen. (Laughing as he points to the easy access from the main dining room.)
How often do you change the menu?
Restaurants change the menu every one or two months. We change the PAC press conference lunch menu once a month, and the overall "grand" menu once every two or three months. We'll also change the menu on the spot depending upon what ingredients are available and what's in season.
If a member requests a certain dish can you make it?
We'll try our best to accommodate the request if we're not busy with a party or event.
The portions seem quite large.
The portions are on the large size, which is what I was asked to serve from the beginning. This is something I need to give some thought to, since restaurants usually try to control the size of the portions.
And the price is quite low compared to most commercial restaurants.
That's true, and I'm trying to adapt to that.
Sounds like you've been having some tough moments here. Are you having any fun?
It's fun to be the FCCJ chef because I love to cook and prepare food.
CHEF KOBAYASHI'S GRILLED CHICKEN WITH HERBS AND SOY SAUCE
Four servings
4 chicken thighs
salt and pepper Marinade
120cc soy sauce
30cc white wine
1 garlic clove
3-4 lemon slices
40-50cc olive oil
thyme, oregano, rosemary and chervil
Pat the chicken thighs dry with kitchen paper, then lightly season with salt and pepper.
Mix the marinade ingredients. Place the chicken thigh in the marinade and leave for at least 30 minutes.
Heat the oven to 180c and grill until done. The chicken can also be cooked in a frying pan over medium heat.
CHEF KOBAYASHI'S CREAM OF MUSHROOM SOUP
Four servings
400g mix of shiitake, shimeji and maitake mushrooms
• 500cc chicken stock
whipping cream
grated garlic
chives
salt and pepper to taste
Clean the mushrooms.
Bring soup stock to a boil and add mushrooms for 3 to 4 minutes.
Remove any scum that rises to the top and put the soup stock with the mushrooms into a blender.
Whip the fresh cream until it forms in soft peaks. Add grated garlic and diced chives.
Add the whipped cream to the soup mixture according to taste.
---
Lucy Birmingham is a Tokyo based journalist who writes regularly for Time. She is the co-author of Strong in the Rain: Surviving Japan's Earthquake, Tsunami and Fukushima NuclearDisaster