Issue:
It's global investor courting time in Tokyo
First came the cash, now come the suits that sent it
by Gavin Blair
---
When Japan's long unloved stock market suddenly roared back to life last November, foreign cash began pouring into Japanese equities by the typhoon load: more than $100 billion between November and July. Some of that liquidity has drained back out since the market retreated in July, but as the summer's heat wanes, prepare for another deluge: the "suits" that sent the money are coming to see what they bought, and to decide if they want to buy more. The impressions they take away from five upcoming gatherings may have a significant impact on the nation's economy.
September marks the start of Japan's global investor courting season: a series of week long gala conferences put on by the major investment banks from September through March, in English and for the benefit of major international investors and stock pickers. Feature presentations by Japan's senior corporate managers, as well as figures from the worlds of politics, economics and beyond, offer opportunities to demystify players in the world's third largest economy.
This time last year, the main attraction for hedge, mutual, pension and other fund managers was the prospect of outstanding sushi. Few expected growth in Japanese equities ever. But this year organizers are expecting sell out crowds and rapt attention as one shacho after another leads his dog and pony onto the stage.
Before you rush to sign up, here is the bad news: all five confabs are closed to the media and off the record. But knowing when and where the events will be, the diligent journalist still should be able to ferret out the odd sideline interview with a featured luminary. To that end, here is an overview of the upcoming conferences.
BANK OF AMERICA MERRILL LYNCH 2013 JAPAN CONFERENCE 2013
For a decade the lead off event of Tokyo's investor courting season, the Bank of America Merrill Lynch (BofAML) Japan Conference is held at the Grand Hyatt in Roppongi. Running this year from Sept. 17 to 20 under the title "Japan Rising," organizers expect more than 1,000 investors from around the globe to hold 7,800 one on one meetings with 275 participating Japanese corporations, in addition to the extensive line up of feature presentations.
Speakers over the years have included Al Gore (by teleconference), Paul Krugman, Shintaro Ishihara and Masayoshi Son. This year's line up features Sony CEO Kazuo Hirai, economist Koichi Hamada (the brain behind Abenomics) and METI minister Toshimitsu Motegi.
"Investors want to come because we have senior management and politicians speaking; so in one visit of a few days, they can get a quick download of Japan and get up to speed," says Christian Howes, head of research marketing Japan at BofAML.
"A lot of investment firms had moved people to Hong Kong and they have basically spent 90 percent of their time looking at China. And now all of a sudden, Japan is not only hot and it's moving, but it's got a much bigger economy than many of them realized. It was almost as if Japan wasn't recognized for the economic power it is," Howes said.
Beyond the big picture, the opportunity to meet face-to-face with senior corporate management is a major attraction for investors.
"What the investor wants to see is what the CEO's face looks like when they've been asked the difficult question," says Howes.
Focusing on different industries and issues each year, the conference has evolved over the past decade and so has the audience.
"Ten years ago we had less than 40 investors from Asia, but so far we have 213 registered this year," says Yuki Maeda, head of corporate access at BofAML for Japan and Korea. Over the same period attendance from Europe has halved.
"This year there is more interest in the macro situation in Japan, they want to meet people from the government," says Maeda. "There's also more interest in automakers and retailers as well as new internet and IT firms."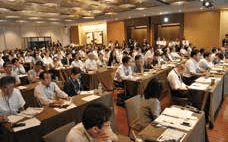 Participating investors are also offered tours to factories and other points of interest.
"The tour to the Bank of Japan and the Ministry of Finance is particularly popular this year," says Howes. "People want to know how real the change in Japan is, and that can be hard to get a handle on just by reading about it in the media."
MIZUHO INVESTMENT CONFERENCE
Mizuho Securities, the new kid on the block in global investor conferences, is racing to catch up with incumbent rivals. Just six months after holding its inaugural event, Mizuho is holding a second shindig from September 9 to 12 at the Palace Hotel, upstaging BofAML. Organizers say 276 companies will be on hand for the gathering. The event's concluding keynote, entitled "The Sun Also Rises (at last)," will be delivered by No.1 Shimbun contributor (and former editor of The Economist) Bill Emmott. Also on the program is Akira Amari, minister in charge of Economic Revitalization. Participating investors will be given an opportunity to volunteer in Tohoku for a day.
NOMURA INVESTMENT FORUM
Domestic heavyweight Nomura Securities holds an event that is the oldest of its kind in Japan, running this year from Dec. 2 to 6 at the Mandarin Oriental. Although the speaker line up had yet to be announced at press time, and few other details were available, Nomura expects 200 companies and 1,500 global investors to participate.
CLSA JAPAN FORUM
This past February, CLSA (Credit Lyonnais Securities Asia) marked the 10th anniversary of its Japan Forum, held each year at the Grand Hyatt in Roppongi. This year, the buzz around Abenomics was in its early stages when the event was being organized, but interest and participation were still up, according to Yasuo Hinoki, head of Asia corporate marketing at CLSA, and coordinator of the Forum.
"The number of investors looking at Japan had dwindled every year since the Lehman Shock. A lot of Japan only funds had either closed or been consolidated into other funds. But now people have the biggest budget they've had to trade Japan in years," says Hinoki.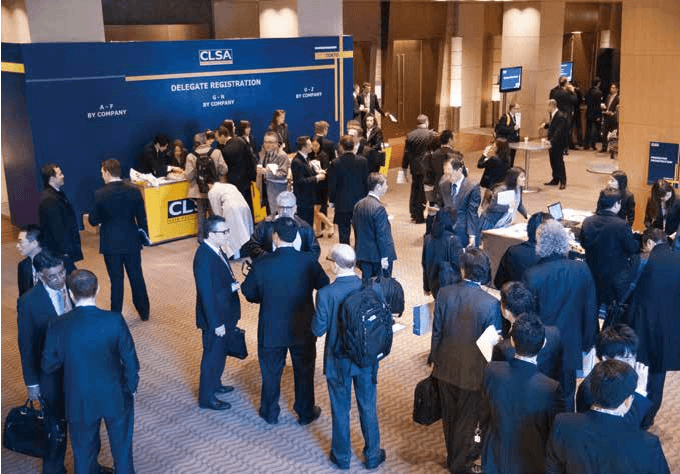 "Japan is a macro story now, whereas previously it was more of a stock picking story. And with China's growth coming in below forecast, there's a lot of interest now," says Hinoki, who has already begun work on the 2014 Japan Forum.
"For foreign investors, one of the attractions of the conferences is the opportunity for participants to get through eight to ten meetings a day, including breakfasts and dinners, without having to travel off the site," says Hinoki.
Around 70 percent of the corporate participants in CLSA's forum are top 100 companies, but smaller firms with what Hinoki calls "interesting stories," are also invited.
"Japan is full of those kind of smaller companies that have the best technology, or are the best at what they do, in the world," says Hinoki.
While CLSA's Japan Forum is one of the biggest shows in this town, its Hong Kong conference is legendary: "two to three times bigger" than its Tokyo counterpart and featuring up to 200 presentations, according to Hinoki. But it is not the volume of corporate slideshows that make it legendary. Past conferences have been headlined by notables like Mike Tyson, George Clooney, Sarah Palin, Bob Geldof and Desmond Tutu. And the evening parties, like last year's featuring a performance by Katy Perry, are a hot ticket in the industry.
While the Tokyo events are, perhaps predictably, more sedate, the 2009 edition reportedly included a pole dancing show and a live appearance by Macy Gray.
DAIWA INVESTMENT CONFERENCE
Daiwa Securities ends the global investor courting season with a conference in March, with the next one scheduled for March 3 to 7, 2014, at Tokyo's Prince Park Tower. Beyond Japanese listed firms, Daiwa also features companies from around Asia. Although the line up for the upcoming event has yet to be announced, speakers at Daiwa's 2013 event included Jim Rogers, former partner of legendary investor and George Soros, and the LDP's Shigeru Ishiba.
ALTHOUGH WE'RE NOT INVITED…
Unfortunately, all five of these conferences are off limits to media. But interested journalists who contact the organizers' PR departments may find them helpful in arranging off site interviews with the keynote speakers. Or so we might hope.
---
Gavin Blair covers Japanese business, society and culture for publications in America, Asia, and Europe.