Issue:
December 2022
Transgender mayoral candidate's campaign offers hope for the future, in Shinjuku and beyond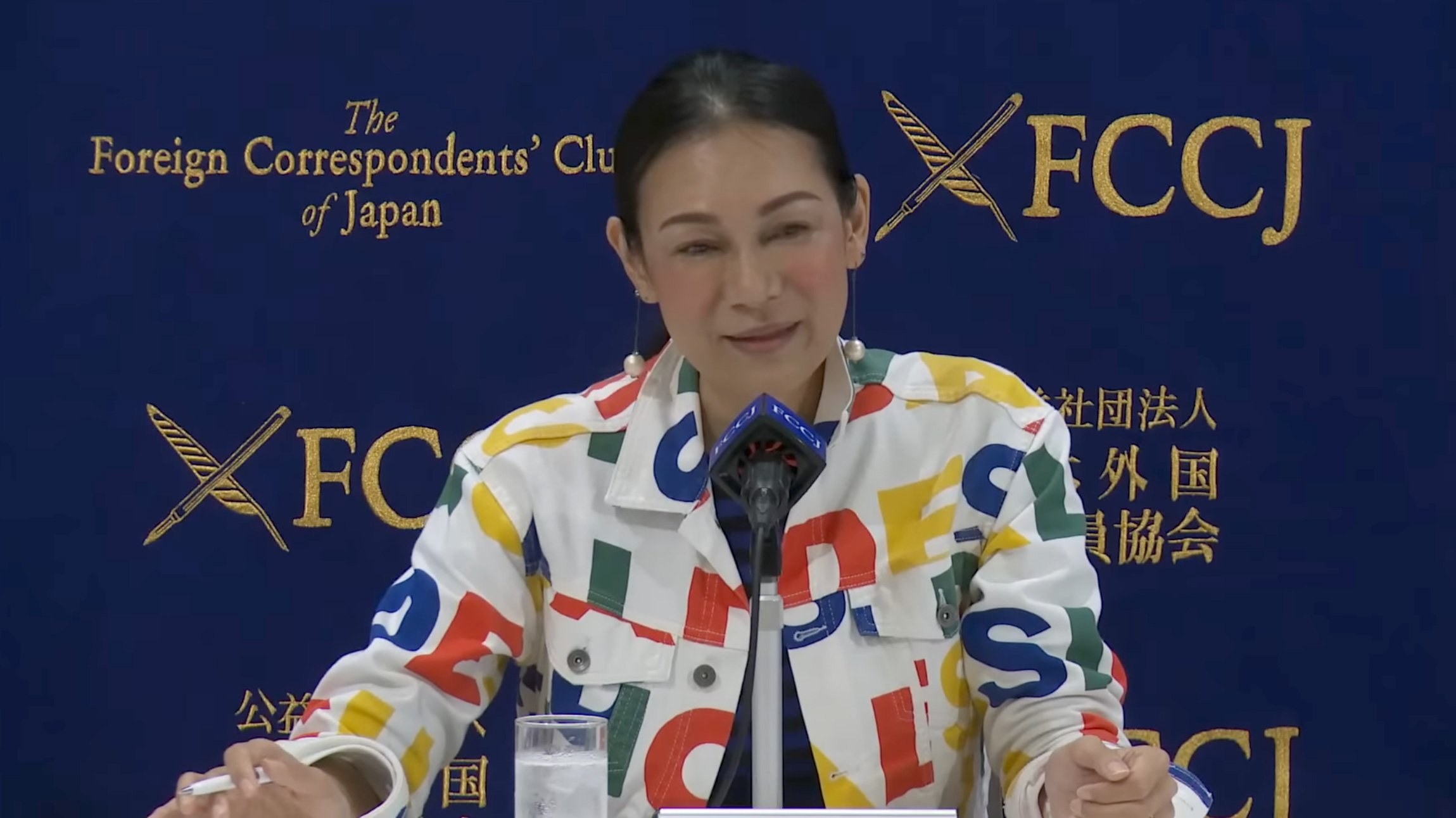 Standing in front of her campaign van emblazoned with the word "Change", Karen Yoda greeted shoppers and passersby while delivering a stump speech ahead of the Shinjuku ward mayoral election last month.
As she explained how she would use Shinjuku's ¥65.6 billion reserve fund, a man on a bicycle shouted, "Gambatte!", prompting Yoda to pause and respond with a cheerful "Thank you! Please ride safely."
"We will protect the lives and businesses of Shinjuku residents against Covid-19 and the higher cost of living," she said across the road from a discount supermarket in Kitashinjuku. "We will make Shinjuku a more livable city."
In 2020, at the height of the coronavirus pandemic, Shinjuku's Kabukicho nightlife district became the focus of particular concern that its bars and clubs were helping spread the virus among residents and visitors.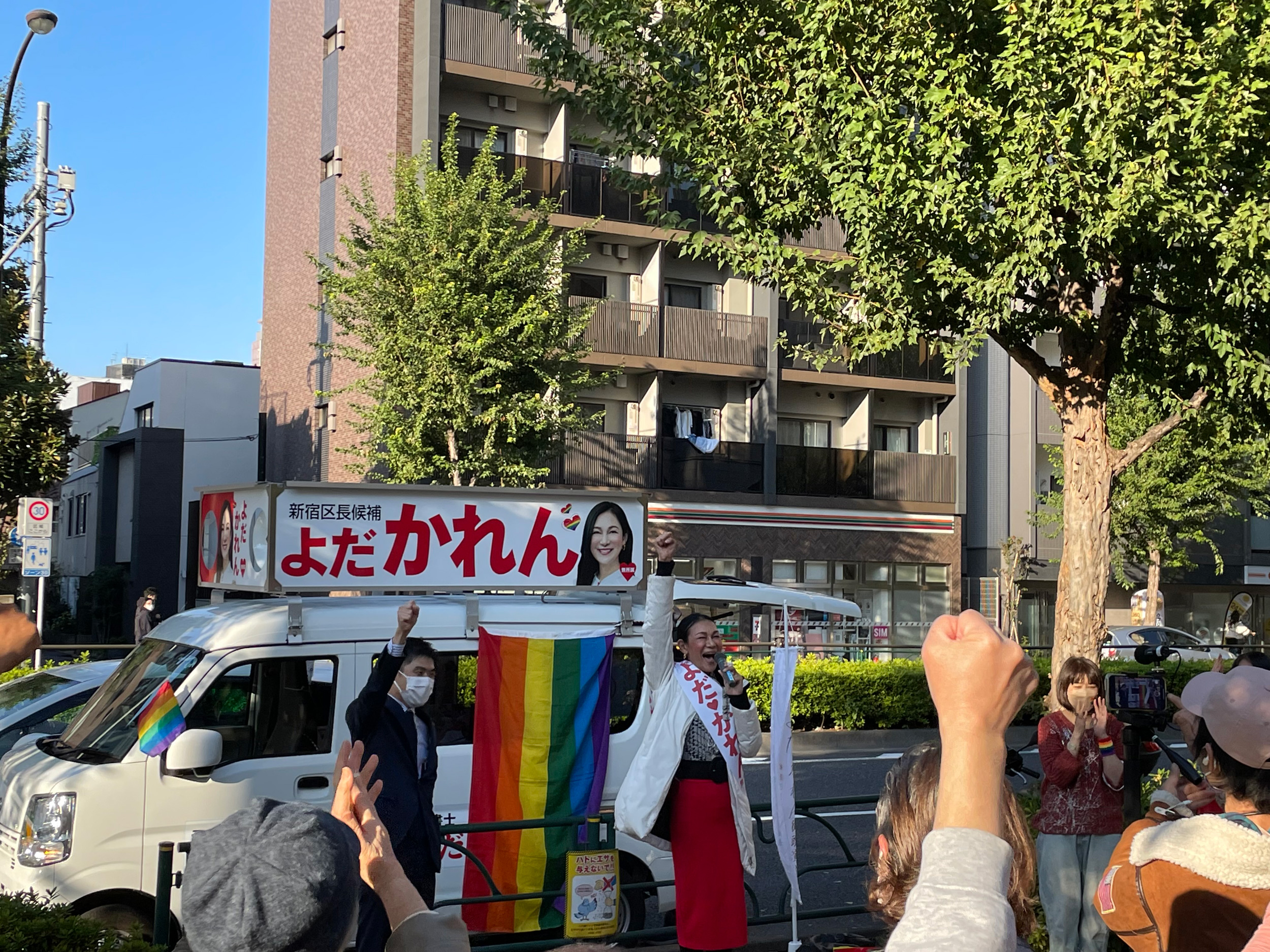 Yoda, a 50-year-old former dancer who transitioned from male to female at 36 and now works as an administrative scrivener, ran as Japan's first transgender candidate in a ward mayoral election on November 13, pitting her against the LDP-backed incumbent Kenichi Yoshizumi.
Her candidacy was backed by the Association for a Diverse and Friendly Shinjuku and several opposition parties – most notably the Communist Party of Japan, whose lawmaker, Taku Yamazoe, spoke after Yoda in support of her campaign.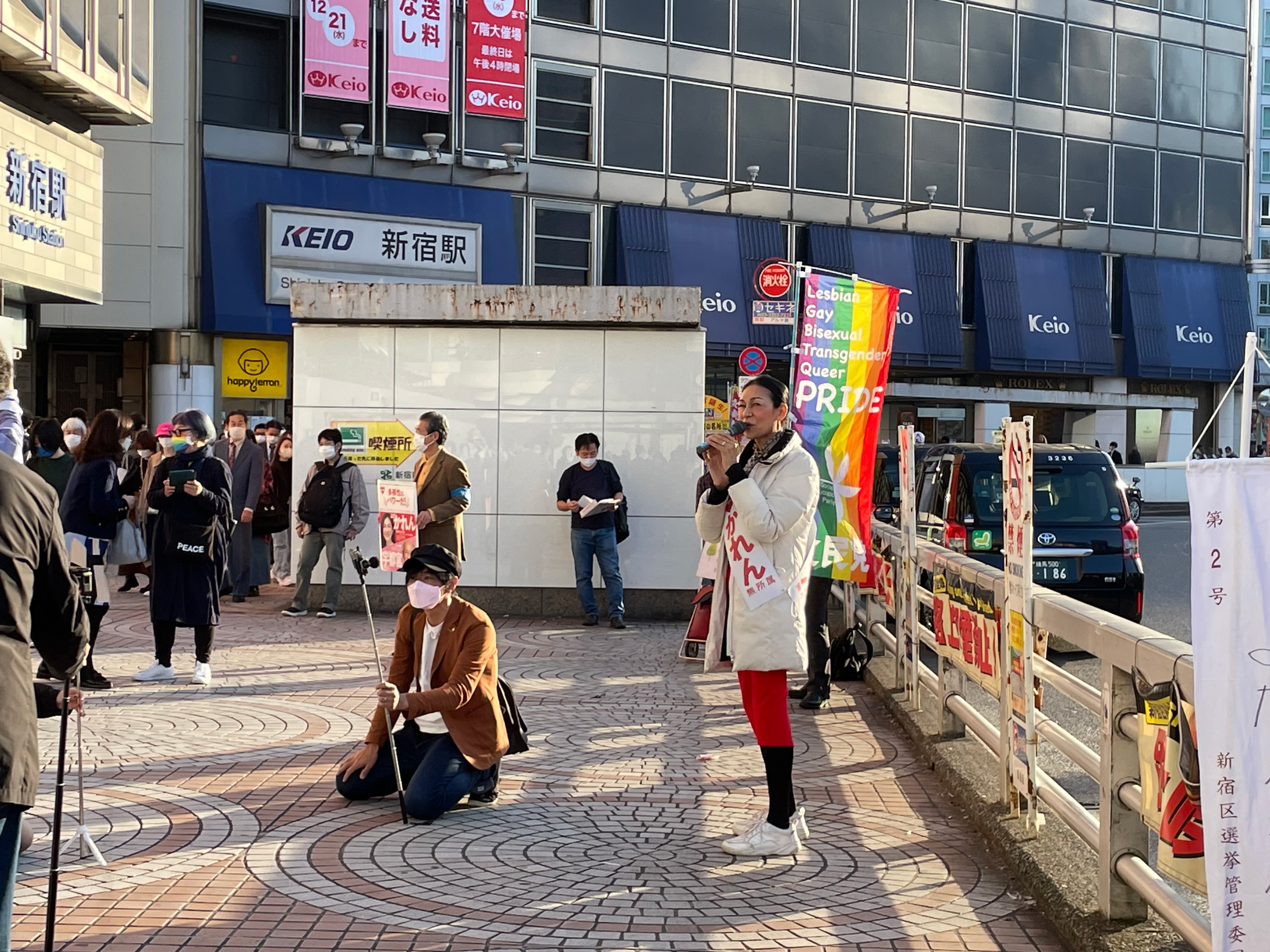 Although Yoda lost by a considerable margin amid a low turnout of around 30%, her candidacy was a litmus test for the state of diversity in Shinjuku and the rest of Japan.
While members of the LGBTQ+ community have been elected to the Diet, they have no presence at the local level. Taiga Ishikawa of the Constitutional Democratic Party of Japan is the only openly gay member among 713 members of both houses of the Diet; Kanako Otsuji, a lesbian, served in the Diet from 2017 to 2021.
Silent and open discrimination against LGBTQ+ people continues in Japan, while transphobia on social media is on the rise. Yet there are also signs that awareness of sexual minorities is increasing, especially among young voters.
Speaking at the FCCJ just before the election, Yoda recounted her upbringing as the second of three brothers in Toyohashi, Aichi Prefecture.
"When I decided to come out, I was worried about the reaction from my father. But it was actually my mother who didn't take it so well," she said.
In 2019, Yoda won a seat on the Shinjuku ward assembly; in July this year she stood unsuccessfully in the House of Councillors elections.
Her mayoral campaign staff included her partner of 30 years, Kenji Kawate, and several close friends and supporters of LGBTQ+ rights. Kawate was at Yoda's side throughout the campaign and appealed to the public to give her "a chance to speak for the voiceless".
Yoda's candidacy was timely, coming days after the Tokyo metropolitan government started issuing certificates recognizing same-sex partnerships, the biggest local authority to do so.
Yoda pointed out, however, out that LGBTQ+ couples are given their certificates without the fanfare and customary celebratory remarks from ward officials that straight couples receive when they marry.
"It is my sincere hope that the life we choose to lead is one accompanied by peace of mind, a path built on equality in an open and free society," Soyoka Yamamoto, a member of Pride House and a representative of Partnership Act for Tokyo, said at the FCCJ on the day the TMG announced the same-sex partnership certificates.
Without the framework of marriage, same-sex couples face discrimination in housing, hospital visitation rights and other areas of daily life. In addition, they do not have inheritance rights.
Yoda has formally registered as a woman, so she and Kawate have the right to marry. But they say they will refuse to do so "until other LGBTQ+ people can freely marry without facing prejudice", Yoda said.
---
Ilgın Yorulmaz is a freelance reporter for BBC World Turkish. She is the Second Vice President of FCCJ.