Issue: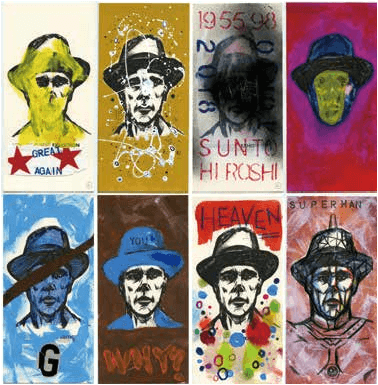 I studied delicate nihonga-style painting from a young age. Then, a few years ago, I started using stiff, oil-paint brushes to create thick, line paintings of people.
One of the things I learned from this is that a thick line is not a line, but a surface.
Next I photographed the finished painting and turned it into an image.
However, being an experienced graphic designer, I found that I was not satisfied with the resulting image. It was then that an old friend suggested I added information to the picture and print it.
This marked the birth of "THE PAPER," a free newspaper that offers a complete contrast to the modern trend of delivering information digitally over the internet.
The works in this exhibition illustrate the path that led to the creation of "THE PAPER."
---
Hiroshi Sunto was born in 1955. He began his career at Nippon Design Center and later moved to the design office Breakfast. In 1985, he opened Sunto Graphics and has designed album covers for over 130 musicians. In addition, he has been the creative director for a number of magazines.