Issue:
Statement by the Hong Kong Journalists Association and Hong Kong Press Photographers Association
"Journalists have not obstructed [police] enforcement of the law; we have monitored their violation of the law."
THE HONG KONG JOURNALISTS Association (HKJA) and Hong Kong Press Photographers Association (HKPPA) on Sept. 12 made a joint call for the government to stop police violence against journalists covering the anti-extradition bill protests.
The police, they said, should apologize for their increasing attacks, both physical and verbal, against front-line reporters in the past three months.
The two journalists' groups issued their demands at a joint press conference, which was aimed at countering police accusations against journalists who covered the protests. They include claims that reporters had blocked police operations, with some in "zero distance" with officers, and that there were "fake reporters."
The groups demanded that the police stop making unfounded accusations and reiterated their call for an independent investigation into the way police handled reporters during the protests. HKJA Chairperson Chris Yeung said in the press conference: "Claims that reporters have obstructed police officers in carrying out their duty have never been substantiated with evidence."
"They were tactics taken by the police to justify their abuse of power and violence against journalists," Yeung said. "Journalists have not obstructed their enforcement of the law; we have monitored their violation of the law. There are growing hostilities among at least a sizeable segment of the police force towards journalists, as shown in their deeds and words."
"Press freedom is under threat," Yeung said.
The two groups said there were a long list of cases clearly showing that media footage and pictures of the clashes and arrests have helped the public know the whole truth. If journalists had been barred from reporting at the protest areas, stories such as the presence of undercover police officers among the protesters and the serious head injury of a young student at the Tai Po MTR station would have never been able to see the light, they said.
Responding to police claims that there were "fake reporters," the two associations have called on the police to explain what they meant by "fake reporters" and what evidence they have.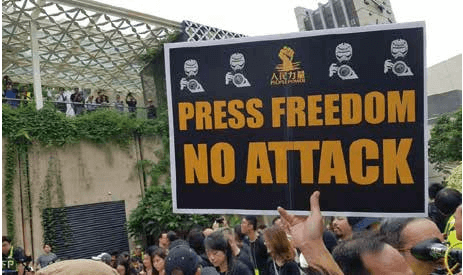 HKJA executive committee Lam Yin-pong and a HKPPA representative gave more details of police violence, including a case when a number of reporters were pepper sprayed in Mong Kok. Worse, they said failure of police officers to show their identification numbers made it difficult for reporters to lodge a formal complaint.
The two groups also made an appeal to the public not to harass, bully and obstruct the work of journalists at the protests, which they say will adversely affect people's right to know. The public should not target journalists from certain media organizations that they feel discontented with because of various reasons, they said.
During demonstrations, rallies and clashes between police and protestors, they said members of the public should try to keep a distance from reporters to avoid confusion and misunderstanding.