Issue: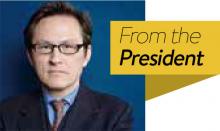 AFTER THE RECENT ELECTION, we appear to have a strong consensus that the Club needs to move forward in our 70th anniversary year. Getting great speakers, increasing the number of younger professional members, improving the workroom and library, advancing our disclosure policy and finally resolving disputes that have dragged on for years I don't think there is any question on these priorities among the membership.
First, I am pushing to make our speaking schedule the envy of Japan and the region by bringing in the best, most timely and biggest speakers. To accomplish that, however, we must become more proactive and at a higher level.
We have made a good start, for example, in meetings with the head of Mazda Motor PR, to get the ball rolling on securing auto company chief executives ahead of December's Tokyo Motor Show and with the Foreign Ministry's Press Secretary. I will be meeting the ambassador from France, which is holding critical, global climate talks in December. We are working hard on getting ruling party executives and ministers back into our speaking rotation after a noticeable and prolonged absence, as well as more business and finance speakers. And with Japan hosting the Group of Seven leaders' summit next year, there will be plenty of opportunities to secure top officials to speak at the Club, but we must start laying that groundwork now.
Another critical issue is the future of our Club's membership. Our marketing efforts are helping, but more is necessary. That includes actions at the Board level to ensure that younger journalists and associates join the Club something all the more important as our membership rapidly ages, like the rest of Japan. We also need to polish our image and offerings to members.
One way to do that is for the Board to publicize our activities, including our scholarship program, to the world outside of Yurakucho through the Japanese and foreign media, and to civic and business groups. We need to study having professional development seminars and workshops, such as programs on simple, video camera usage and editing, deep web searching and journalism fellowships and grants.
Finally, the Board will be hammering out a new information disclosure policy soon and spare no effort to put the legal wrangling behind us. I have reached out to our erstwhile Club president, Myron Belkind, who is now the head of the National Press Club in Washington, DC, and the Overseas Press Club in New York to get a better idea on the best practices on disclosure.
On a housekeeping note, as of July 1, the Club upgraded the WiFi system on the 20th floor to make it faster and quickly expanding the upgrade to the 19th floor is an urgent issue. We also are transitioning to a new paperless billing system, which will save on costs and be more convenient for our members.
By focusing on our core mission of supporting journalists, whether that is in our speakers' program, planning for cutting edge facilities when we move, improving our image, getting more, younger professionals to join and promoting "friendship, harmony, and mutual welfare" among our members, we can ensure that the Club is the place "where news is made."
---
- James Simms