Issue: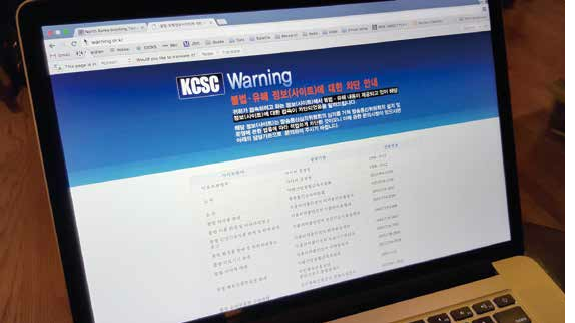 A journalist's website focused on North Korean technology is dubbed a security risk and blocked by South Korean internet censors
UK journalist Martyn Williams is planning to take on South Korea's notorious National Security Law in court after the government dismissed an appeal against the blocking of his website, "North Korea Tech."
The blocked site has earned a dedicated following for its wide-ranging news from the country, ranging from internet activity through Pyongyang's use of technology, the state controlled media, the military and economic issues. Williams, senior correspondent with IDG News Service based in California and a former president of the Foreign Correspondents' Club of Japan, learned on May 3 that his appeal to have the block lifted had been turned down by the Korea Communications Standards Commission.
Williams says he was stunned when, in April, he began to get tweets from regular visitors to the site in South Korea saying they were unable to access it. "South Korea is pretty authoritarian when it comes to internet censorship, but I was surprised that they had suddenly decided my site offended them," he said. "It's been up for six years, is solely in English and clearly isn't glorifying North Korea. I had always assumed the censors were a little more discerning and could tell the difference between propaganda and analysis. But maybe not."
Williams started the site after a reporting trip to North Korea that sparked his fascination with the country and "the way the regime manages to keep 23 million people under its thumb." When the regime got its first internet connection in 2010, he had a chance to combine his tech knowledge with coverage of events there.
The site attracts around 30,000 visits a month, but it's a high quality readership. The majority are researchers, academics, reporters and government officials who also follow Williams on Twitter. There are even a couple of followers in Pyongyang, although he suspects they may be foreign residents.
Marcus Noland, a senior fellow at the Washington-based Peterson Institute for International Economics and a close follower of developments in North Korea, said South Korea's decision to block the site is a "disconcerting nadir."
"In a world in which many pass off blather for analysis, Martyn's blog is fact-based and highly informative," he wrote on his own blog. "The Commission which implemented the ban didn't even bother to inform Williams of the block and has provided no specific reason for the action. The implications for other information sources, including this one, are chilling."
AFTER LEARNING THAT THE website was being blocked in South Korea, Williams contacted Jiwon Sohn, a lawyer based in Seoul who is active in internet censorship. Sohn was able to confirm that the block had been instituted at the request of the National Intelligence Service. "It's completely ridiculous," Williams said. "Do they really feel this is a threat to the national security of South Korea?"
He adds, however, that he was not surprised when his appeal, filed by the civil organization Open Net, was turned down. His lawyer confirmed that most of the handful of appeals that the committee hears each year end in failure.
In upholding the ban, the commission singled out three articles: a story about a space-watcher's inability to locate the satellite the North Koreans claimed to have put into orbit, a skeptical piece on the North's claim that its cell-phone operator had reached 3 million subscribers, and one on the completion of a satellite command center. The commission claimed they were "praising, inciting, or glamorizing the North Korean activities" and were in violation of article 7 of the National Security Law. It also accused the site of being a threat by introducing North Korean websites along with links.
South Korea's Media Today reported that the three out of five members of the commission who voted against lifting the ban were named to the panel by the ruling party, while the two who voted to repeal the ban were recommended by the opposition.
Cho Young-ki, one of the commissioners who voted to uphold the ban hinted after the hearing that the North Korean government might be behind the site. "Citing North Korea's propaganda activity makes the decision reasonable," he said. Cho, a professor at Korea University's Department of North Korean Studies, also said, "We should ponder why a UK citizen has a deep interest in North Korea."
Williams says he's not even going to bother replying to that one. And the next step, he says, is a legal challenge. "At this stage, the fight becomes more interesting," he said. "Unblocking North Korea Tech is of course the goal, but a lawsuit could help to define what is and isn't allowed under the National Security Law.
"Ever since the internet, things have gotten a little confused. For example, can it really be illegal to link to North Korean material rather than republish it?" he said. "I hope this lawsuit will fulfill a bigger role of pushing back against heavy-handed censorship in general."
Ironically, technology has made the South Korean government's ban effectively useless, with anyone with a VPN connection able to get around Seoul's censors. And to heap irony on that irony, North Korea Tech is freely available in North Korea, the world's least free society. In its latest Press Freedom Index, Reporters Without Borders placed North Korea in 179th place. Only Eritrea was lower in the rankings and Williams is pretty sure that North Korea Tech is freely available there as well.
---
Julian Ryall is Japan correspondent for the Daily Telegraph.