Issue:
A young mayor attempts to lead a struggling Hokkaido city out of bankruptcy
"Yubari is financially stricken, but we're repaying ¥67 of debt every second. Japan, at the same time, is incurring ¥825,000 in new debt every second. I support the government policy that regions need to come up with their own solutions to their problems. The point is that the central government hasn't come up with its own solutions."
– Yubari Mayor Naomichi Suzuki, April 26, 2016
IN 2007, THE CITY of Yubari went bankrupt, strapped with some ¥35.3 billion in debt and municipal obligations, a long dormant coal based economy better left in the ground and a rapidly declining and aging population less than 10 percent its peak size. The road to its perdition had been paved over decades by dying industry, easy credit, poor governance, fiscal desperation, grim demographics and even bad luck a narrative in Japan not limited to Yubari.
The Hokkaido locale, known for coal and melons, was not the first in Japan to go bankrupt and won't be the last, but its humbling earned a place in national infamy with a law aimed at preventing future Yubari like collapses through greater fiscal transparency. A subsequent stringent long term recovery plan that could have made the International Monetary Fund blush, later became the responsibility in 2011 of its newly elected mayor, Naomichi Suzuki, then the nation's youngest.
Around the time of its failure, Suzuki had worked in Yubari on consignment from the Tokyo Metropolitan Government, and like the plot of a Yoji Yamada melodrama, was later encouraged to run for mayor after building up strong ties within the community.
He won handily, and now is its ambassador and visionary.
BANKRUPTCY FORCED CONSOLIDATION of social services, salary cuts and steep retrenchments, closure of public facilities, onerous higher taxes, and raised the prospect of merger with more prosperous Hokkaido locales. However, for Suzuki and Yubari's less than enthused neighbors, becoming larger was not the answer.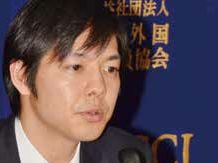 "There were a number of bankrupt municipalities including Yubari around 2007," Suzuki said at the Foreign Correspondents' Club of Japan in April. "There were some cases when cities merged and then split again, as the tie ups didn't work very well. If you neglect making the smallest unit efficient, it won't work."
The first great merger push that began nearly 150 years ago reduced the number of towns, hamlets and villages from over 70,000 to about 15,000. A postwar drive later trimmed that total to four digits, with the current number about 1,800, still shy of a central government target of 1,000.
Since their origin, local administrative authorities were tasked with regional public services, such as primary education and local tax collection, then took on duties such as running junior high schools and fire departments. As their liberty to redirect funds into other projects grew and bank lending supported development, mistakes were made and horrific losses mounted.
For Yubari, the hole deeper than its mines was tourism, or the lack of it. Its Coal History Village was among the Hokkaido non-sequiturs to travel parks that included the Gluck Kingdom in Obihiro and the Chinese wonderland Tenkaen in Noboribetsu. All are now closed, but the hardship continued for Yubari and other urban centers as population and economic flight added to the blight.
In the wake of the recovery plan, Hokkaido issued low-interest loans to Yubari. According to Suzuki, the central government set aside some ¥100 billion for regional revitalization, of which Yubari received ¥77.7 million. "There's a limit to the comprehensive finances of the government," he said.
THE MAN CHARGED WITH overseeing Japan's regional recovery, Minister Shigeru Ishiba, told Bloomberg in January there would be winners and losers in the effort: "Each village, town and city needs to work out how to revive their own community," Ishiba said. "Does that mean wider gaps among the regions? You bet."
Those gaps, Suzuki said, are exacerbated by central government policies that force cities to compete against each other, such as universal child healthcare. It is paid for by the government through age three but then left to municipalities to subsidize further coverage, depending on their capabilities.
Yubari is now clearly focused on efficiency over size. Once home to 120,000 in 1960, the city has experienced the greatest population exodus of any Japanese municipality. Yubari was envisioned over the course of its recovery plan to shrink to 7,300 residents, but may become even smaller. "When the population declines to 4,000, we should have a compact city, and consolidate the people in a compact area to create a more compact and functional city," Suzuki said. "It's just depressing if you talk only about declining population, but I'm not thinking that way."
In March, Suzuki met with Prime Minister Shinzo Abe and related ministers, telling them that the next stage is to focus both on financial reconstruction and revitalization, with a comprehensive plan coming in August. "The Abe Cabinet places the biggest priority on economic recovery, but at the same time we know Japan has a long term debt burden."
With its own population set to decline by 20 percent, a rapidly graying demographic, and debt mounting despite attempts at fiscal consolidation, is Yubari's history a peek at Japan's future? Hopefully not, says Suzuki.
"'Mission Impossible' for Yubari was actually possible. We've been able to repay ¥9.5 billion as of March this year, and financial revitalization has been done to a certain degree," he said. "Yubari epitomizes Japan, but the future of Japan should not be like Yubari."
---
Dan Sloan is editor in chief of the Nissan Global Media Center, former president of the FCCJ, and resident of Yokohama.