Issue: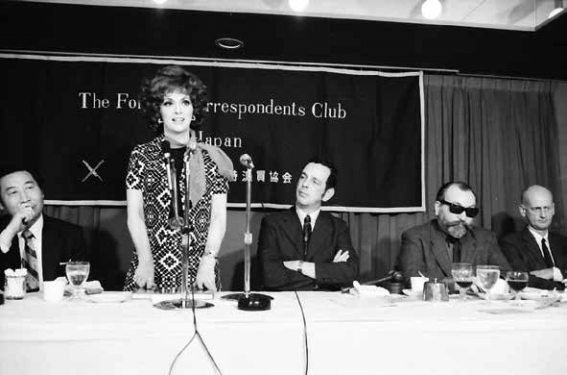 FROM SHEBA TO CASTRO
Gina Lollobrigida graced us with her presence on May 1, An Italian actress who became the world's leading "sex symbol" in the 1950s and 1960s, she became a photojournalist in the mid-1970s and also a sculptor. Seated to her right is Bill Shinn (Sisa News Agency) and to her immediate left is then-president of the FCCJ Sam Jameson (Los Angeles Times), Al Cullison (New York Journal of Commerce), and Sam Jones (AP). Al Cullison served as Club president in 1975-76 and was followed by Bill Shinn in the 1976-77 administrative year.
From now until our 70th anniversary in November 2015, we will turn these pages over to the history of the Club, both of the many esteemed and important guests who faced us – and the world – from the FCCJ dais and of the many Members who have made the Club such a fascinating place to be.
ITALIAN ACTRESS GINA LOLLOBRIGIDA had a long and storied career, appearing in over 60 films, including the role of Sheba in 1959's Solomon and Sheba, alongside Yul Brynner.
She retired from films in the early 1970s to focus on a career as a photojournalist, turning her lens on subjects ranging from Paul Newman and Henry Kissinger to Ella Fitzgerald. But Lollobrigida's biggest scoop came in mid-1974, shortly after her appearance at the FCCJ, when she arranged an exclusive interview with Fidel Castro through the Cuban Embassy in Moscow (which she had visited to photograph poet Yevgenniy Yevtushenko). Published first in Italy and then in other publications around the world, her Castro interview became part of a documentary released in January of 1975.
Her interests were wide-ranging. She created sculptures that were well received and contributed to philanthropic causes, including UNICEF, and unsuccessfully ran for the European Parliament in 1999.
In 2013, she sold her jewelry collection, and donated the nearly $5 million from the sale to support research on stem cell therapy. Now fully retired, she lives in Sicily.