Issue:
The reactions to a beauty queen's claims of being stalked were instant and viral except in the mainstream media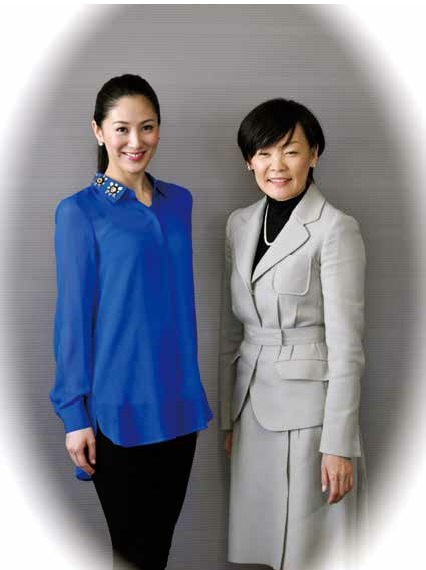 In December 2012, when Ikumi Yoshimatsu crossed the stage to be crowned Miss International the first Japanese to ever receive the honor no one would have imagined that she would become a feminist icon of resistance to stalkers and the yakuza. Yet the 26-year-old now finds herself facing polaropposite reactions: beloved by millions of fans and supporters and ignored by the mainstream Japanese media.
Last December, Ms. Yoshimatsu announced that she had filed criminal charges against one of Japan's most powerful talent agency executives, Genichi Taniguchi, for allegedly stalking and harassing her. It was a decision made, she says, after the management of the pageant, The International Culture Association, ordered her to skip the succession ceremony for 2013 and "play sick and shut up" out of fear of scandal.
After The Japan Times and the Shukan Bunshun weekly magazine reported her allegations on Dec. 11, she received an outpouring of international sympathy and support. Over three million readers have read her blog since then; her account has been reported all over the world. Her blog and website have been deluged with comments expressing support, including many from stalking victims and even other beauty pageant contestants.
However, almost no coverage has appeared in the mainstream Japanese media. Those who did later appeared to backtrack. The tabloid Sports Nippon wrote an article on Dec. 11 but then deleted it within hours. Yahoo News Japan had a section on the Miss International Contest problems but took it down in a day. One website, Girls Channel removed posts about her from the most popular rankings. Cyber Agent, the provider for her blog, even took down some of Ikumi's postings without notice, only to restore them hours later after massive protests from her readers.
On Dec. 13, Ms. Ikumi held a press conference at the Tokyo Court Press Club where she spoke to reporters from all the major newspapers in Japan. The only newspaper to report on the event, however, was her hometown newspaper, Saga Shimbun.
Then, on Dec. 16, she spoke at the FCCJ at a press conference (in the interest of transparency, I was the moderator). Without mincing words, she stated exactly why she was claiming to have been ostracized by the Japanese media and explicitly discussed the Japanese entertainment industry's yakuza ties.
According to Ms. Yoshimatsu, trouble started last spring, before she was crowned Miss International. She was working as an actress and model when, she says, she was introduced to Ikuo Suo, the chairman of Japan's most powerful talent agency, Burning Productions, who expressed an interest in having one of their associates represent her. Yoshimatsu told the press that she later refused the offer after learning of the alleged ties the agency has with the powerful Yamaguchigumi crime group.
"Morally and ethically, I cannot work with such people or their associates, nor do I want to," Yoshimatsu said at the FCCJ press conference. She claimed that Genichi Taniguchi, an executive at K-Dash and allegedly the agent that Burning Productions wanted to represent her, began harassing her by first showing up unannounced at her television shooting at Nihon Television, then later calling her family members, and hiring private detectives to follow her. In his phone calls to her family, Taniguchi allegedly mentioned the name of one of his former clients, freelance television announcer, Ako Kawada, who died under mysterious circumstances in 2008.
Mr. Taniguchi has denied stalking Ms. Yoshimatsu or intending to scare her by referring to the death of Ako Kawada in phone conversations with her family. He also denied hiring private detectives to follow her. His lawyer, however, contradicted the latter statement in an interview I conducted with him on Dec. 16, stating, "Mr. Taniguchi hired the private detectives and gave me their report."
The FCCJ press conference video, uploaded onto YouTube, has now been viewed over 76,000 times. The Independent Web Journal digest version of the press conference has been viewed over 100,000 times. Following the press conference, AP, France 24, The Independent, and the Spanish, Korean, and Israeli media reported the story, many explicitly mentioning the alleged ties between Burning Productions and K-Dash to the Japanese underworld. And once again, the mainstream Japanese media kept quiet.
It's not a surprise that the Japanese media shuns any mention of Burning Productions or their alleged ties to organized crime. In May of 2001, when shots were fired into Burning's office, the media didn't touch upon the reasons behind it. In the summer of 2007, when a Tokyo Metropolitan Police Department Organized Crime Control detective accidentally uploaded 3 gigabytes of data on the Yamaguchigumi to a file sharing network, major media reported that a famous actress was listed in the materials as the mistress of a Yamaguchigumi boss. None of the papers reported that Burning Productions was listed in those same files as a "client company" of the Yamaguchigumi Gotogumi. This reporter was given downloaded copies of the files in 2007 and confirmed their authenticity with the authorities the same year.
A reporter for one of Japan's largest newspapers, after the Tokyo Court press conference, told this reporter on background:"There's no plus side to taking sides with Ms. Yoshimatsu, so unless the police move on it we're not touching it."
As the web magazine Daily Cyzo reported on Dec. 19, Burning Productions and K-Dash supply much of the major talent in Japan and are extremely powerful. An independent film producer in Tokyo, who has asked to remain anonymous, notes, "Any media outlet that raises the ire of the group knows their entertainment reporters will be banned from access to related celebrities. TV networks affiliated with newspapers wouldn't be able to get talent for their variety shows." And there is always the possibility that the organized crime groups allegedly connected to the companies would resort to violence.
However, it is getting difficult for the press to ignore Ms. Yoshimatsu. She has an unlikely ally: Akie Abe, the wife of Prime Minister Shinzo Abe.
Ms. Abe was one of the judges for the 2013 Miss International contest. When she wrote on her Facebook page after the event, she was inundated with comments asking why she did not do anything to help Yoshimatsu. She replied on Dec. 17: "I was unaware of what happened to (her). I would like to find out the truth."
It's not surprising that she was unaware: If Ms. Abe hadn't seen the huge outpouring of comments on her blog, she would have likely never known that there were problems.
On Dec. 18, Akie Abe commented again on Facebook: "Thank you for all the various information. I want to take the proper measures. Please give me a little time." Shortly afterward, she contacted Yoshimatsu and on Christmas Day she met with her for over an hour and heard the details of what happened.
Yoshimatsu stated: "I was very pleased that Mrs. Abe showed concern not only for me but for the rights of all women in Japan. We need real laws that stop stalkers and prevent needless deaths and injuries before they happen. We need a society where the stalking of women is not tolerated even if the stalker is a powerful and important man."
Together Mrs. Abe and Ms. Yoshimatsu launched a campaign to target stalking on change.org: Stalker Zero End the Japanese "Culture of Silence" toward crimes against women!
The website discusses the details of Yoshimatsu's travails in depth, and Mrs. Abe petitions her own husband (the Prime Minister) to take care of the stalking problem in Japan. The petition states: Japan is plagued by a "culture of silence" toward crimes against women that has been the standard for centuries. Mr. Abe, as prime minister you have been a strong and vocal supporter of women's rights. You have called time and time again for a "society in which women shine." As a first step, I ask that you establish a task force to investigate stalking and violence against women with the objective of laying out an immediate national strategy to address these issues and offer real protection for women.
Mrs. Abe is listed as her co-petitioner.
They now have over 100,000 signatures. Ms. Yoshimatsu has become an icon of resistance resistance to Japan's deeply embedded organized crime, the culture of sexual harassment and intimidation that permeate Japan's entertainment industry, and the rampant stalking of women by predatory and powerful males.
Miss International and the first lady of Japan called into question the courage and fairness of Japan's media.
The kind of stalking that Yoshimatsu has endured is commonplace, and weak laws often result in police action far too late. A 33-year-old housewife was stabbed to death by an ex-boyfriend turned stalker in November 2012, after she spoke with police. Her stalker hired a private detective to find her. Last October a high school student and budding actress was also stabbed to death after alerting police to her stalker.
The former Miss International and the first lady of Japan have also called into question the courage and fairness of Japan's media. The ability of the major networks to ignore her story is mindboggling. TBS, on Jan. 11, ran a special feature about the Miss International pageant. Even though Ikumi Yoshimatsu was the first Japanese woman to ever win the title her name was not even mentioned by host Norika Fujiwara. The glaring omission did not go unnoticed by the public and TBS was flooded with protest calls; the internet went wild.
Mrs. Abe and Ms. Yoshimatsu are taking their case to a wider audience, with an exclusive interview in Shukan Bunshun last Jan. 29. Mrs. Abe has said publicly in December at a symposium that she was willing to take on stalkers and yakuza.
When Mrs. Abe wrote on her Facebook page that, "The media makes a big outcry about the Designated State Secrets Law but then is afraid to report on anything controversial or Ikumi's story," she had a point.
Still, the FCCJ press conference has had repercussions that probably no one anticipated. The alleged yakuza connections between Japan's talent agencies, who have overseas offices and business deals, has caught the attention of the U.S. government, which forbids interaction or profit sharing with yakuza associates. U.S. government officials would not comment on the record but said on background, "It's a subject of concern and we are discussing it on several levels."
The Japanese police haven't ignored the circumstances either. The Shibuya Police are investigating Mr. Taniguchi on charges of obstruction of business, according to police sources. However, they have been having trouble contacting Mr. Taniguchi as of Jan. 24 and are not sure of his location. Meanwhile, according to Yukan Fuji, The Tokyo Metropolitan Police Department Organized Crime Control Division has revived the investigative unit that was tackling Japan's entertainment industry and are taking a long hard look at Burning Productions and K-Dash.
In the meantime, it remains to be seen at what point the Japanese mainstream media will find the courage to report what they surely have known for a very long time about the shady state of Japan's entertainment complex. Or about this campaign against Japan's stalking laws by a most unusual partnership.
---
Jake Adelstein is an investigative reporter who writes for The Daily Beast and other publications. A film based on his book, Tokyo Vice, is scheduled for shooting this year.