Issue: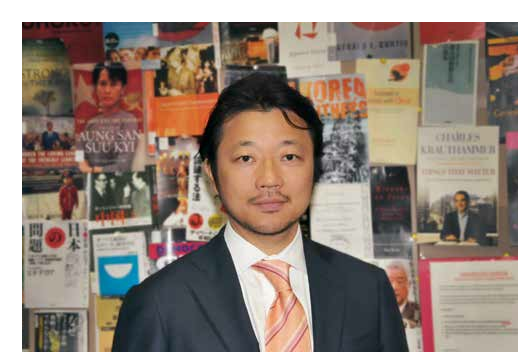 TOMOHIKO YANAGI SAYS HE HAS ALWAYS SOUGHT out and enjoyed a new challenge which is a good thing. As the new general manager of the Foreign Correspondents' Club of Japan he is sure to face one or two. Just 12 working days into his new post, the 45-year-old Yanagi emphasized that the Club has many things going for it not least a long and respected history and a place in the national consciousness. But there are areas, he says, that can be improved to offer a better experience for existing members and serve to attract a new generation of journalists.
"The Club is a famous landmark and one that, I believe, has to be sustained forever," Yanagi said. "I know that members are talking about the upcoming 70th anniversary of the founding of the FCCJ, and that's obviously a very important date, but I'm keen to look beyond that and to make sure that we can sustain this institution to its 100th anniversary and beyond.
"To do that, the Club will need to go through a process of transformation to meet the circumstances that it finds itself in today," he added.
Originally from Yokohama, Yanagi now lives within walking distance of the Club, in the Harumi waterfront district, with his wife and their two young children. And while managing the day-to-day operations of a private members' club is quite different from his previous positions at Sony Corp., Yanagi says there are lessons that he learned in 20-plus years with the corporation that will stand him in good stead here.
"I joined Sony straight out of university because I wanted to work overseas and I went directly into the international sales and marketing division," he said. That ambition was swiftly realized. After four years learning the ropes in Japan, Yanagi was transferred to Hawaii in 1996 to establish a new sales operation to meet the needs of the U.S. military on the island.
Three years later, he was transferred to Budapest "It was a bit cruel of my company to make me move in January, when the temperature difference was 30 degrees" where he took on responsibility for the sales and marketing of consumer electronics products in 11 countries in eastern Europe, as well as Israel.
Offered a move to another overseas post in 2002, Yanagi says he instead opted for a dramatic change in his career within the company and moved to Sony's corporate public relations department. "It was a completely different world," he admits. "Up until then, I was in sales where I had to be talking all the time. Suddenly, in the PR department, there were limits on what I could say."
Yanagi returned to sales in 2004 with the responsibility for 17 southeast Asian countries from Sony's regional base in Singapore. Then he returned to Tokyo once again in 2007, with the task of developing new business sectors and products, primarily for the U.S. market. He recently decided to leave the company.
"I needed a new challenge," Yanagi said. "This industry is different in many ways to what I have done before, but I have always enjoyed organizing and taking part in corporate events, so there is some crossover there. It's not too much of a leap from marketing to entertainment and, in that sense, I believe I will be able to utilize my background and experience.
"I've lived and worked in many countries in the past and I always looked at that as setting out on a new adventure," he added. "This can be a new adventure for me as well."
One of Yanagi's key ambitions is to attract a fresh generation of foreign journalists to the Club. "This place can be the focus of the latest information being sent out from Japan to media all over the world," he said. "I really believe we can do that and I feel the people of Japan expect the Club to be able to do that.
"We must not be hesitant about bringing about change," he added. "We have to enjoy positive change and if we see it as a chemical reaction between our current members and a new generation of young journalists, then I believe that chemical reaction will bring good momentum to what we are trying to do."
---
Julian Ryall is the Japan correspondent for The Daily Telegraph.
Letter to the Editor
IN THE SEPTEMBER EDITION OF THE NO. 1 THE FREEDOM OF THE PRESS COMMITTEE announced ambitious plans to vitalize the mission of this Club staple.
The one caution I offer after reading the message stems from mention that a Subcommittee will release statements in relation to international and national events affecting press freedom; this is not a right or honor bestowed to any individual or Committee in the Club, except for the President, or Board acting in unison on behalf of the FCCJ. Rather, the group can make recommendations to the Board or President, but unilateral action or public comment is not their remit.
The history behind such a single voice stems from the possibility that a group or individuals speaking for the organization would not properly represent all the Club's diverse membership and voices, potentially entangling the FCCJ into private agendas.
Moreover, such founding guidelines were not intended to mute the need to promote Freedom of the Press, instead, to keep that clarion call clear and without cacophony.
— Dan Sloan