Issue:
FCCJ HACKS & FLACKS PARTY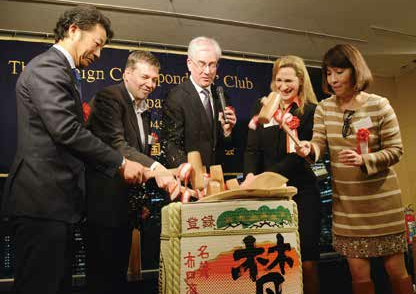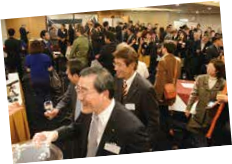 OUR ANNUAL GATHERING OF JOURNALISTS AND PR representatives from corporations, government and embassies on Jan. 29 was a dai hitto, according to president Lucy Birmingham. "It seemed everyone enjoyed themselves," she said after the party, attended by a record 294 members and guests.
Giving a boost to the proceedings was this traditional kagamiwari sake barrel opening ceremony performed (left to right) by new GM Tomohiko Yanagi, 1st VP Martin Koelling, MC Steve McClure, president Lucy Birmingham and PAC Chair Abi Sekimitsu. The sake barrel was donated by Kato Kichibee Shoten.
---
ALSO LAST MONTH . . .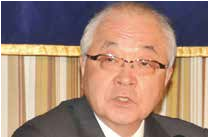 Nobuaki Koga: President, Japanese Trade Union Confederation, Jan. 17.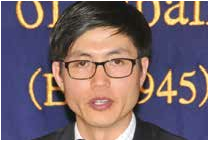 Shin Dong-hyuk: Former Innate of North Korea's Notorious Camp 14, Jan. 27.
---
Heard at the Club
Nuclear accident-related information will not be designated as state secrets. If you were to enter an area that was declared off limits by the government and reported on what you saw there, you would not be prosecuted under this law.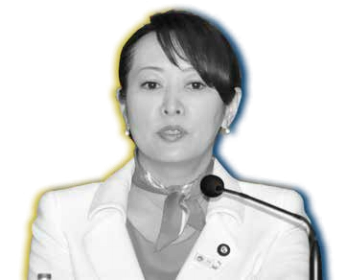 ---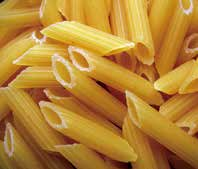 BUON APPETITO!
THE SUNDAY BRUNCH BUFFET STARTED OUT THE year with a bang, as the Jan. 26 version was a big hit. The tables of the main Pen & Quill restaurant were filled with members and their families and friends who turned out for the French cuisine and roast beef.
The next of these monthly events will be held on Feb. 23, from 11:30am to 2pm, and will feature Italian cuisine (and, as always, the signature roast beef). The Buffet is a perfect situation for celebrating birthdays, as a bottle of wine or a cake is given to any member or family member with a birthday during the month.
Make reservations early, by phone or at the Front Desk. The price is a very reasonable ¥3,150 for adults, ¥1,890 for children 4 to 14.
NEW MEMBERS

Ran Sun is the Japan correspondent for China News Service. During her career in China, she covered a wide variety of events, from the Sichuan Earthquake of May, 2008, the Beijing Olympic Games, and the riots in Xinjiang in July, 2009. Since arriving in Japan, Sun has reported on such events as the 3/11 disasters, the islands dispute between China and Japan, the change in prime ministers and the visits of former Premier Wen Jiabao to Japan in 2010 and 2011. Sun has visited the Tohoku disaster zone more than ten times in order to report on the reconstruction efforts and the handling of the nuclear accident.
Akinori Hashimoto has been head of the NHK World Department since June, 2013. Hashimoto was born in Tokyo, and graduated from Hitotsubashi University with a degree in economics. He joined NHK in 1981, and was posted to Kagoshima. He spent a number of years with the Bangkok and Hanoi bureaus, and, later, in Beijing. He was made editor of the International News Division in 2004. After time in Fukuoka, from 2006, and as head of the China General Bureau, from 2008, he was made Head of the International News Division in 2010. In June, 2012, he was named head of the News Production Division of the NHK World Department, until his promotion last year.
PROFESSIONAL/JOURNALIST ASSOCIATE MEMBERS
Tomohisa Saito, Nippon BS Broadcasting Corp.
Shiro Baba, Kitasato University
REINSTATEMENT (PROFESSIONAL/ JOURNALIST ASSOCIATE)
Hirotaka Futatsuki, Nippon BS Broadcasting Corp.
ASSOCIATE MEMBERS
Seiji Yamazaki, Shojikiya Food Service Co., Ltd.
Nobuyuki Osawa, Exeno Yamamizu Corp.
Mariko Saito, Yamaha Motor Co., Ltd.
Seiji Kasashita, Rakuten Inc.
---
Kawaii!: Japan's Culture of Cute
Okazaki, Manami & Johnson, Geoff Prestel
Things That Matter: Three Decades of Passions, Pastimes and Politics
Krauthammer, Charles Crown Forum
Pink Globalization: Hello Kitty's Trek Across the Pacific
Yano, Christine R. Duke Univ. Press
Currents: More Essential Expressions for Understanding Japan
Japan Echo Inc. in cooperation with the Foreign Press Center/ Japan Japan Echo Inc. Gift from Mr. Rick
The Tale of Genji (Two Volumes)
Murasaki Shikibu ; Tr. with an Introd by Edward G. Seidensticker Charles E. Tuttle Gift from Mr. Rick
Karoshi
National Defense Counsel for Victims of Karoshi Mado-sha Gift from Mr. Rick Wallace
From Marco Polo Bridge to Pearl Harbor: Who was responsible?
Foreword by editor-in-chief Tsuneo Watanabe; edited by James E. Auer Yomiuri Shimbun Gift from Mr. Rick Wallace
The Professional Journalist: A Guide to the Practices and Principles of the News Media
Hohenberg, John Holt, Rinehart Winston Gift from Mr. Rick Wallace
Chronicle: The Great Hanshin Earthquake
The Yomiuri Shimbunsha ed. IBH Communications Gift from Mr. Rick Wallace
Japanese Alpine Centenary
Nakamura, Tamotsu ed. The Japanese Alpine Club Gift from Mr. Rick Wallace
Whaling in Japan: Power, Politics and Diplomacy
Morikawa, Jun Hurst & Co. Gift from Mr. Rick Wallace
What is Japan: Contradictions and Transformations
Sakaiya, Taichi Kodansha Int'l Gift from Mr. Rick Wallace
Samurai in the Surf: the Arrival of the Japanese on the Gold Coast in the 1980s
Hajdu, Joe Pandanus Books Gift from Mr. Rick Wallace
Silent Thunder
Tasker, Peter Kodansha Int'l Gift from Mr. Rick Wallace
Hiroshima and Nagasaki: The Physical, Medical, and Social Effects of the Atomic Bombings
The Committee for the Compilation of Materials on Damage Caused by the Atomic Bombs in Hiroshima and Nagasaki; translated by Eisei Ishikawa and David L. Swain Iwanami Shoten Gift from Mr. Rick Wallace
The Films of Akira Kurosawa
Richie, Donald; with additional material by Joan Mellen University of California Press Gift from Mr. Rick Wallace
Furusato no Meitei - A Celebration of Japanese Gardens
Hibi, Sadao Gurafikkusha Gift from Mr. Rick Wallace
Kyodo Tsushin Nyusu Yotei: Kokunaigai no Nenkan Sukejuru o Ichinichi Ichipeji de Shuroku 2014
Kyodo Tsushinsha Henshukyoku Yotei Senta ed. Kyodo Tsushinsha Gift from Kyodo Tsushinsha
Historical Novel of the Russo-Japanese War, Volume III
Shiba, Ryotaro; translated by Juliet Winters Carpenter and Paul McCarthy; edited by Phyllis Birnbaum Routledge Gift from Mr. Sumio Saito
Clouds above the Hill : A Historical Novel of the Russo-Japanese War, Volume IV
Shiba, Ryotaro; translated by Juliet Winters Carpenter and Paul McCarthy; edited by Phyllis Birnbaum Routledge Gift from Mr. Sumio Saito
Love with a Western Woman: a Guide for Japanese Men
Pover, Caroline Alexandra Press Gift from Ms. Caroline Plover