Issue:
Increasing numbers of travelers are unsatisfied with simply going to distant, exotic destinations. As this visit to tsunami battered Iwate prefecture attests, Disaster Tourism done well can be an opportunity for visitors and the visited.
No access for unauthorized persons," read the big red letters on the sign. In our white helmets, we walk past, ignoring the warning as we follow our tour leader Kanako Sasaki. We are on a guided tour and have permission to enter the yard of this former high school on the outskirts of Rikuzentakata in Iwate prefecture, just a few hundred meters away from the Pacific coast.
The high winter grass is rustling under our steps as we cross the grounds. For years, there has been no laughter of children echoing through the hallways, no chalk screeching across black boards, no words of admonishment from impatient teachers. Instead, cables hang like curtains from the sagging ceiling paneling, a broken keyboard sticks out of a shattered window on the upper floor, below are piles of rubbish.
On March 11, 2011, all of the students at this particular school safely escaped to nearby hills before the tsunami swept through the town. The fact that nobody died here was the only reason why the ruined school building was kept, to serve as a memorial. The results of the incredible force of nature are still visible, shocking and fascinating at the same time. "In case you are ever near a tsunami," says Sasaki, "don't just run as far as possible." Instead she recommends finding a solid, high place even one nearby, like the former roadside information station called Tapic 45 that stands right next to the shore. Three people survived there, she recounts, because the building was made from reinforced concrete and tall enough. Today it serves as the Iwate Tsunami Memorial Museum.
Some might feel uneasy about visiting disaster struck regions as tourists, wondering whether such trips are ethically acceptable, morally questionable, or simply too depressing. Others argue to the contrary, saying it can bring meaningful reconstruction aid. Disaster Tourism a variety of Dark Tourism, which involves travel to places associated with death and suffering is an increasingly popular trend in the travel industry. Whether it's about visiting the damaged nuclear power plant in Chernobyl or the Tuol Sleng genocide museum in Cambodia, the more authentic it feels, the better.
The streaming service Netflix has been catering to such desires: Since 2018, dark tourists to be can enjoy getting the creeps second hand from the safety of their own sofa, through the documentary series "Dark Tourist." Protagonist and journalist David Farrier started off the series by booking a tour to the area close to the damaged Fukushima Daiichi nuclear power plant, packing a nervously beeping Geiger counter. Further episodes promised Farrier would travel to meet with murderers, or to experience being tortured.
Dark tourism does not have to be along such sensationalist lines. Conducted with care, empathy and ethics, it can make visitors better people, and give them the emotional impulse to reduce prejudices and traumas, explained tourism researcher Professor Dorina Maria Buda from Leeds Beckett University in a TED talk.
Never a tourist magnet
Exactly 1,759 people lost their lives in Rikuzentakata in the 3/11 tsunami, and Sasaki relates the precise figure on purpose to honor each person. Sasaki is young, with shoulder length black hair, her fringe falling over her eyes. She is wearing a black down jacket, black jeans and black sneakers on this cold winter day. She is one of a number of young people who left after the disaster, later returning to help rebuild and breathe new life into their ravaged regions. Sasaki's Disaster Tour, organized by the start up Marugoto Rikuzentakata which she co-founded, is one of several new tourism products. I was invited to experience the itinerary by Iwate prefecture, together with several other foreigners, to test and give feedback.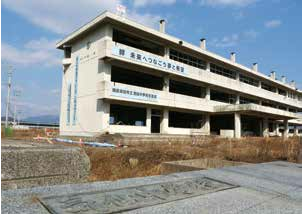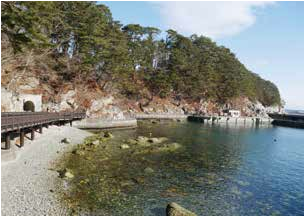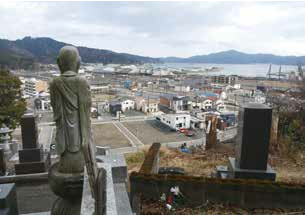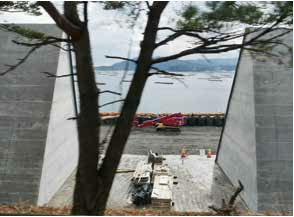 Even before the disaster, that corner of Japan had been anything but a tourist magnet, far from the "golden route" from Tokyo to Kyoto and Hiroshima. The only reason people went to northeast Japan was for some specific purpose like visiting friends, or if they wanted to experience nothing but nature in solitude. Forestry, agriculture, fishing, oyster and kelp cultivation are the defining characteristics of this rural region, then and now.
Since the disaster, new offerings for tourists have popped up here and there, but mostly only for Japanese speakers. However, with high-level events like the recent Rugby World Cup in 2019 and the up coming summer Olympics in Tokyo, the affected regions are hoping to "divert" some of the expected foreign tourist streams to northern Japan.
Sasaki and an American participant climb onto a wall between the river and the derelict school. The American has offered to take pictures for us, and is juggling our cameras and phones, trying to get the perfect shot, as Sasaki holds tight so she doesn't fall off. "The things I do for you guys!", she says laughing. Her effort pays off: She gets a shot of a clock on the wall in one of the former classrooms. The hands are stopped at 14:46 the time of the 9.0 quake offshore, and 35 minutes before the deadly tsunami arrived. A sign on the roof of the high school indicates the height of the tsunami: 14.20 meters, which is actually higher than the school.

Across the recently fortified banks of the Kesengawa river and between a turquoise colored crane and the monstrous slab of concrete that makes up the new tsunami wall, we can see what is possibly the most famous tree in Japan. There were once 70,000 pine trees along the shore, a sight for which Rikuzentakata was famous. This 200 year old tree, standing 27 meters tall, is the only to remain after the tsunami. Known as the "Miracle Pine," it has become a symbol of tenacity and the power of endurance.
The high salt content of the sea water, however, damaged its roots so much that the tree was at risk of dying. It cost ¥150 million to preserve it, Sasaki explains as we return to the heated bus. "There's been lots of fighting about this," she says. "It's so much money, so shouldn't that be given to the people affected by the disaster instead?" The issue almost cost mayor Futoshi Toba his reelection. Only five votes made the difference, according to Sasaki. But she believes that the tree helps people remember her town. "Visitors make a difference to us," the mayor said in an interview. "In many ways, you are our sustenance economically, morally and socially."
Tears for a friend
We are on our way back to the newly built town center, a small collection of less than charming buildings close to a new bus and coach stop. The ground of the floodplain had been raised by a few meters in a massive project that razed nearby hills and transported that earth via huge conveyor belts to the plain. Theoretically, everything is set: "However, for about 80 percent of the area there are no plans for rebuilding," Sasaki says. "Many people could not wait any longer and in rebuilt on higher ground elsewhere". Passing the area where the old town hall used to be, her eyes suddenly fill with tears. "This happens every time," she says, apologizing. A friend of hers used to work there. On the day of the disaster, his job was to give instructions to residents who had just arrived at the emergency shelter next door.
Dozens of people died in the building which was too low to protect them from the waves. "He put his own life on the line because he wanted to save the lives of the residents," she manages to squeeze out, her eyes red. To this day, she says she has kept in touch with her deceased friend's parents: "They have gotten older, of course, but since then, time has stopped for them."
Sasaki tears are real, her sorrow raw, so many years later. "Only you can save your own lives," she goes on to warn her guests. "Make yourself the priority! After that, you can proceed to help others," she says while wiping away more tears. Her emotions stay with me long after we have left the region.
Share lessons, save lives
Operators of such tours of course need profitability to sustain their business, but that is obviously not the most important goal. The team of Marugoto Rikuzentakata want to inform, to share lessons, to save lives, to reinvigorate their hometown, to effect change. A former nurse, Mio Kamitani in Otsuchi, 60 kilometres north of Rikuzentakata, agrees. She also organizes disaster tours, but in combination with workshops, whose goal is to increase disaster awareness and problem solving.
We start off on the ground floor of the rebuilt town hall in Otsuchi, a two story building of wood and glass. Standing next to a three by three meter model of the former town with little houses made from colored paper, all of them with signs indicating the former owners, Kamitani shows the high water mark where the tsunami wreaked havoc.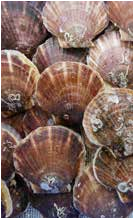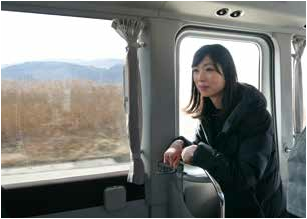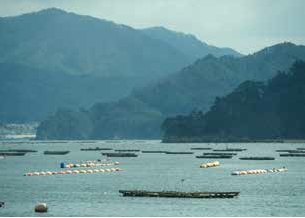 An exhibition on the second floor of the town hall chronicles what happened in Otsuchi on March 11 with time stamped photos. It took less than a minute for the water to swallow everything, including the old town hall, most of its employees, and the mayor. They had ignored disaster plans which had directed them to run to a nearby hill, where a graveyard escaped the disaster unscathed.
Kamitani, a lively 40 year old in short black hair, Jeans and a ripped black sweater, came to Otsuchi via a charity organization to help people during the immediate aftermath. Now, years later, she has put down roots and founded a family, much to her own surprise. A former globe trotter with excellent English skills acquired in the US, she says she has been frustrated by watching how decision making processes have been dragging on forever, as residents are put in front of insolvable dilemmas. "If you had to decide between building a playground for children and temporary housing, which would you choose?" she asks us, and a quick survey shows the answer is far from straight forward.
Kamitani says that there have been too many such "eitheror" decisions. Instead, she suggests that residents should have been given several options. She wants to sensitize visitors to such issues for them to take these lessons home, but at the same time hopes that such outside input might effect change in the village itself: "Sometimes you not only have to change the hardware, but also the software."
In her talk, Professor Buda said her research confirms the positive effects such types of tourism can have on both sides. While tourists leave such places with a higher emotional awareness, improved cultural understanding and empathy for the people affected, the locals enjoy having their reality witnessed and validated by visitors. "It gives residents the chance to tell their side of the story, and a platform to make their voices heard," she said.
Sasaki and her Marugoto Rikuzentakata team combine their mission of passing on the lessons of 2011 with unrelated, entertaining activities. In addition to tsunami area tours, they organize homestays with local fishermen or farmers. Guests are invited to participate in field work, splitting wood, or trying their hand at traditional woodcarving. So far, both Sasaki and Kamitani have not only had Japanese on their tours, but also groups from abroad, including students of elite US universities like Harvard and Princeton, and corporate employees.
Only between 12 and 14 percent of the world's population can afford to travel just for pleasure, and most of them are people from developed countries. "Tourism is a privilege," Buda said. This increases the responsibility to build bridges
and make connections through empathic tourism. "Next time you travel, do not only open your eyes and cameras, but also your hearts." Tour leader Sasaki agrees: Everybody in Rikuzentakata was affected personally by the disaster, having lost friends, family, colleagues. "There are so many different stories," she says. "Get in touch, learn, and take what you have learned home with you."
---
Sonja Blaschke is a Japan based German freelance journalist and TV producer. Her travel to Iwate was sponsored by the prefecture.