Issue: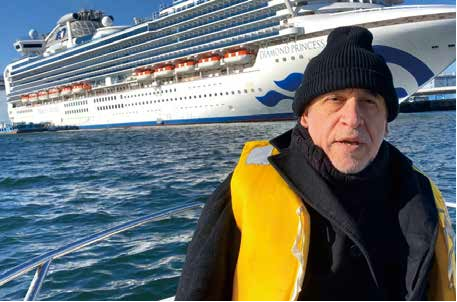 Dear Members,
The Diamond Princess cruise ship, after years of roaming the world toprovide rest and recreation to its passengers, was effectively placed under "port arrest" in Yokohama, becoming a news magnet for international media including FCCJ correspondents as a result of the coronavirus scare.
On February 27, I hired a boatman to take a news crew for a closer look at the ship from the Pacific side. The one way trip took about 20 minutes from Minato Mirai. The wind was very cold, although it was a sunny and beautiful day.
I was joined by veteran FCCJ member cameraman Ito Tomoo and Dubai based Al Arabiya News Channel reporter Laith Bazari. We did live TV grids of the ship, from up close, while Japanese Coast Guard personnel watched us and our vessel from another small boat.
As so often has been the case throughout our Club's history, bad news made FCCJ correspondents busier
Al Arabiya had dispatched my colleague Laith to join many reporters from around the world who flocked to Japan to cover the news of the Diamond Princess. A sudden surge in demand for TV camerapersons, fixers, reporters, etc., revived the market in Japan for media personnel.
As so often has been the case throughout our Club's history, bad news made FCCJ correspondents busier even as it provided welcome introductions to parachuting practitioners of our trade.
Laith visited the FCCJ during his one week stay in Tokyo. He told me he was deeply impressed by what he saw in the Club: high class location in Marounouchi, delightful ambience in the several dining facilities including the Bar, great library and newsgathering facilities and a big room for news events.
He compared what he'd seen here with other press clubs he'd visited all over the world and told me our Club stands high in terms of status and quality. He thinks journalists are "lucky" to have such a facility in Tokyo.
I badly needed to hear such enthusiastic remarks and to see the Club through the eyes of a surprised and impressed journalist visiting it for the first time. What he said made me feel very proud of being a member of the FCCJ and his words charged me with some extra positive energy of the sort that we could all use in order to look at our Club through a wider lens.
As it happened, the boat ride and those welcome compliments from Laith came at the end of a seven day period that other Board members and I had begun by hearing a series of mostly downbeat assessments from both journalist and associate members speaking at the Club's February 21 town hall meeting.
The general sense of that town hall meeting was that the "club" atmosphere of the FCCJ has suffered as a result of the move to new premises. "It no longer feels like a club," and the FCCJ has lost its "family atmosphere," members complained. There were complaints about the prices of food and drinks at the Club since the move. Members seemed to be expressing as much sorrow as anger at the changes in the Club. There was obvious concern about the current state of FCCJ finances and anxiety about whether current trends toward declining membership will continue.
There was a feeling that the Club should come up with concrete measures to woo back members who have resigned following the move as well as bringing in new blood.
Widening membership categories to allow Japanese journalists working for Japanese media in Tokyo to join the Club as Regular Members was one suggestion, a pet idea of long term member Greg Clark. (This would be practicable in many cases under existing rules.)
There was also a view expressed that the FCCJ urgently needs to focus on generating more revenues from professional activities rather than relying so heavily on initiation fees and donations. On balance, members in attendance seemed satisfied that the current board is fully committed to coming up with constructive solutions to the FCCJ's challenges. Members seemed prepared to be patient while the Board and Committees do their best. That's gratifying since, in fact, we are indeed going all out to meet our responsibilities.
Back to the scare over coronavirus, eventually it will wash away with the Pacific waves. I enjoyed riding in the small boat and having the occasion to reflect that the big ship, the Diamond Princess, sooner or later will return to creating happy memories for new passengers.
Meanwhile, I hope and believe that our own big ship, the FCCJ, will sail on with its leading mission of supporting all the media, local and international, in reporting the real picture in Japan.
---
– Khaldon Azhari