Issue: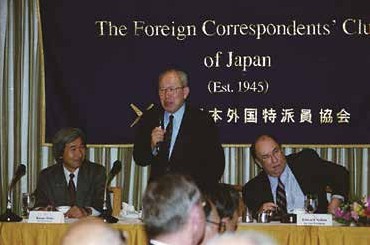 Dr. Juro Wada, a Hokkaido cardiac surgeon who in 1968 performed Japan's first heart transplant in which the recipient survived for 83 days, speaks at the Club on Apr. 1, 1999. Charged with manslaughter over suspected misdiagnosis of the donor's brain death a charge later dropped he became the epicenter of an ethical storm that discouraged such transplants until after the Organ Transplant Law was passed in 1997. His appearance at the Club followed the first heart transplant to take place after passage of that law. Seated to his left is the FCCJ's 1st VP Ed Neilan (Washington Times) and to his right is 2nd VP Kazuo Abiko (AP).
Juro Wada was born in Sapporo on Mar. 11, 1922, the son of a professor at the University of Hokkaido. He received his medical degree at the same institution in 1944 and worked in a local hospital. In 1949, he went to the US to further his clinical training and became a fellow at the University of Minnesota in 1950. Following stints at Ohio State University in 1952 and at Boston's Brigham Hospital (Harvard University) in 1953, Wada returned to Japan in 1954 and established the Department of Cardiovascular Surgery at Sapporo Medical University in 1958.
The heart transplant in 1968 by Wada, the thirtieth in the world, was not his only pace setting procedure in Japan. Between 1959 and 1965, he introduced several surgical procedures for heart and chest repair. He also performed the first successful operation to correct congenital heart defects in babies, the "Mustard" procedure named after its doctor creator. And in 1968, he developed the Wada Cutter valve prosthesis for the heart in conjunction with the Cutter Biomedical Corporation. That device was later used in creating the first artificial heart.
In 1977, Wada moved to Tokyo to become Chairman of Surgery at Tokyo Women's Medical University, and began traveling world wide to attend meetings, give lectures, and meet with other cardiac surgeons. He retired from this position in 1987 to establish the Wada Heart and Lung Institute in Tokyo. In 2007, he was chosen as one of the top seven cardiac surgeons in the world in Athens, Greece, the same year he celebrated his fiftieth year of marriage.
Juro Wada passed away at the age of 88 on Feb. 14, 2011 at his home in Tokyo.
---
– Charles Pomeroy
Editor of Foreign Correspondents in Japan,
a history of the Club that is available at the front desk