Issue: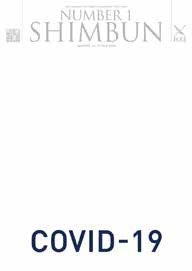 ON THURS., MAY 19, FCCJ President Khaldon Azhari held an online media briefing to announce the board of director's decision to remove the online cover image on the April issue of Number 1 Shimbun at the demand of the Tokyo 2020 Olympic organizing committee. The image featured the Tokyo 2020 logo manipulated to look like the coronavirus, illustrating the damaging effect the COVID-19 disease has had on the Olympic games.

Azhari repeatedly stated that it was an issue of copyright, not freedom of expression. "The board consulted with our lawyers and specialized legal experts on the copyright issue and we were advised very clearly that our case in Japan was not strong," he said.
Following his statement that it was an issue of copyright, he went on to apologize for any offense caused by the image. "Clearly the cover offended some people in our host country Japan. [So] let me close by saying that we would like to express our sincere regrets to anyone who may have been offended on all sides of this issue."

After Azhari's remarks, some members of the Club joined the briefing and expressed opposition to the board's decision, claiming the publishing of the image should have been strongly supported under freedom of expression rights. Pio d'Emilia asked why the board had acted so quickly without taking the opinion of other members into account. Azhari defended the board's actions, saying they felt the issue should be immediately resolved. The same day, the Tokyo 2020 CEO Toshiro Muto welcomed the Club's board of directors' decision, stating that organizers had been offended by the logo parody after hearing about it from someone in the media. He said that the organizers had not made any legal threats in the request to remove the image.
The magazine's editor and art director resigned in protest after not being consulted at any time during the board's discussion on the issue.