Issue:
"WE'RE TAKING THE INITIATIVE IN APPOINTING A GREATER NUMBER OF WOMEN. CURRENTLY ABOUT 20 PERCENT OF OUR GOVERNMENT'S MANAGERIAL ROLES BELONG TO WOMEN . . .




AND I BELIEVE THIS DIVERSITY LEADS TO A HIGHER QUALITY OF GOVERNMENT THAT BETTER SERVES ITS PEOPLE."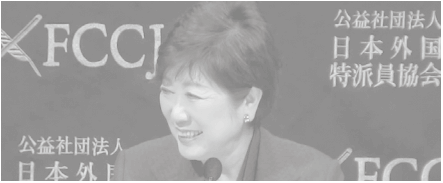 Tokyo Governor Yuriko Koike, on what her government is doing to improve what she called Japan's "truly shameful" gender gap ranking. At an FCCJ press conference, Feb. 16.