Issue: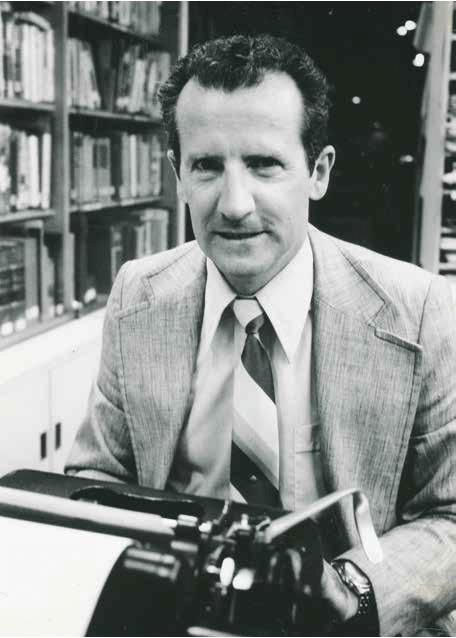 JAMES P. COLLIGAN, a Roman Catholic priest and FCCJ Life Member who died at 90 on Jan. 31 in Pittsburgh, Pennsylvania, had something in common with Cold War era journalistic contemporaries who represented government funded news organizations ranging from VOA and Stars and Stripes to Komsomolskaya Pravda and Novoye Vremya, and who did not wish to be or to be seen as anything less than first class correspondents.
"Just as he always was while sitting at a table in the Main Bar, Jim was often the grownup in the room. He was measured, polite, intelligent and empathetic with a subtly wicked sense of humor."
Coming from what he described as a working class family in the ethnic mixing bowl that was Pittsburgh, Jim Colligan had an explanation for his healthy lungs despite exposure to the tobacco smoke that used to fill the Club's bars: In the American steel capital he'd awakened each morning to find soot on the family's window sills.
He was measured, polite . . . with a subtly wicked sense of humor.
COLLIGAN WENT TO COLLEGE at Duquesne University and enjoyed the dating scene. He even came close to marrying one woman but before that could happen he realized he had a religious vocation. Of course, Catholic priests must take vows of chastity and so, he recalled, he "said a sad goodbye" and went off to the seminary of the Maryknoll Society.
In 1955, after his ordination, Father Colligan was posted to Japan as a Maryknoll missioner. He studied Japanese and carried out parish priest duties in Sapporo and Kyoto parishes. For four years, he was a pastor and kindergarten principal in the coal mining town of Mikasa in Hokkaido. At the same time, he taught English at Hokkaido University's Iwamizawa Division.
He took time out to study journalism back in the U.S., at Syracuse University, then returned to Japan as a journalist. Besides writing for the Catholic news organizations, he also did a column for a Protestant publication, Japan Christian Quarterly. He edited a book called The Image of Christianity in Japan: A Survey. A highly accomplished photographer, he published a book of photos of the 1981 visit to Japan by Pope John Paul II.
Non religious news stories he covered included the 1992 visit of President George H.W. Bush. When the president fell ill at a state dinner, Colligan was there.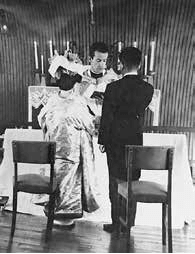 He was a fixture evenings in the Main Bar, where he exhibited his artistic talent by constantly sketching cartoons on the backs of drink coasters. He and the late Richard Pyle of the AP "scribbled lots of cartoons, often funny ones," recalls former Club board member Toshio Aritake. Some of those cartoons, signed "Japacol," made it into Number 1 Shimbun.
"HE SHOWED THAT DRY wit," agrees Tharp. "He drew one for us 'The Buckboard' with me at the reins and caricatures of our board members in the wagon."
A topic he kept returning to in conversation was the pigeons that made sleep in his Tokyo apartment difficult and repeatedly fouled his balcony. To hear him talk, you'd imagine he went after them relentlessly but haplessly the way Wile E. Coyote pursued the Roadrunner.
Club colleagues didn't hesitate to consult him on the relevant theology. Animal lover Mieko Yasuhara, longtime translator of the Asahi Shimbun's "Vox Populi" column, was given to feeding the pigeons on her own balcony. A graduate of a Catholic school, she asked whether cats have immortal souls and if so, whether Colligan would baptize her cat Kobayakawa. "No," he replied, unfazed.
"It was all good fun," remembers Yasuhara's husband, former Club president Roger Schreffler. "The Club had an auction for some reason, I can't recall why or when. Jim donated more than a hundred of his coasters. I do remember that I bought one on which he had drawn a pigeon."
Although he seldom wore a clerical collar in the Club, Colligan, with his chiseled Irish looks, could have been Hollywood casting's version of a handsome priest. As Schreffler puts it, "he was dapper, the most eligible bachelor some might say." Or, as Colligan himself would have protested, ineligible.
Often asked to handle delicate Club legal issues, Colligan liked to say, tongue in cheek, that he did so in reliance on "canon law." In one such instance in 1993, recounted in the official Club history, president Lew Simons asked Colligan to deal with a dispute over regular membership qualifications.
ONE IRATE MEMBER "PROMPTLY sent Simons a fax complaining that the problem should be handled by a regular correspondent and not 'by a fucking missionary.' Simons handed the message to Colligan, who was sitting next to him in the bar. Colligan smiled and said, 'No, no. I'm the unfucking missionary.' Colligan eventually was able to defuse the issue."
Even though his eyes might twinkle when he referred to his priestly vows, he was dead serious about them. That was a major factor when, ultimately, Colligan style journalism apparently became too probing to suit some superiors in his religious order. The work that upset Maryknoll bosses was on a topic less often addressed at that time than it is now: priests aggressively indulging their sexuality.
"Maryknoll priests who have taken vows of chastity and fidelity to the Church are bound to uphold that teaching, both in word and deed," he wrote in a 1991 article in the Catholic magazine Crisis, in which he cited a series of cases of Maryknoll priests behaving otherwise. "As more cases like this become known, priests everywhere become targets of suspicion on the parts of mothers and parishioners."
Criticizing priests and officials "who take a light view of the problem," he argued that "one reason for their neglect and acquiescence is Maryknoll's philosophy of liberation theology." The society "has actively promoted the idea that social justice is more important than personal morality." He added, "I believe in social justice myself, but not to the point where it takes away responsibility for individual behavior."
REPORTING ON QUESTIONS OF that sort more than a decade later would bring Pulitzer Prize recognition to the Boston Globe and, still later, win the movie Spotlight the Oscar for best picture. But such was the level of concern about Colligan's challenge that his superiors ordered him home for a psychiatric examination.
When talking with fellow FCCJ members, he compared the experience to something that would have been inflicted on a Soviet dissident. He described his stay at the order's New York area base as akin to house arrest.
Eventually, in 1997, Colligan wangled a career capping assignment to Los Angeles. Jim Palmer, former AP photojournalist, and his wife Pamela were among Tokyo friends who had already moved to L.A. Pam Palmer relates that they helped him find an apartment and that he had "a swell time." Colligan led Sunday services at a couple of churches and, in his spare hours, rode his bicycle, hung out with the Palmers, Tharp and ex UPI Tokyo correspondent John Needham and became a champion (in his age group) skyscraper climber.
He returned to Maryknoll's headquarters in Ossining, NY, to live in the society's retirement home for a couple of years. Then, after cerebral incidents and an eventual diagnosis of dysphasia, he moved back to Pittsburgh by then a city cleaned up, gentrified and quite pleasant. His final two years, during which he went silent on social media, were spent in assisted living there as some of his many relatives helped look after their beloved brother and uncle. "The adventurous life that he led was something that touched my entire family," a nephew, Shawn MacIntyre, said in a eulogy.
---
Bradley Martin, in his 42nd year as an Asia correspondent, is also the author of a thriller set in a near-future North Korea.