Issue: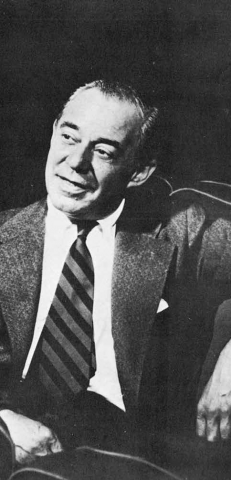 Meet Japan's all time favorite American tunesmith, though no one knows his name.
Japan's love affair with the music of one of America's most prolific composers started in earnest with the arrival of the U.S. Occupation forces in 1945. Today, despite changing musical tastes and a huge generation gap, the country's airwaves continue to be filled with the sounds of his catchy classics, like "Shall We Dance," "Blue Moon" and "My Favorite Things" to name just a few of his eminently hummable tunes.
Richard Rodgers' songs are arguably the best loved foreign tunes of all time in Japan. What is particularly impressive is that the public actually knows the lyrics to some of them in both original and translated versions in a nation of very few English speakers. Stop shoppers on the Ginza, or salarymen in Shimbashi, and chances are pretty good that they will be able to sing a full verse and beyond of "Do Re Mi," from The Sound of Music. How many Americans could do that?
The closest non Rodgers contender of frequently sung foreign songs (after eliminating "Happy Birthday" for essentially having only five words), might be "Jingle Bells," except that very few Japanese who claim to know it can actually sing the lyrics beyond the first line.
But while the music is ubiquitous, his name is not. Though many of Rodgers' melodies are recognized national treasures, an online search in Japanese will have you digging through pages of an eminent British architect, and more recently, an American football player from the Green Bay Packers, before coming across the most popular and esteemed Broadway name of all time.
Want more proof that he's the most popular songwriter no one's ever heard of? Go to a match at FC Tokyo, a top J League soccer team, and you'll hear the rousing chorus of a stadium full of fans singing their anthem "You'll Never Walk Alone," entirely in English. They took their cue, of course, from the legendary Kop's fans of Liverpool Football Club. And, like most fans around the world who've had this sing along melody deeply embedded in their passionate football memories, the FC Tokyo fans believe it is a song written by the Liverpool band Gerry and the Pacemakers in the 1960s. Not true. This, also, is a Rodgers' creation.
The song was played endlessly on Japanese television after the Tohoku Earthquake in 2011 as leading foreign based soccer players' messages of encouragement poured in from around the world. Still, most football fans have yet to discover that the song was written by Rodgers and his lyricist partner, Oscar Hammerstein, for the musical Carousel in 1945. In fact, even FC Tokyo officials were surprised to find the true roots of what they thought was a quintessentially English anthem. "It's amazing to discover the Broadway origins of the world's most famous football song," says Nobuki Kobayashi, an executive of FC Tokyo. "We're eager to share this, with a special focus on Richard Rodgers, with our fans in the coming season."
So perhaps Japan can be forgiven that none but the most devoted fans of stage musicals know the name Richard Rodgers, or the even more widely recognized brand of Rodgers & Hammerstein.
In the U.S. and much of Europe, the two need little introduction. They were the unsurpassed masters of the block buster hit musicals and led the charge of revolutionizing the musical genre from showcasing thinly plotted vaudevillian tunes in the 1920s into a new era of powerful social commentaries and Pulitzer winning storylines such as South Pacific (spun together from the novel Tales From the South Pacific by the FCCJ's own James Michener), Carousel and The Sound of Music.
All of the above musicals are popular in Japan, and rare is a season when one of them, along with other R&H favorites like Oklahoma and The King and I are not being staged somewhere by the nation's most popular troupes, Gekidan Shiki and Takarazuka. This isn't the biggest musical theater market in the world, but within its select pool, R&H reign shoulder to shoulder with the king of modern musicals, Andrew Lloyd Webber. As popular as Lloyd Webber and his creations Cats and Phantom of the Opera may be, however, you won't find many people on the streets of Tokyo able to hum along, let alone sing the lyrics, to any of his songs past the opening, "Memories . . ."
The startling volume of Rodgers' much covered hits can be partly attributed to his extraordinary longevity, the start of which predates his partnership with Hammerstein by a couple of decades. Rodgers' very first mega hit was "Manhattan," written with his Columbia University sempai Lorenz Hart in 1925, soon after leaving school, and it launched them quickly beyond Broad way into the popular music stratosphere.
Rodgers had both the artistry and pragmatic crafts manship to ride the tide of evolving tastes right until his death in 1979. Though many of the Rodgers and Hart stage productions of the 1920s and 30s didn't transition well beyond WWII, the musicals left a legacy of indelible classic songs, such as "My Funny Valentine," "Blue Moon," "Isn't It Romantic," "This Can't Be Love" (a huge Nat King Cole hit), and the Academy Award winning "It Might As Well Be Spring."
These form the core of Rodgers' jazz songbooks performed by everyone from Ella, Frank, Louis, Elvis and Miles Davis to more recent recordings by Eric Clapton, Rod Stewart and Alicia Keys. Even Lady Gaga can be heard belting out an impressive version of "The Lady Is A Tramp" with Tony Bennett in a recent album (and a must see video). Rodgers' music translates as well commercially across generations as it does culturally.
Peggy Hayama, a jazz star, translated "Do-Re-Mi" into Japanese, and a beloved "Japanese classic" was born
Rodgers & Hammerstein's big break in Japan was undoubtedly the arrival of The Sound of Music in 1965, and the film's upcoming 50th anniversary celebrations being planned around the world may finally impress the august composer's name into Japan's collective memory.
TV and magazine crews, including a top rated Japanese talk show, have been flying into Salzburg from all over the world in recent weeks to recapture the magical opening scene of Julie Andrews running up the hills made famous by the movie. And a number of tribute concerts and events are being planned in Tokyo to commemorate the half century of its enduring popularity next year.
One interesting side note is that long before the movie's opening in Japan, one of Sound of Music's songs had already topped the local music charts, thanks to the passion of Peggy Hayama, a jazz star and huge Richard Rodgers fan. She often performed "With A Song In My Heart," a favorite standard by Rodgers & Hart, so after a concert in Los Angeles to commemorate the centennial of Japan U.S. relations in 1959, Hayama was persuaded by friends to fly to New York to see the Broadway production of The Sound of Music, starring Mary Martin, the season's phenomenon that everyone was raving about.
It was over 50 years ago, yet the elation of the opening scene was "so exquisite, though very different from the film version," that she still remembers it as a thrill that was to change her life. At intermission, noting that everyone was humming the "Do Re Mi" song, recalls Hayama, "I was rushing around the lobby to buy every souvenir and sheet music being sold to take home with me." That night, she began translating the song into Japanese, and by the time she landed back in Tokyo, the finished translation was ready to be presented to NHK, where it quickly found its way onto the premiere song program of its day, "Min na no Uta." The song became an overnight sensation, and a beloved "Japanese classic" was born.
So why wouldn't the composer of all these classics that the Japanese have taken to their hearts have far greater public recognition, if only for the fact that he was the first person ever to win an Emmy, a Grammy, an Oscar and a Tony (in record numbers), not to mention his Pulitzer. It isn't as though there is some collective effort to deny the man his rightful place in the local music pantheon. In fact, many high profile artists and influential producers here are ardent fans.
"Shall We Dance" was the theme song and inspiration for the movie of the same title by director Masayuki Suo, which took the world's film festivals by storm and was later followed by a Hollywood version starring Richard Gere and Jennifer Lopez. Top stage producer Amon Miyamo to took on the task of re-translating all of Hammerstein's lyrics when he directed his much acclaimed stage production of The Sound of Music.
And, finally, nothing illustrates the hypnotic power of Rodgers' song writing abilities like its appeal to advertisers. Rodgers' tunes have graced the television commercials of some of Japan's biggest advertisers, including Suntory ("Shall We Dance"), Kirin ("You'll Never Walk Alone"), and Family Mart ("Happy Talk"), to name a very few. Japan Rail chose "My Favorite Things" as the theme song for a massive promotional campaign for Kyoto in 1993 that was to be a teaser in the lead up to the city's 1200 year anniversary celebration of its founding the following year.
The public response was so impressive that the tune from The Sound of Music has become the virtual "Song of Kyoto." Some 21 years later, it is still being used for the breathtaking commercials, renewed every three months to showcase the ancient city in all its glorious seasonal colors, each time with a dramatically different musical arrangement.
But it just may be Rodgers' unparalleled versatility and the diverse timing and paths through which the songs entered the fabric of Japanese society that have confused the awareness of his amazing story. While his songs are broadcast, played, recorded, sung, hummed and performed in clubs and karaoke joints across the breadth of Japan, the enigma of Richard Rodgers, the most popular American songwriter that nobody knows, remains just that. How he would feel about it is anyone's guess.
---
Mary Corbett is a writer and documentary producer based in Tokyo.