Issue: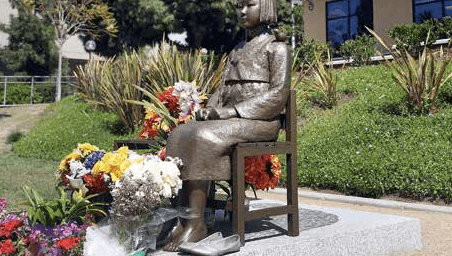 Sitting comfortably? the "comfort women"statue in Glendale, California; opposite, the Tokyo Shimbun
When media and politicians use serious claims of bullying to buttress their political argument, should their sources be allowed to hide behind anonymity?
Japan observers would agree that much of the debate over contemporary events in the country remains internalized, never emerging from the confines of the language barrier or beyond geographical boundaries. But one topic the alleged bullying of young Japanese students overseas did receive coverage by domestic and international media alike.
Because of its shocking subject, the story was not only picked up by numerous media, but led a number of reporters, including this one, on a quest to shed light on its veracity. Unfortunately, none of us were able to discover the source, or to debunk the claims (proving a negative is tough stuff with out cooperation). But the story's shelf life as a popular meme is instructive in a number of ways.
The story began as a claim of blowback from the July 2013 erection of a "comfort woman" memorial in a park in Glen dale, California. An article appeared in the Yukan Fuji last Nov. 5 titled "Open letter to Yohei Kono on the comfort women issue: 'Did he know of the falsified survey contents?'" For those monitoring the right's discontent, there was little new. The article attacked the 1993 "Kono Statement," an acknowl edgement of the Japanese government's culpability over the sex slave issue and de facto apology by Yohei Kono, then Cabinet Secretary in the Miyazawa cabinet. But what caught the eyes of many readers was when it went on to tie Kono's remarks to bullying and harassment of Japanese children by Koreans in Glendale, as alleged by members of the women's patriotic group, Nadeshiko Action.
According to the group, the Yukan Fuji wrote, "Japanese children were being called 'rapists' by Americans" and that "children hesitate to use the Japanese language in public out of concerns for their safety." The paper reported that one Ikuyo Toyota, president of the "Mothers' Association Protecting Japanese Children," had even sent an open letter to Kono. "Why the heck innocent Japanese children are bashed [sic] because of disinformation?!" the somewhat clumsy English translation of her letter demanded.
The following month, perhaps in reaction to the reportage by Yukan Fuji, Glendale's sister city of Higashiosaka announced the suspension of its home stay visits planned for the following March by students from a local public high school, a program that began in 1996. The city gave its reason as, "the possibility the students will be drawn into a political problem. We are uncertain of the local circumstances and it is difficult to ascertain their safety."
The name of Ikuyo Toyota was to surface once again in a column by Miki Otaka that touched on the bullying in the February issue of Seiron, the Sankei's monthly opinion magazine. But the woman herself was elusive to the point of invisibility. No interviews or photographs of her have ever appeared in the media, and attempts to locate the association that she claimed to represent were unsuccessful. It's as if she had fired off a volley at Yohei Kono and then vanished, guerrilla like, into thin air.
The next media reference to bullying appeared in the Sankei Shimbun of Feb. 15, under the headline "'Spit in ramen' 'Rice served cold' . . . The harassment of Japanese in the U.S. over the comfort women."
At a Feb. 25 press event at the FCCJ, two female politicians, Tomoko Tsujimura of Komae City and Yoshiko Matsuura of Tokyo's Suginami Ward, members of the "Japan Coalition of Legislators Against Fabricated History" who had recently returned from a trip to Glendale to register their protest against the statue, made similar assertions.
"Japanese schoolchildren are suffering from bullying by Koreans," said Matsuura via an interpreter. "Some of them told us they feel anxiety because they must hide being Japanese. Korean people are presenting this as a human rights issue, but this can only lead to a new conflict of racial discrimination." The women's claims were repeated verbatim in stories filed by AP, Time, the Japan Times and the South China Morning Post.
In its May issue, Seiron magazine ran a 5 page article by lower house Diet member Mio Sugita of the Japan Restoration Party titled "Zaibei hojin ga Kankokujin ni kurushimerareru genkyo" (The main source of what's causing Japanese in America to be harassed by Koreans).
"Before departing Japan I had obtained information that local Japanese children had been subjected to vicious bullying, so I expected during my visit to meet with the victims' parents," wrote Sugita. "However, this is a very delicate matter, and for a variety of circumstances the parents were not able to come to the meeting place; I suppose they were hesitant out of fears that it would make the situation worse by turning it into an uproar. Instead I was informed of the details by Mr. Takao Naito, an instructor at a local Japanese school, that the bullying was a fact that Japanese children had been spat upon or struck for the sole reason that they were Japanese."
My interest was further piqued by an article written by Tato Takahama in the May issue of Sapio, a monthly published by Shogakukan. When it comes to attacking the two Koreas and China, Sapio is known to pull no punches. But the article on the lawsuit filed over the comfort woman statue in Glendale made no mention of the bullying.
I fired off a mail to Takahama, who is based in Southern California, to ask him why. In a nutshell he told me that he had investigated but failed to come up with a primary source.
I subsequently learned via the grapevine that at least two Japanese journalists in California had also been unsuccessful in tracking down any conclusive details. And efforts by a local American reporter for Glendale's News Press had also proved fruitless.
I was intrigued by this discrepancy between politicians' claims of bullying and the apparent inability of locally based writers to substantiate them. Equally curious, with two exceptions, media coverage of the bullying allegations was confined to two newspapers and two magazines belonging to the Fuji Sankei group.
My inquiries to individuals in Glendale who should have some information or insight continued to come up blank. "This is not true," Sebastian Puccio, coordinator for the Glendale Unified School District, wrote me. "We are not aware of any incidents of students of Korean ethnicity confronting students of Japanese ancestry in this district, nor would this be tolerated."
David Monkawa, a Glendale resident and member of the Nikkei for Civil Rights and Redress organization, wrote that he had also made inquiries, but with no success. "Sgt. Thomas R. Lorenz, Public Information Officer of the Glendale Police Dept., stated these statements are '100 percent fabricated,'" said Monkawa, who ended up believing that Glendale "should have the Human Rights Commission issue a stern statement exposing these lies."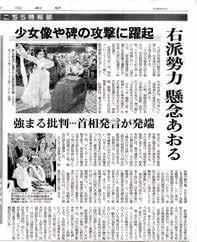 A Japanese residing in Los Angeles made a number of telephone calls on my behalf. A teacher at a school for Japanese children told him that the school had heard about the bullying story and had sent out a note asking for parents to report any incidents, but no one did. Inquiries to the Little Tokyo Service Center (LTSC), which serves as a sounding board for the Japanese community in Southern California, said they had no information on "Ikuyo Toyota" or her organization.
I also met with legislators Tsujimura and Matsuura on April 28, to request more information. Both assured me that their claims were authentic. "We actually met the mothers of the victims, who met with us since we are government represen tatives," Matsuura asserted. "They don't want to be identified as victims. We met with four mothers, but did not photograph them. We conducted a survey and have revised it so as to conceal their personal identities. The drafts have been locked away in a safety deposit box."
What's preventing these victims from coming forward? Japanese, explained Tsujimura, have a strong propensity to exercise gaman (forbearance), making them averse to airing their misfortunes in public. Fear of possible retribution also made them unwilling to disclose their names or other details.
Then the wind changed direction. On June 13, Shukan Kin-yobi magazine ran an article by Emi Koyama, a resident of Seattle who had also apparently been struck by the seriousness of the claims. "My inquiries to the Glendale police and Glendale school board failed to find even a single complaint," Koyama wrote. "Moreover, there has not been a single [locally published] article reporting bullying of Japanese children. Naturally, the lack of complaints isn't proof that no bullying occurred, but I suppose it can at least be taken to mean that it did not occur extensively."
And in its Aug. 29 edition, Tokyo Shimbun devoted most of a two page spread to the bullying story, under a headline that read, "Right wing forces provoke concerns." It reported that upon hearing rumors of harassment, the websites operated by the Japanese embassy and consulates in Los Angeles and other cities requested Japanese nationals in the U.S. to come forward with information. They received no responses.
A day later, the Tokyo Shimbun article was the target of a half hour salvo by the Sakura Action group on YouTube, under the title, "Tokyo Shimbun is it really true Japanese in the U.S. aren't being victimized?"
The story of bullying of Japanese in the U.S. reached as far as Australia where it was also raised as an argument against a comfort women memorial that was being proposed in the Sydney suburb of Strath field. A letter dated April 10, in response to an earlier article on the OurStrathfield website, carried a message from Yukari Suzuki, a self described Japanese mother living in California, "where a 'Comfort Woman Statue' was installed in 2013. Please read it and send it forward to your friends and families," Suzuki wrote.
Japanese residents in the United States, including young children of 6 or 7 years old, are now experiencing unreasonable hard ships caused by the misunderstandings and the racial discrimination toward Japanese people. Not only Koreans and Chinese but also some Hispanics and Caucasians are looking down to Japanese and Japanese American people. I feel greatly wronged about it as my family and I were not even born at the time of the WWII. Do we really want this kind of ethnical [sic] troubles in the future?
In the end, I've given up on substantiating or refuting the allegations. Obtaining the names of victims and details of the alleged bullying has proved to be as hard as finding the Yeti.
If anything, there is some irony in the assertion that victims who've suffered won't come forth to testify about their suffering because of cultural reasons. One might be tempted to point out a similar unwillingness to air even more shameful treatment by those who worked in the comfort women stations.
I found it doubly ironic that Japanese politicians working tirelessly for the retraction of the Kono Statement due to its "unreliable and unverified testimony" offer no more than vague testimony regarding bullying in Glendale, and stone wall attempts at verification. As elected officials, they must surely recognize the need for transparency in public discourse. Their unwillingness, or inability, to persuade even a single bullying victim in Glendale to come forward and identify the tormentor(s) weakens their credibility and damages their cause.
---
Mark Schreiber currently writes the "Big in Japan" and "Bilingual" columns for the Japan Times.