Issue: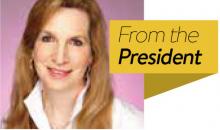 FREEDOM OF EXPRESSION IS more important than ever as political tensions, armed conflicts, government restrictions and secrecy increase worldwide. Whistleblowers and journalists are particularly vulnerable now, due to fewer media outlets and reporting resources. The FCCJ continues to play an active role in defending freedom of expression in Japan, and across international borders.
Our recent "statement of concern" over actions by South Korean prosecutors against the Sankei Shimbun Seoul bureau chief follows our long tradition of speaking out for journalists under threat due to their reporting or commentary.
Last November we broke with tradition and made a political statement of concern on the "Designated Secrets Bill" being debated in the Diet. The bill was subsequently passed on Dec. 6 despite wide opposition. This month will see the approval by the Cabinet of guidelines on how to designate and safeguard "specially designated secrets," and the law will go into effect in December. Among the many concerns that remain is the lack of an independent oversight mechanism. Who will monitor the legitimacy of classifying certain information as secrets? Journalists who investigate leaks of those designated state secrets risk arrest, with a maximum prison term of five years. We are living in interesting times, indeed.
Recently I received an email from the PEN American Center (www.pen.org) asking for our participation in a survey it's conducting "that will help [them] understand what writers and journalists outside the United States think about surveillance by the U.S. and other governments, and how it affects free expression." I'd like to ask everyone to please take a few minutes to do this important survey. It's available online and will close in early October:
Japanese : https://jp.surveymonkey.com/s/PENAmerica_ International_vJapanese
English : https://www.research.net/s/PENAmerica_ International_vEnglish
Honoring freedom of expression and best practices in journalism and international reporting will be on our calendar of events next year, on or around May 3, World Press Freedom Day. With the GMM's approval, the Freedom of the Press Committee will be organizing FCCJ awards based on this theme. The long time, annual awards of the National Press Club in Washington, D.C. and the Overseas Press Club in New York City are serving as inspiration and guide. We are seeking members to join the Freedom of the Press Committee and help us launch this vitally important initiative. Please join us!
As president I've received letters over the past year from individuals sharing their frustration over injustices. Some are simply rants, but others are genuine and worthy. One is from a woman incarcerated in a prison in Kansai who was convicted of killing her husband. Another is from Chimori Naito, 91, a former Kansai Electric Power Co. vice president who recently disclosed 18 years of secret payments to Japanese prime ministers beginning in the 1970s. We're hoping he will come to the Club to share his story after he recovers from surgery.
It's clear that all the letter writers felt the FCCJ offers a fair platform where concerned voices, often blocked elsewhere, can be heard. It's a tradition we can be proud of, and one that must be preserved.
---
— Lucy Birmingham