Issue: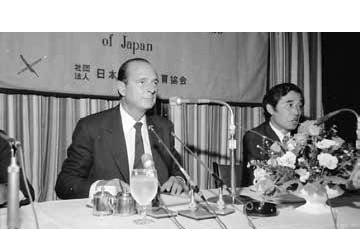 Jacques Chirac, then mayor of Paris and former French prime minister, expressed his views at the FCCJ on Sept. 20, 1984. Seated to his left is FCCJ board member Naoaki Usui (McGraw-Hill), who became FCCJ president for the 1987-88 administrative term. The elbow of FCCJ president Mary Ann Maskery (ABC News) is visible on Chirac's right. Chirac went on to become France's president from 1995 to 2007.
Jacques Chirac much admired Japan, a country he visited many times over his 40 year career to meet with political leaders and celebrities, including sumo wrestlers Akebono and Asashoryu. It was rumored, too, that he fathered a son with a Japanese consort on one of his early visits. And he even developed a connection with Japan's Noh drama as a result of a likeness between his facial expressions and certain Noh masks, three of which were shown in a Paris museum in June of this year. (www.theguardian.com/ world/2016/jun/20/japanese-kyogen-masks-jacques-chirac-musee- du-quai-branly-paris)
Born in 1932, Jacques Chirac joined France's civil service in the 1950s. He vaulted into a long political career with his election to the National Assembly in 1967 following five years on the staff of Georges Pompidou, who had dubbed him "Le Bulldozer" for his ability to get things done. That epithet remained throughout Chirac's long career in which he held many high positions, including prime minister twice and mayor of Paris for 18 years prior to his election as president in 1995. He retired from the presidency in 2007 after a minor stroke.
In evaluating his presidency, pundits were quick to point out many questionable decisions, but they also lauded him for opposing the U.S.-led invasion of Iraq in 2003. Respect for him in Japan declined following his decision in 1995 to resume nuclear tests in a French controlled area of the Pacific, 50 years after the atomic bombings of Hiroshima and Nagasaki.
Accused of corruption during his 18 years as the mayor of Paris, Chirac's presidential immunity prevented indictment until after his retirement in 2007. He was convicted in 2011 of abusing taxpayer funds, but the sentence of two years in prison was suspended in view of his past service to the country and ill health. Despite these hits to his reputation, polls in France show that he is still held in high esteem.
Interestingly, both Kakuei Tanaka and Jacques Chirac were known as "bulldozers," and the careers of both ended with convictions for corruption.
---
— Charles Pomeroy
Correction: In the caption for this space in the October issue, the man seated was incorrectly identified. He is Sam Jones.