Issue:
IN WHICH WE HONOR JAPANESE POLITICIANS' RECORD-SETTING EFFORTS IN TRIPPING OVER THEIR OWN FEET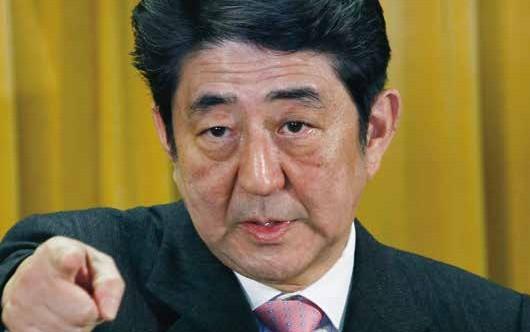 The life expectancy of Japanese prime ministers is notoriously short. At least nine prime ministers have come and gone since 2000, and the question usually asked when the newly elected leader enters office is not "what will he do?" but "will he last long enough to at least get something done?"
Well, it's been four months since Prime Minister Shinzo Abe has taken office, and while he seems fairly well entrenched in his position, the same can't be said for his Cabinet.
When Takeshi Tokuda, a ranking member of his Cabinet, abruptly resigned in February, a mere 40 days after his appointment, the Kyodo News report stated proudly, "Tokuda is the first parliamentary secretary in the Cabinet established by Prime Minister Shinzo Abe following the general election in December to resign."
While everyone appreciates being the first at something in their lives, we wondered if the 41-year-old politician really had something to crow about. We don't know which is more impressive: that he was able to find a reason to strike his name from the Cabinet list so quickly; or that he accepted the post in the first place, given that he was either trying to keep an "inappropriate sexual relationship with an unnamed woman" quiet, according to a government spokesman; or the details of a 2004 rape from going public, according to The Sankei Shimbun.
But exactly how does his 40-day career as parliamentary secretary for the Ministry of Land, Infrastructure, Transport and Tourism rate on the longevity scale of cabinet big shots?
We found that, while his claim to be first may be justified in the Abe Cabinet, his amateurish effort doesn't even make the top 10 in the historical list of short lived ministers.
Herewith, a look at the best of their class the Top 10 list of short lived ministers, and a rundown of their impressive feats.
---
10
KEISHU TANAKA Year: 2012
Position: Minister of Justice
The Story: Appointed as Minister of Justice in a cabinet reshuffle by Yoshihiko Noda, Tanaka was soon accused of rubbing shoulders with the yakuza and of receiving donations from foreign nationals, a crime under Japanese law. Although he was required to explain himself to a house panel, he was unable to appear, he said, due to a busy schedule, before checking into a hospital the next day. Although he had told the press at one time that he would quit his post due to the scandal, he later resigned citing "health
Time in office: 23 days
---
9
TOKUO YAMASHITA Year: 1989
Position: Chief Cabinet Secretary
The Story: Prime Minister Sosuke Uno was forced to resign in 1989 after just two months due to a sex scandal. The out rage that drove him from office was not caused by the immorality of having an extramarital affair, however, but rather the irresponsibility of being too stingy to properly pay his mistress. After a devastating Upper House defeat, his successor, Toshiki Kaifu, was determined to show the public a "clean," "responsible" government. Unfortunately, he made the mistake of appointing Yamashita as Chief Cabinet Secretary. Barely two weeks after the Kaifu government was formed, Yamashita was revealed to have had an extramarital affair with a bar hostess that started in 1984, and was forced to resign. Thinking of damage control, Kaifu appointed a woman, Mayumi Moriyama, to take over Yamashita's job.
Time in office: 16 days
---
8
IHEI OCHI Year: 1997
Position: Minister of Agriculture, Forestry and Fisheries
The Story: Ochi had served his time as a Minister of Construction under PM Takeshita in 1987 and Minister of Transportation under PM Kiichi Miyazawa in But the third time was not a charm. After assuming the post of Minister of Agriculture, Forestry and Fisheries under PM Ryutaro Hashimoto in September, 1997, his health took a turn for the worse and he resigned soon after. He passed away three years later of heart failure.
(Last) Time in office: 15 days
---
7
KOKO SATO Year: 1997
Position: Head of the Management and Coordination Agency
The Story: With the socialist PM Tomiichi Murayama out of power and the LDP back in government, Ryutaro Hashimoto wanted to ensure that the LDP stayed in power. Of course, appointing a convicted felon to be head of the ministry in charge of governmental reform in a cabinet reshuffle wouldn't seem to be the right way to go about it. Although Hashimoto and Sato insisted that the past should be forgotten, an angry public remembered full well that Sato had been convicted of taking bribes during the Lockheed Scandal 20 years earlier and forced his resignation. Not one to go without the last word, Sato told the media: "I will live freely under the blue sky from tomorrow."
Time in office: 12 days
---
6
SHIGETO NAGANO Year: 1994
Position: Minister of Justice
The Story: Just moments after his government was inaugurated, PM Tsutomu Hata, who was a veteran in foreign policy, chose ultra nationalist Shigeto Nagano to be justice minister. Nagano, a former general, went on to claim that that the 1937 Rape of Nanking never took place, and that Japan's mission in Asia was one of "liberation," undermining Hata's efforts when he was foreign minister to repair Japan's ties with the rest of Asia. The proof that Nagano cited for his claim was his arrival in Nanking "shortly after" the Japanese army had taken the city. However, he failed to mention that his first visit to Nanking was actually in August, 1931.
Time in office: 11 days
---
5
YOSHIO HACHIRO Year: 2011
Position: Minister of Economy, Trade and Industry
The Story: Hachiro obviously has never come across the piece of advice about learning from your mistakes. Shortly after becoming minister, he visited the evacuated areas around the Fukushima Nuclear Power Plant and described the area as a "dead town," a comment highly insensitive, considering that the disaster had happened only months before. He apologized for the comment, and seemed to have defused the situation. Later he made the mistake of wiping his sleeve and telling a journalist: "I'll put radioactive materials on you." The joke went flat, and although Hachiro defended himself, insisting he had no recollection of the incident, the damage was done and so was Hachiro.
Time in office: 10 days
---
4
KEISHU TANAKA Year: 2012
Position: Minister of Justice
The Story: Tasked with making sure that the Tohoku region recovers from the March 11 earthquake, Matsumoto, like our previous offender on the list, Hachiro, was also guilty of making mistake after mistake. After making remarks that were deemed offensive to the governors of the region affected badly by the March 11 tsunami, Matsumoto turned to the reporters present, told them that his comments were "off the record," and threatened that he would ruin the companies of any of the journalists who reported his remarks. Unfortunately for him, the reporters ignored his threats and his comments were broadcast on TV, as well as becoming a huge hit on YouTube and other video sharing websites. Later, when asked for an explanation for his actions he blamed it on his B blood type thought by some to cause abrasive personalities and his home prefecture, Fukuoka, where the people are apparently known for their frankness.
Time in office: 9 days
---
3
TAKEHIKO ENDO Year: 2007
Position: Minister of Agriculture, Forestry and Fisheries
The Story: Four ministers had to resign in PM Shinzo Abe's first year, leading to a loss in the Upper House elections, and forcing Abe to choose his ministers carefully in order to restore confidence in the government. In particular, care had to be taken when choosing the next agriculture minister, as the previous two had been caught in corruption scandals. After a screening process, Abe chose political veteran Takehiko Endo. What Abe didn't know was that Endo was the head of a farming group that had padded its numbers in order to get extra government assistance. Endo became the fifth minister to resign in the same year, setting a record as the second fastest exit from cabinet.
Time in office: 8 days
---
2
NARIAKI NAKAYAMA Year: 2008
Position: Minister of Land, Infrastructure, Transport and Tourism
The Story: Like Taro Aso, the PM at the time, Nakayama was prone to gaffes. A known revisionist and a supporter of censoring Japan's wartime atrocities in textbooks, the former education minister called the Japanese teacher's union a "cancer" and vowed to destroy it upon assuming office. It didn't help his case when he also told reporters that Japan was an ethnically homo geneous country and that Japanese people "do not like or desire foreigners." Not a particularly wise statement for someone in charge of a ministry encouraging the very foreigners you're offending to take a vacation to Japan. Nakayama was gone before he had a chance to remove his foot from his mouth.
Time in office: 5 days
---
1
TAKASHI HASEGAWA Year: 1988
Position: Minister of Justice
The Story: In 1988 the Recruit Scandal erupted, forcing many prominent politicians to resign and later leading to the LDP's brief loss of power. In an attempt to salvage the LDP's image, PM Noboru Takeshita needed someone "clean," someone capable enough to lead the investigation of the scandal. The man he picked for the job was Hasegawa, an anti corruption politician who claimed to have "no connections" to Recruit when he assumed office. In what was little more than the blink of an eye, it was revealed that he had been receiving donations from the company for the past 12 years. And with that, Takashi Hasegawa departed the cabinet and entered the history books as the man with the shortest cabinet career. His record is all the more remarkable given the high level of the competition, and will very likely never be broken.
Time in office: 4 days.
---
Angela Erika Kubo is a senior at Sophia University's Faculty of Liberal Arts