Issue: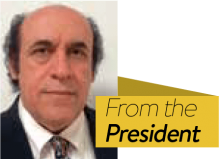 SHIMBUN TIMES AHEAD
A group of journalists were invited to an alternative universe and, while having an audience with the king there, were handed a bundle of cash.
The following year, the same group were invited by the same king and, as in the previous year, all were handed more cash except one journalist who looked puzzled.
The king asked him to come forward and whispered to the ears of the shaken journalist: "After your visit last year and getting my gift, you didn't write anything about me!".
The journalist replied immediately whispering, "Your Majesty, but I thought that I received that cash for NOT writing about you!".
I am reminded of this story every time I must write my president's column for our legendary magazine, No. 1 Shimbun, for which I was the editor from June 1999 to June 2000.
As there is no cash involved for me at least (never has been), I feel it is becoming harder to write in light of the new rules of club governance, with so many restrictions about what we can and can't write to the membership. For some articles I wanted to write, I had to consult with the Kanjis, the lawyers and others on some content and decided, in the end, to just quit it and search for new idea, but I can never quit our original mission of the "free exchange of information."
On the other hand, speaking of cash, I and members of the publication committee, as well as contributors, back in 1999, were all volunteers, thus as stipulated in our Bylaws, weren't paid.
Bylaws' Paragraph 12-3 says "Officers and committee members shall serve without personal compensation. However, they may be reimbursed for necessary official expenses, subject to approval by the Board. At official meetings on the Club premises their meals and refreshments, within reason, shall be provided without charge."
The Bylaws haven't changed. The times have. And back then most contributors were FCCJ members who had stable jobs and income and, even though it was difficult, we could always find writers even without paying them.
It has become harder to find writers who will work for free. So against this backdrop, I have decided that we need to draw the lines clearly and empower the publication committee to continue its success story to give it more energy and power at this crucial time,
This is why I have named former FCCJ president Dan Sloan as co-chair of the publications committee to work alongside current publications committee chair Gavin Blair and a new editorial team in charge of the content.
Dan and the team of the Publications Committee will look to realign the business model for the No.1 Shimbun, ensuring editorial contribution from Members on issues topical to the Club, expanding the number of authors and viewpoints expressed, but limiting the compensation for content to an infrequent honorarium for Members, and designated external payment to Nonmembers for the services of copy editing and compilation. Ways to improve online platforms for the FCCJ and its printed or video content will also be examined, with recommendations on No.1 and 21st Century media strategies for the membership.
Our current editor, Greg Starr, will, from May 2017, continue as copy/ layout manager while Andrew Pothecary, our very able art designer, and John Harris, our talented advertisement expert, will also continue their excellent work separate from the editorial team. We are working for the magazine to stay with our basics, and the editorial team will work to set up standard payment guidelines for all contributors, both writers and photographers.
The No. 1 Shimbun is coming up on its 49th anniversary this September and as one of the club's icons, AP legend and former FCCJ president John Roderick, reported in then newspaper's inaugural issue: "Newspapers must not be run behind closed doors…" this should prevail. and be No. 1 Shimbun's policy.
---
– Khaldon Azhari