Issue:
TED KENNEDY ("LION OF THE SENATE") VISITS HIROSHIMA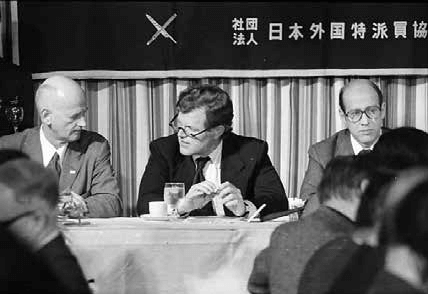 Senator Edward M. Kennedy at the FCCJ on Jan. 12, 1978, conversing with photojournalist Sam L. Jones. Seated to his left is Club President Frederick "Ted" Marks (UPI). Senator Kennedy's interest in nuclear disarmament had brought him to Japan to visit Hiroshima, where he gave a public speech on the subject in January at Hiroshima University. His visit preceded that of President Obama by 38 years
Born into the illustrious Kennedy family on Feb. 22, 1932, Ted Kennedy was the youngest brother of President John F. Kennedy, who was assassinated in November of 1963, and Senator Robert F. Kennedy, who met a similar fate in June of 1968. In 1972, Ted Kennedy was elected to the U.S. Senate, where he represented Massachusetts for almost 47 years. He was to become one of the more prominent progressives in the U.S., a career almost derailed by the Chappaquiddick incident of 1969 in which his companion, Mary Jo Kopechne, drowned after his car ran off a bridge. He was charged with fleeing the scene of the accident.
Despite that major hit to his reputation, this member of the Kennedy family went on to become the second most senior member of the Senate and the sponsor of more than 300 bills that were enacted into law. His emphasis was on economic and social justice and these bills covered a range from immigration to healthcare issues. In fact, universal healthcare was his ultimate goal, although he was not to see it in his lifetime.
Ted Kennedy died in August of 2009, a little more than a year after he was diagnosed with a malignant brain tumor.
---
— Charles Pomeroy