Issue:
Reporters Without Borders shines a light on the efforts of an indefatigable journalist to expose corruption and improve media watchdog abilities
Yu Terasawa is an information hero
by Suvendrini Kakuchi
---
In a country where the act of merging with the crowd is almost a religion, internationally recognized freelance journalist Yu Terasawa doesn't seem to mind being outside the congregation.
It's been that way since his college days. Over a two decade long career, this plucky journalist has investigated and systematically exposed wrongdoing in the halls of two of Japan's institutional goliaths the impenetrable police system and the equally lofty mainstream media.
Highlighted in his reports, published in weeklies like Spa! or Friday, are cases of blatant police corruption that are rarely documented elsewhere in the main stream media. Terasawa contends a key reason for the media silence is the well entrenched kisha "press club" system that relies on embedded journalists from the established media to cover the top ministries. Having reporters embedded in the government bureaucracy results in a news flow of information that has been released through a single, narrow prism, and leads to self censorship from a fear of losing access.
This has led to international criticism, not only for restricting access for overseas news organizations, but also for creating cozy relations between the press and bureaucrats and endangering the peoples' right to important information. "By restricting the rights of freelance journalists to press conferences or other meetings with officials, the Japanese press has lost the diverse opinions and depth that is crucial to responsible media reporting," Tersawa said during a recent interview.
This past May, in a tribute to his dedication to investigative reporting, Terasawa was named one of 100 Information Heroes from around the world, selected by the France based Reporters Without Borders. Speaking at the FCCJ, the 47 year old reporter described his roller coaster life fight ing discrimination, and his years battling court cases. In one case filed in 2004, he demanded ¥2.4 million compensation for being refused a seat in the Tokyo District Court's press gallery typically reserved only for the court's kisha club members. After arguing that the practice is against the constitutional protection of press freedom, Terasawa lost when the judge ruled media access to court proceedings does not fall under press freedom.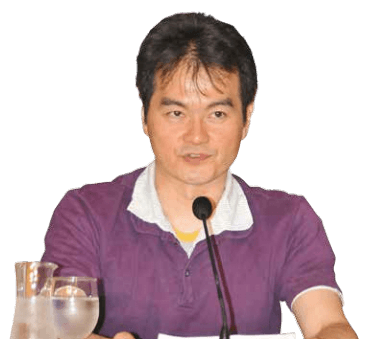 Undaunted, he presses on. In June, Terasawa and 43 other freelancers will attend the first trial in a case they have filed against the recent Act on the Protection of Specially Designated Secrets. The controversial law gives the heads of administrative organs the legal right to restrict information to the public.
Terasawa views the new law as sealing the fate of freelance reporters. "What makes insiders talk to freelancers is that they are fed up with the pressure in Japan to conform," he says. "These courageous people are the lifeline for the fledging investigative community that plays such a crucial role of balancing the spoonfed Japanese media." Indeed, the tragic case of exposure to dangerous radiation levels among Fukushima residents after the 2011 nuclear accident reflects the pathetic state of the Japanese media due to the lack of access to independent information. Official statements and press releases downplayed the extent of radiation contamination, a situation the government has defended as necessary to avoid panic and social upheaval.
Terasawa's focus on police corruption has also led him to tackle the deep rooted practice of amakudari in the police organization. His reporting has forced high level police officials to resign after being exposed for cases of bribery and sexual harassment, including rape. "My long years in this murky world have led to some eye opening experiences," he said.
One of his landmark series pried open the lid on a carefully protected system of police administrations using public money to hire automobile towing companies operated by former police officials, and documented the pressure on police officers to follow an unspoken system with unwritten rules for collecting a predecided budget from speed fines. "The unfortunate victims pay speed fines plus towing fines that can be as much as double the original penalty," Terasawa said. "I found out that the extra towing fine is to support companies established by former police officers."
Terasawa has made a tireless commitment to transparency in his investigative reporting, and makes it a point to have his byline appear, in comparison to the usual anonymous reportage that appears in the mainstream media. He says the international reward he has received is in stark contrast to the brickbats hurled at him in Japan. "I face constant threats from unknown callers, have been violently assaulted by police offices, and had my car smashed," he said. "I've also been arrested and thrown in jail simply because I was asking too many questions."
A few months ago, in April, Terasawa and some like minded colleagues launched the Free Press Association. The organization invites their own news sources to speak to an audience of journalists that include bloggers, internet media reporters and other interested parties.
Finally, the discussion turned to a key obstacle to investigative reporting in Japan: the country's public aversion to controversy and pride in social harmony. It is a trend that has forced citizenled protest movements to the fringes, and little remains of the attitudes that led to the massive protests in the 1960s against the U.S.-Japan security pact. A sprinkling of that past seemed to emerge in the antinuclear protests, when people enraged by government attempts to minimize the dangers of radiation took to the streets following the Fukushima meltdowns. But, as Terasawa explains, the public focus remains on finding stable jobs in established organizations, rather than changing their country's opacity. This leaves the mainstream press happily ensconced in their press clubs while freelancers like Terasawa chip away at their stone walls in their desire to find and report the truth.
---
Suvendrini Kakuchi is a reporter for Inter Press Service, an international wire service, and a regular commentator on Asian issues for Japanese publications and television.