Issue:
From now until our 70th anniversary in November 2015, we will turn these pages over to the history of the Club, both of the many esteemed and important guests who faced us and the world from the FCCJ dais and of the many Members who have made the Club such a fascinating place to be.
THE ACTIVIST ACTRESS
---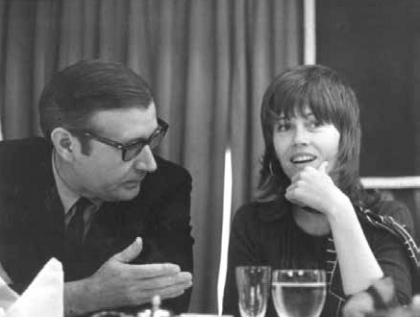 Is Henry Hartzenbusch (AP) explaining the possibility of hostile questions to a bemused Jane Fonda? What Henry actually said remains unknown, but our guest speaker a civil rights advocate and outspoken opponent of the Vietnam War was no doubt anticipating some contentious queries. On Dec. 21, 1971, Fonda along with 14 members of Free Theater Associates brought her anti war message to the Club. (Henry had been Club president in the 1968-69 administrative year and oversaw the birth of No. 1 Shimbun, under the guidance of AP colleague John Roderick.)
THE DAUGHTER OF ACTOR Henry, Jane Fonda became famous in her own right as an award winning actress, workout maven and activist. But even her position as one of the most influential women in America did not erase her past actions as a young revolutionary in the minds of some Americans, especially among Vietnam veterans. Following several years in Paris, whe began her anti war activities around 1967, incuding participation in demonstrations, radio broadcasts, and theater.
It was as part of the Free Theater Associates (FTA) that she and her associates were invited to the Club. Together with Donald Sutherland known for his film appearances in MASH and then Klute (in which he co starred with Fonda) she and others in the group had launched controversial anti war "cabarets" near military bases in the U.S. as well as Okinawa, Tokyo, and Manila in 1971. The fact that FTA stood for both "Free the Army" and "F**k the Army" makes clear their message. The following year the infamous photo of her sitting on a North Vietnamese anti aircraft gun was taken during a research visit to Hanoi, which earned her the epithet of "Hanoi Jane." She later spoke of her regret for that photo, saying, "It was a huge, huge mistake."
A film of their anti war tour, called F.T.A., was released in 1972, but it quickly disappeared after only one week in theaters. News reports say it presented the full range of anti war themes through biting skits, strong language, and disturbing images, as well as political satire revealing the realities of war and the absurdities of military life. In effect, it was a counter to the standard USO programs made famous by such celebrities as Bob Hope. The film is now available on YouTube.