Issue: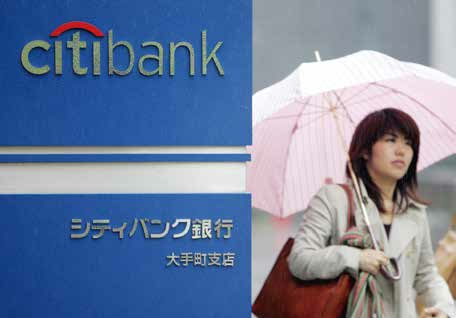 An American megabank gives up its attempt to inject some pizzazz into Japan's Galapagos market.
One of my first dispatches from Japan was about a visit in late 1981 to a large branch of the Dai-ichi Kangyo Bank in central Tokyo. In the back pocket of my jeans a £1 banknote from England had miraculously survived a washing machine and tumble dryer. At the time, £1 was worth more than ¥400, so I decided to exchange it. In Hong Kong, where I had previously been living, it would have taken a few minutes. At DKB, then Japan's largest bank, it ate up close to one hour.
Upstairs in the foreign exchange department, where I was the sole customer, forms were completed in multi-coloured duplicates and passed on little trays between serried rows of female staff. My flattened £1 note was meticulously measured with a ruler, held up to the light to view the watermark, and finally checked against photographs of UK currency. Only after all suspicions had been laid to rest, and a male manager seated at the back had granted consent with his hanko, were £1 note and the appropriate form returned to the counter, where, after deductions, I received almost nothing at all.
Traditional ways survived long after banking giants like DKB went up in smoke in the financial conflagration that followed Japan's great asset bubble. At Narita Airport in 2010, four old men and one woman were squeezed into a tiny foreign exchange booth of Sumitomo Mitsui Banking Corporation. (The president of Sumitomo Mitsui Financial Group was not amused by my description a few days later during an interview.) Five years on, foreign visitors still cannot use their debit or credit cards to withdraw yen from Japan's three biggest banks Tokyo Mitsubishi UFJ, Mizuho and SMBC. The Big Three charge their own customers for using an ATM outside of normal hours. Checkbooks are granted only to an elite few. Transferring money to other domestic accounts often incurs a charge. After a slow start, Internet banking has taken off, but remains far less widespread than in many other advanced nations.
Is it any wonder that American colossus Citigroup once dreamed of conquering this banking Galapagos, with its fabled hoard of household assets guarded by slumbering dragons? All it needed was to pamper the Japanese consumer, which is what Citibank Japan went on to do so admirably through flashy innovations like multi-currency accounts and checkbooks, 24-hour ATMs and cash cards that could be used abroad. By some measures it has worked a treat. A network of only four branches back in 1990 grew to 32, while the number of customers multiplied 37 times to 740,000.
So why on earth did the first American bank in Japan (the International Banking Corp., which Citi later acquired, opened its doors in Yokohama in October 1902) announce last Christmas Day that it was throwing in the towel, and selling its Japanese retail business to SMBC?
Banking hanky panky
Part of the problem was with persistent runins with Japanese regulators over shockingly lax compliance. The plan was to attract affluent Japanese into making deposits, and then aggressively sell them high-margin financial products. In several cases, Japanese customers were misled into buying expensive, complex or risky derivatives they either didn't need or didn't understand. Another big issue was money laundering. It was not only cosmopolitan sophisticates who were drawn to Citibank's offerings, such as the CitiGold account for customers with more than ¥30 million to deposit, but the kind of Japanese one associates with punch perms and missing pinkies, or at least their accountants.
He was subjected to a xenophobic rant "We are not a territory of the United States. 0ur rules are the rules."
In September 2004, the Financial Services Agency withdrew Citi's private-banking license to service high net-worth individuals. Three senior Citigroup executives in New York and twelve executives of Citibank in Japan lost their jobs in the scandal. The following month, Citigroup CEO Charles "Chuck" Prince came to Japan to publicly apologize. He very reluctantly bowed deeply from the waist, together with Douglas Peterson, the new head of Citibank Japan.
Anger had been mounting for months about the behavior of foreign banks in Tokyo. A share flotation in February of Shinsei Bank, headed by a former CEO of Citibank Japan, made billions of dollars in profit for a group of mainly American investors who had bought the failed Long-Term Credit Bank on highly favorable terms from the Japanese government. The Carlyle group called it the "most successful" leveraged buyout in history but Japanese critics said the taxpayer had been fleeced. Then, in June, a Japanese employee of Credit Suisse was arrested for allegedly helping a yakuza launder ¥9.4 billion from loan sharking. The money was transferred to an account at the Zurich head office of Credit Suisse via Tokyo, Hong Kong and Singapore. The Swiss and Japanese governments decided to split the 61 million Swiss francs (¥7.9 billion) found in the account, which was traced to Susumu Kajiyama, a loan-shark king serving seven years in Japanese prison. The Credit Suisse employee, Atsushi Doden, was acquitted.
As a torrid year drew to a close, Citibank Japan CEO Peterson became the first foreigner to testify before the Financial Affairs Committee of the Upper House of the Diet on Nov. 30. He was subjected to a xenophobic rant from Yoichi Masuzoe, who is now governor of Tokyo.
"We are not a territory of the United States," Masuzoe fumed. "It's not acceptable to show the kind of arrogance whereby you do anything you please in Japan. We are an independent country and our rules are the rules."
"Private banking in this country is very difficult because you may be dealing with the criminal element," Eisuke Sakakibara, former vice finance minister for international affairs, memorably told the New York Times. "I'm not saying that all rich people in this country are shady, but a substantial portion of rich people in this country are engaged in some kind of shady business."
So too, evidently, was Citibank. The FSA slapped more penalties on the bank in 2009 and 2011 for lax internal controls related to money laundering and selling of financial products. The third rash of scandal led to emergency talks in Tokyo and New York between the FSA and Vikram Pandit, successor to Prince as Citigroup CEO, and to Citibank Japan being placed under direct supervision of head office.
Some perspective is needed here on Citibank's violations in Japan. What has been revealed pales in severity compared to the involvement of Japanese banks and securities houses with organized crime during and after the asset bubble.
Sumitomo Bank became embroiled with yakuza during its takeover of scandal-ridden Heiwa Sogo Bank (which used to have a branch on the ground floor of the Yurakucho Denki Building), and even more deeply through the yakuza looting of Itoman, a textile trading company that the bank rescued in the 1970s.
Blue-blooded Industrial Bank of Japan became a national laughing stock for lending billions of yen to the owner of an Osaka restaurant frequented by the Yamaguchi-gumi, who claimed to receive her stock investment advice from a porcelain toad.
In 2013 it was the turn of Mizuho President Atsushi Sato to apologize for his bank extending 230 loans to the yakuza.
The road to the sale
Citigroup famously was one of the biggest casualties of the 2008 global financial crisis that emanated from the United States. Citi owned about $43 billion in mortgage-related assets that became massively devalued when the sub-prime housing market collapsed. The U.S. government bailed-out Citi in November with a $45 billion investment that gave it 34 percent ownership until all its shares were sold in 2010.
The bank already had been tarnished by its role in aiding bankrupt energy giant Enron manipulate its financial statements, with the U.S. Securities and Exchange Commission accusing Citi of committing fraud. One of its telecom analysts also helped inflate the mobile/dotcom bubble at the end of the 1990s.
A New York Times investigation in 2008 highlighted the bank's chaotic and "pell-mell" management style. It singled out advice given by Robert Rubin, who joined Citigroup after serving as Treasury Secretary in the administration of Bill Clinton, that Citi needed to take more risk, be more aggressive and expand in capital markets.
In Japan, that was exactly what Citi did in 2007 by acquiring Nikko Cordial, one of the old "Big Four" Japanese brokerage houses, for ¥920 billion. Nikko Cordial had been gravely weakened by an accounting scandal, and was at risk of losing its trading license. The deal was completed in 2008, just before the global financial firestorm nearly destroyed Citigroup.
After the government bailout, Citi began offloading Japanese assets almost immediately. Its 64 percent stake in Nikko Asset Management was sold to Sumitomo Trust & Banking for ¥75.6 billion; NikkoCiti Trust went to Nomura Trust & Banking for ¥19 billion, while Nikko Cordial was snapped up by SMBC for ¥774.5 billion in May 2009.
The main reason Citigroup put its pioneering retail bank in Japan on the block is because it lost money. Wafer thin interest rates and intense competition have made domestic lending a profitless chore. Japanese banks, awash with cash from deposits and selling truckloads of government bonds to the Bank of Japan, are more eager to expand abroad. Citibank Japan was small in scale compared to its main rivals and had the added burden of expensive staff and branches, such as one in the heart of Ginza.
Selling out may be a no brainer for accountants. However, from the viewpoint of national prestige and U.S. Japan relations, ending over a century of retail banking in what is now the world's third largest economy is an embarrassment. After all, the other 10 markets in which Citi is pulling the consumer banking plug are either impoverished basket cases, such as Egypt, Peru, El Salvador and Guatemala, or former communist economies like Hungary and the Czech Republic.
For Sumitomo Mitsui, however, the acquisition brings prestige and a well heeled Japanese and expat clientele to whom it can try to peddle SMBC Nikko's own financial products. SMBC will merge Citibank Japan into its private banking unit, SMBC Trust, the new name for Société Générale's former Japan private banking business, which SMBC acquired from the French bank in 2013. (SMBC Trust should not be confused with Sumitomo Mitsui Trust Bank, buyer of Citi's Diners Club credit card business in Japan, which claims to be completely independent, and once rejected a merger offer from SMFG.)
To deter any exodus of coddled customers, SMBC is at pains to assure that most Citibank Japan products and services will remain the same under the new ownership. Cash cards will still work at Citibank ATMs overseas, free of charge. Foreign currency deposits and mutual funds will still be available, as will discounts and other benefits, tiered to account balances.
Prestige and cross selling opportunities are all well and good, but the main reason why SMBC is buying a money losing bank for about ¥40 billion is more calculating and cold blooded.
SMFG is by far the most exposed of the three megabanks when it comes to funding international business. Inside Japan, the banks suffer from a glut of deposits, but offshore the problem is reversed. For SMFG's international business the loan to deposit ratio is 160 percent. Roughly ¥1 trillion of Citibank Japan's ¥2.44 trillion of deposits are in foreign currencies that will strengthen the funding base of SMBC's foreign lending. Such considerations matter, just in case financial markets suffer another massive heart attack and wholesale money markets suddenly seize up.
Nowadays it's all about prudence; a virtue to which Citi too often was a stranger.
---
Peter McGill writes for Asiamoney magazine and is a former president of the FCCJ.