Issue:
May saw a wide variety of newsmakers speaking from the Club's dais, covering everything from administration politics to the sex industry.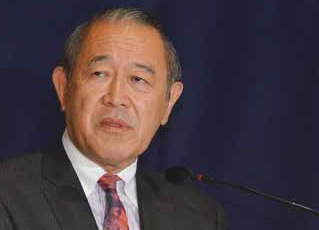 There's only one solution to the issue of U.S. military bases, said Fujisaki . . . building the Henoko replacement
ICHIRO FUJISAKI Japan Ready for Defense Guidelines
THERE IS ENOUGH TIME left to win the people's understanding of the process the Japanese government used for coming up with new U.S. Japan defense guidelines.
That was the message of Ichiro Fujisaki, former Japanese ambassador to the U.S., who spoke at the FCCJ on May 14. Among his other statements was his contention that moving Okinawa's Futenma base to Henoko is the only solution for the Okinawa base issue, that Japan will be careful in deploying military forces to the South China Sea and that Prime Minister Shinzo Abe's recent visit to the United States was a success.
Fujisaki was Japan's ambassador in Washington for about four and a half years leading up to 2012, and has been teaching at Sophia University in Tokyo since 2013.
Fujisaki said he is aware of criticism directed at Abe in the wake of his April visit to the U.S., after telling Congress his government is determined to enact the upgraded security legislation by summer. "If we have two or three months, that is enough for people to learn about this process," he said.
The process includes advice from an outside panel, the 2014 Cabinet decision pursuing changes in defense, the agreement between Abe's Liberal Democratic Party and its coalition partner Komeito, and the arrangement for presenting legislation for the new defense guidelines to parliament this session.
There's only one solution to the difficult issue of U.S. military bases in Okinawa, Japan's southern island prefecture, said Fujisaki, and that is building the Henoko replacement facility. "I have also heard that [Okinawa] Governor Onaga will be visiting Washington, but I think the U.S. government position is very clear."
Fujisaki has been involved with the relocation of the contentious American marine base at Futenma from his time as a political minister in the Japanese embassy in the U.S. from the middle of the '90's. He has attended the meetings of seven Prime Ministers Mori, Koizumi, Fukuda, Aso, Hatoyama, Kan and Noda with two U.S. Presidents Bush and Obama over the past 15 years.
When asked how Mr. Onaga will be treated in the United States," Fujisaki replied, "I don't know. It's totally on the American side to decide and I don't think the Japanese side will ever say anything about that."
"The new Henoko base can't be built," Onaga said. "It's not possible."
"Fujisaki used the metaphor of a swinging pendulum to describe U.S. China relations. On the positive side, there are big economic opportunities, the control of North Korea and United Nations' cooperation, while on the negative side, there are the Chinese military buildup, the issue of human rights and the Taiwan problem.
China's airstrip construction in the South China Sea should not be allowed to become a fait accompli, said Fujisaki, though avoiding a specific definition of the kind of role Japan should play in the waters.
"If it is a military role, I think we'll be very careful," he said, while also saying it's necessary for Japan to keep showing an interest in the things that are happening in the area.
GOV. TAKESHI ONAGA U.S. military bases no longer an economic benefit
MAY 20 SAW THE appearance of Okinawa Governor Takeshi Onaga at the Club, and he did not mince words, stating that locals will try to block construction of the contentious United States military base at Henoko Bay.
Regardless of whether Japan and the U.S. are fixated on building it, "the new Henoko base can't be built," Onaga said. "It's not possible."
The 64 year old governor spoke about Okinawa's complicated issues the base situation, history and the economy ahead of his visit to the U.S., which started on May 27. After giving a 15 minute talk, Onaga answered questions from foreign correspondents and Japanese journalists.
The event had 141 attendees, making it the busiest professional luncheon of the year after Bank of Japan Governor Haruhiko Kuroda's Club appearance in March. Onaga stayed 10 minutes longer than planned.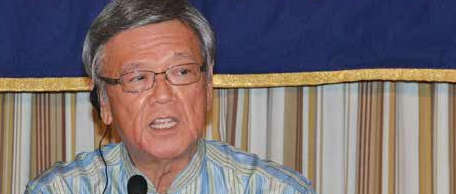 The LDP-led government has been intent on building a replacement facility for the Marine Corps Air Station Futenma, a U.S. marine base in a densely populated part of Okinawa, on a pristine bay in Nago city on the northeastern coast. Onaga, a former Naha city mayor, won a popular mandate against the relocation plan in November 2014. (He also was the campaign manager of his predecessor, Hirokazu Nakaima, who ran against the base relocation in 2010, then changed his mind under pressure from the central government.)
Onaga said that Nago Mayor Susumu Inamine and he have the authority to obstruct base construction, saying reclamation of land for the replacement facility would be an immense, destructive operation because of the amount of work required. It would include a year of 100,000 trips by 10-ton trucks just for landfill, said Onaga.
During the luncheon, the governor also reported that a recently launched fund to support action against the relocation to Henoko Bay had already collected more than ¥200 million, with about 70 percent of the donations coming from "mainland" Japan.
Onaga attacked the logic used by Prime Minister Abe's government in promoting the relocation. Onaga pointed out that his prefecture presently hosts 73.8 percent of U.S. military bases in Japan. And even if all the bases south of the U.S. Air Force base at Kadena are closed as planned, this number will be reduced by a mere 0.7 percent.
He also claims that U.S. military bases are no longer an economic benefit, but instead have become the biggest impediment to Okinawa's economic development. Presently, the bases account for 4.9 percent of Okinawa's gross development product, compared to about 15 percent of GDP at the time of the prefecture's reversion to Japan in 1972 and about 50 percent of GDP at the end of the Second World War, the governor said. The Okinawan economy has reaped far more economic benefits from redevelopment of former military sites than they did when the U.S. military occupied them, the governor said.
Onaga said he hopes to strengthen Okinawa's ties with Asia, and spoke positively about his April visits to China and Taiwan. He said he's trying to attract investment from Chinese and Taiwanese businesses in order to support the local economy. In China, State Council Premier Li Keqiang responded positively to his request to set up a charter flight connection between Okinawa and Fuzhou.
YUMENO NITO Increase awareness of juveniles in the sex industry
YUMENO NITO, 25, IS an outspoken activist fighting abuse of teenage girls in Japan's notorious entertainment industry. She appeared at the FCCJ on May 22, where in front of a small but attentive audience she called for more awareness of the dangers faced by young people.
"Japanese society in general needs to understand that we're not an advanced nation in terms of our understanding of child prostitution and human trafficking," she said, citing reports by the U.S. State Department in June 2014 and the United Nations.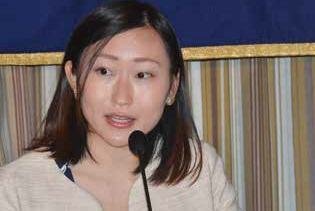 "We're not an advanced nation in terms of our understanding of child prostitution"
Nito, a high school dropout and Meiji University graduate, is founder of Colabo, a support center where troubled girls working in the joshi kosei (or "JK") business can go for advice and talk with a counsellor about their problems or just get a meal.
Nito said she goes out on the streets of Tokyo regularly to stay on top of the way the industry is evolving and to get in touch personally with girls working in the JK business. In 2014, she talked with 84 girls who were victims of human trafficking, she said.
About a third of the girls in the JK business come from good families and are attracted by the high pay of job offers appearing on social media sites, according to Nito. The remaining two thirds of the girls have been abused, or come from troubled families.
Nito estimates that about 5,000 girls in Tokyo alone work in the business, although she admitted official data governmental or police doesn't exist. She's not sure of the share or percentage of girls that are under-age. She stated that many JK businesses employing schoolgirls are operating in a legal grey zone, making it hard for the authorities to crack down on them for violations of Japan's strict labor and adult entertainment laws, while the businesses themselves are constantly evolving new business models to stay a step ahead of law enforcement.
"Quite often, even if the police want to do something, they can't," she said. "This is something that I've heard directly from the police."
---
Daniel Leussink is a Dutch freelance journalist in Japan.