Issue: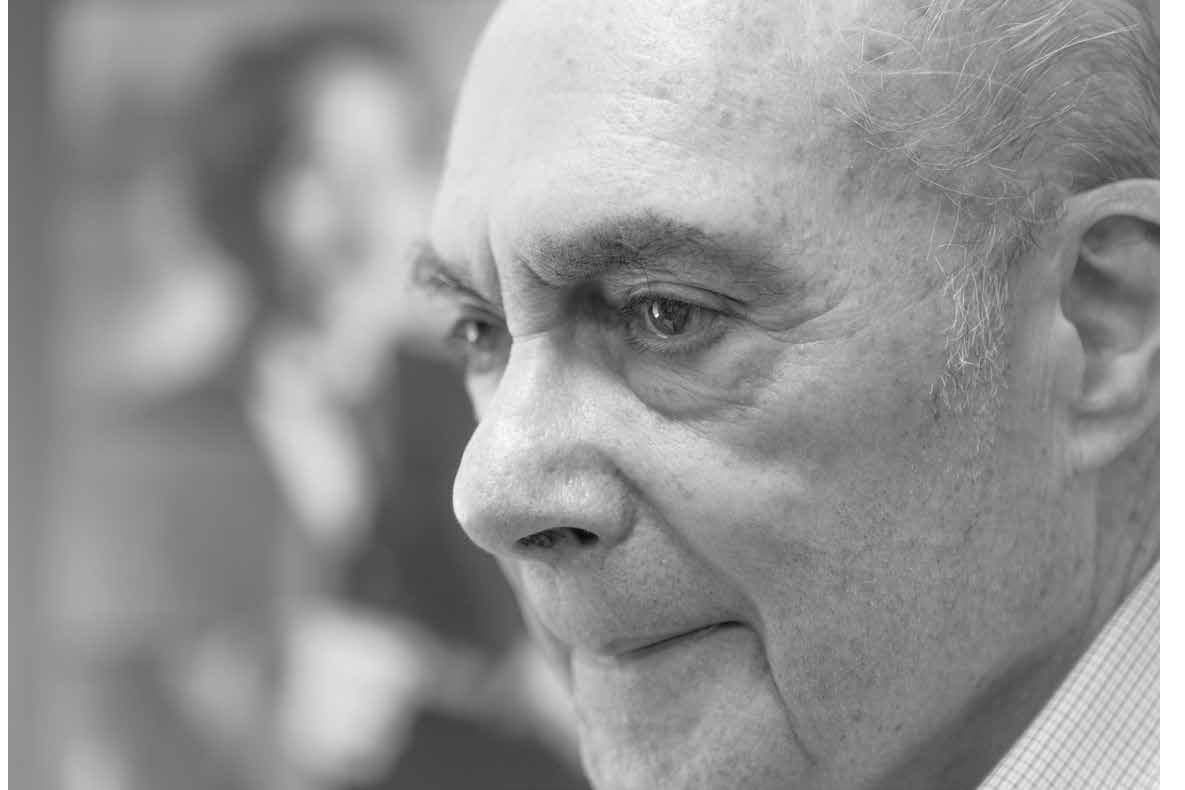 "It's not an easy business," says Bob Kirschenbaum about the world of photography, in which he's been deeply involved for more than half a century. But it has been a good business for the 80-year-old head of one of Tokyo's most dynamic photo agencies. His career has not only satisfied his love of art but given him much pleasure over his years of interacting with some of the world's great photographers.
Interestingly, Kirschenbaum has never wanted to be a photographer. "Photography never interested me as photography," he says. "It interested me as art. To this day I don't really know how to use a camera, with all the settings and stuff."
He stumbled into the field through standard journalism. After growing up in Manhattan and attending the acclaimed Bronx School of Science and Mathematics, he found himself at Purdue University in Indiana, best known at the time for its engineering program and powerful football teams.
But that wasn't enough to maintain the interest of Kirschenbaum, who dropped out, wandered around the American South, got picked up for vagrancy, and beat jail by joining the U.S. Air Force, which taught him Russian in order to listen in on Soviet internal communications. Soon after, in 1957, he wangled a transfer to Japan, mainly to escape an anti-Semitic superior, and within three months had become editor of a newspaper at the Tachikawa U.S. Air Force Base west of Tokyo.
"I'd know if the photos were good or not because of my interest in art," he recalls. He also spent time learning page design, a job that proved fateful because it led to sharing an office with Al Cullison, the base historian. Cullison was also a venerable denizen of the FCCJ's then highly popular No.1 Shimbun Alley bar.
Kirschenbaum drifted back to New York after being discharged and, at Columbia University, completed Japanese studies he'd begun in the Air Force. But bitten by the Japan bug, he moved back to take a job with the Japan Times. When Cullison, who was then at the Asahi Evening News, sponsored him for membership in the FCCJ in 1963, he signed up. Except for a brief stint in Seoul to help set up what is now called the Korea Herald, he has been here ever since.
KIRSCHENBAUM HAD LEFT THE Japan Times and established a fairly successful PR company when he decided to launch the photo agency Pacific Press Service (PPS) in 1965 in partnership with Cullison. Among the first syndicates they represented were the London Express News and Feature Services, and the Telegraph and Sunday Times magazines, at a time when newspapers' weekend magazines were lavish publications with many well-known and well-paid photographers.
Getting the Sunday Times business was a real coup, and came with the help of fellow FCCJ member Henry Scott Stokes. The owner of the company, Lord Thomson, was on his way to Japan for business talks in 1969, when Stokes begged Kirschenbaum to give him a briefing about the Japanese newspaper business. Kirschenbaum agreed, and spent over an hour breaking it down for the press magnate.
As their meeting drew to an end, Lord Thomson said, "You've been so generous. What do you want in return?" "I'd like to represent the Sunday Times magazine," Kirschenbaum recalls saying. "And Lord Thomson said to me, 'Okay, it's yours.'"
The opportunity to represent the respected photo agency Magnum soon followed. In 1969, Kirschenbaum received a phone call from a magazine editor acquaintance offering to introduce him to the photographers Cornell Capa and André Kertész, who were hanging an exhibition called "Concerned Photography" at the Matsuya Department Store. "I went over and met them and Hiroshi Hamaya and Hiroji Kubota," says Kirschenbaum. "Over dinner with Cornell I found out that Magnum had dropped their Japanese agent, and after about a year of negotiations I ended up representing them."
By 1974, things were running smoothly enough that Kirschenbaum could look for new frontiers. "I realized there was a huge market for photography exhibitions at the department stores, which were doing great shows of art, kimono, lacquerware . . . everything." He had visited an exhibition held by the well-known photographer Henri Cartier-Bresson in Paris. "I met him there, and even though he was surprised that a stock photo agency wanted to do it, he said okay," says Kirschenbaum. He made a presentation to the Odakyu Department Store, who signed on. "It just seemed like a natural progression for our company to me," he says.
It was clearly the heyday for such exhibitions. Kirschenbaum organized more than 50 major shows over the years, producing lavish catalogs of 100 to 150 pages that would sell for under ¥2,000. The list of photographers was impressive: Ansel Adams, William Klein, Sarah Moon, Alfred Stieglitz. . . . The shows would draw two or three thousand visitors on weekdays, with double and triple those figures on the weekends.
IT WAS A PHENOMENON THAT was particular to Japan and nowhere else and one that has since collapsed along with the department store business. But at the time, PPS was also helping develop the business of selling prints, an area that had been largely ignored in Japan. "We sold a tremendous amount to museums," says Kirschenbaum. "A collec-tion of 412 prints by CartierBresson to the Osaka University of Arts. 542 prints of Eugene Smith's only exhibition and the first photography book in history, The Pencil of Nature by Fox Talbot, and 542 prints of Eugene Smith's only exhibition to the Tokyo Metropolitan Museum of Photography. We sold a lot, including 100 prints by Robert Capa, to a Yokohama museum."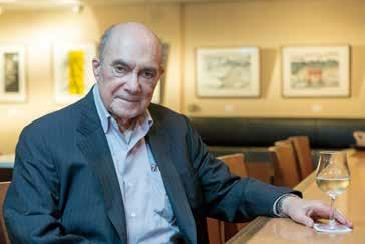 "Technology changes, science changes, society changes. We have to learn to use the new tools."
But some sectors of the market were even beyond the talents of Kirschenbaum and PPS. While Japanese were, and are, interested in looking at great photographs, they do not collect it. Or hang it on their walls. "The average person doesn't think of using photography in their home," says Kirschenbaum. "Photographs are all around and people are always taking pictures. But the wall space at home, which is generally very small, is mostly for mementoes and stuff. Not great photographs."
PPS, which was known for having knowledgeable sales staff who could talk to editors and buyers about photography, then expanded further. "After meeting Hiroshi Hamaya that day with Capa, we became friends, and I ended up working with him," says Kirschenbaum. "We organized the exhibition on his 50 years in photography." Hamaya ended up as one of many local photographers that his agency went on to work with, including Eikoh Hosoe, Takeji Iwamiya and many less well-known photographers. The company had such effect on photogra-phers and photography in Japan, in fact, that the Professional Pho-tographers Society of Japan gave PPS an award in 1989 for increasing awareness of the public about the cultural value of photography.
Kirschenbaum says that PPS's business was to make money for the photographers and that's what they did. They did it by selling to magazines, educational companies and advertising agencies, among oth-ers. Corporate calendars became a huge business. "Most people know about the Pirelli calendar," Kirschenbaum says, "but the Japanese corporate calendar business was, and is, second to none." In fact, at one time, Sony had more than five calendars for their various markets, and PPS was selling corporations photographs by such esteemed shooters as Ernst Haas.
TIMES CHANGE, AND SO
has the photography business, though Kirschenbaum remains optimistic. "We had 70 employees in our Ginza office at the peak," he says, "and we have 12 now. And instead of people squinting at light boxes we have people peering at computers, which can call up over 30 million photographs."
And while one might think that someone who built a business might be bitter about the technological revolution that has changed all the parameters, Kirschenbaum says no. "The world changes," he says. "Technology changes, science changes, society changes. We have to learn to use the new tools."
But he does sympathize with the photographers whose business models are changing daily. "You can feel the frustration of the photographers who see those people who just happen to shoot a celebrity or an accident in the street and are happy to get five dollars and their name out there," he says. "That's run a lot of photojournalists out of the business. In fact, a lot of photojournalists I know have given up their jobs and, ironically, are teaching young people who want to be photojournalists."
Kirschenbaum, who has just turned 80 but still works in his office ("as long as I enjoy it," he says) believes that photographers today need a niche if they want to get by. Wedding photography a huge market in the U.S. that is making inroads in Japan is one example. "It's something similar to the shashinkan, " he says, "the local photo studios that would take photos of families at important times in their lives. Now people are hiring photographers to document the whole marriage process, from betrothal to honeymoon."
But whether it's famous photojournalists or those working at local studios recording moments in people's lives, Kirschenbaum says it's the people behind the lens that have kept him focused on photography. "They are what makes it interesting," he says. "And they are what has kept me going all these years."
LUNCH AT THE CLUB WITH HENRI CARTIER-BRESSON AND FORMER FCCJ PRESIDENT AND PULITZER PRIZE-WINNING AP PHOTOGRAPHER MAX DESFOR
"THIS WAS ABOUT 1978 or 80, somewhere around there. I had just sold Cartier-Bresson's collection to Osaka University of Arts, and the organizers invited him to Japan for the opening. He came to Tokyo, where he worked out of our office for about 10 days, and we got to know each other. For some reason, I happened to mention the name of Max Desfor, who was a friend and member of the FCCJ. And Henri instantly said, "Max? Max Desfor? I gotta see him!"
"So I set up a lunch at the Club. They were so happy to see each other because, it seems, they had worked together at Gandhi's funeral way back in 1948. They described what they did together back then. Caught up in the crowds, Cartier-Bresson was flat on the ground, holding his camera high above his head, so high that he couldn't reach the shutter. Max had happened to get a perch a bit higher up, so Cartier-Bresson asked him, "Max, can you press the shutter for me?" So Max did.
"And what makes the story great is that the picture which Cartier-Bresson had no way of knowing exactly what he was shooting won the Overseas Press Award. They thought it was hilarious and were laughing about it over lunch."