Issue: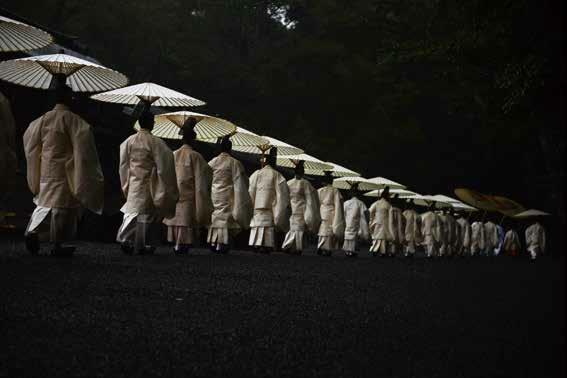 IN 1991, I MOVED from my home in Japan to New York City, where I spent the next 10 years. My world changed, however, as I watched the terrorist attack of 9/11 from my apartment window. I began a pilgrimage in search of answers to holy sites around America, the Middle East, Europe and Asia.
Then I was introduced to Ise Jingu. The moment I set foot on its grounds I could tell that it was a special place. It speaks to me deeply with its energy. It is very much alive, and it changes with the seasons. I returned numerous times after my first visit, losing myself in my photography.
Over 10 years I shot many rituals of the Shikinen Sengu, the unique renewal process of Ise Jingu. This "cycle" is one based on passing everything to the next generation. It is a symbol of a cycle comparable to life itself. Ise Jingu is the ultimate expression of humans not only living in harmony with nature, but living "as" nature.
I feel its philosophy could serve as a beacon of light for humanity, becoming not only a treasure for Japan, but for the entire world.
At the Asakai held on April 12, Hiroko Samejima, CEO of Andu Amet, described her struggles and ultimate success creating a bevy of beautiful bags for her Andu Amet design label using the silky soft leather of local goats in Ethiopia. In the whole process, she has also developed a market in Japan for a product with a truly sustainable model made by local Ethiopian craftspeople for which she has won recognition and awards. She recalled her experiences growing up in wartorn Iran, something that toughened her spirit and led her to create the ultimate soft and sturdy bags that "hug you."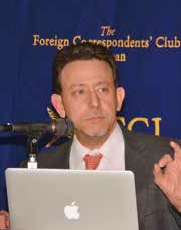 VOA correspondent and former FCCJ President Steve Herman's captivating talk at our April 19 Meet the Press event included insights from a 40 year career traversing from analog reporter to avid digital correspondent with a Twitter following of nearly 420,000. He highlighted the importance of news organizations to keep up in this hyper speed digital age and his concern about the growing number of fake news sites that appear legitimate. He cited one New York Times editorial that linked to a fake story, and said he's now making efforts to educate the public in news literacy. (LB)