Issue:
SPECIAL CAMPAIGN OFFER FOR NEW ASSOCIATE MEMBERS
The FCCJ is offering a special deal for new Associate Members. Until March 31 this year, those joining are eligible for a ¥100,000 DISCOUNT off of the regular fee of ¥300,000.
If successfully approved, the applicants will be able to enjoy all the member benefits: attendance at all the major press conferences and professional and social events; dining services at the Main Bar, Pen & Quill Executive Dining area and the Masukomi Sushi Bar; special discounts on sports, arts and cultural events; free wi-fi, half-price parking, the Club's monthly magazine; and access to reciprocal press clubs around the world.
Present members can also benefit. A ¥20,000 restaurant voucher will be given to those who introduce successfully approved new Associates. For more information, or to pick up an application form, go to the front desk.

---



REGULAR MEMBERS
SARAH BIRKE is the Economist's Tokyo Bureau Chief, covering Japanese politics, society and business. Prior to this she covered the Middle East and North Africa, first as the regional correspondent and then as Bureau Chief, reporting on some 20 countries. A specialist in Syria, she has lived in Damascus, Beirut and Cairo. Prior to joining the Economist, she wrote for a range of publications including the Wall Street Journal and the Times (London). She has also contributed to the New York Review of Books, London Review of Books and the New Republic. Sarah also lived in Italy for two years and spent time wandering Liberia in West Africa. She speaks Arabic, English, French, Italian and Spanish.
ADRIANA DIAZ is Asia correspondent for CBS News. Adriana attended Princeton University and received her Master's from Columbia University and France's Institut d'Etudes Politiques de Paris. Before joining CBS News in 2012, Adriana reported for the in-school news program Channel One News and hosted Yahoo's "Trending Now" web show. For CBS, she's reported from the U.S. Midwest, China, Japan, North Korea, South Korea, and Laos. Adriana has also covered Pope Francis' visits to Brazil in 2013, Israel and Palestine in 2014, Cuba in 2015, and Mexico in 2016, as well as the 2014 Winter Olympic Games in Sochi. She is from New York City and speaks Mandarin, Spanish, and French.
PEI-FANG TSAI is the Tokyo correspondent for Taiwan's United Daily News Group. She graduated with a degree in Journalism from National Chengchi University and a Masters in Political Science from National Taiwan University, before starting as a reporter for GTV News in 2003. She then moved to BCC News from 2005 to 2007 before taking a position as Senior Reporter for United News Daily. She believes strongly in the media's role as a watchdog for the public's interest and has been recognized with several distinguished journalism awards in Taiwan.
HIROSHI YOSHITSUGU, TV Tokyo Corporation
ASSOCIATE MEMBERS
Fumiyo Harimoto, OOCL Ltd.
Takatoshi Horikoshi, 3 Top Co., Ltd.
Tazuko Ikeda, Suntory Holdings Limited
Takayuki Yamada, Kanamecho Hospital
REINSTATEMENT (ASSOCIATE)
Arseny Chuk Besher, GREE, Inc.
Fumio Ishida, (No affilication)
Japanese Girl at the Siege of Changchun: How I Survived China's Wartime Atrocity
Homare Endo; Michael Brase (trans.)Stone Bridge PressGift from Center for International Relations, Tokyo University and Graduate School of Social Welfare
Anjin - The Life & Times of Samurai William Adams, 1564-1620: As Seen Through Japanese Eyes
Hiromi T. RogersRenaissance BooksGift from Hiromi T. Rogers
Tokyo: A Biography: Disasters, Destruction and Renewal The Story of an Indomitable City
Stephen MansfieldTuttle PublishingGift from Stephen Mansfield
Promoting Better Lifetime Planning Through Financial Education
Naoyuki Yoshino (ed.); Flore-Anne Messy (ed.); Peter J. Morgan (ed.)World ScientificGift from Suvendrini Kakuchi
Dare ga tosei o koroshitaka
Takashi UesugiSB CreativeGift from Takashi Uesugi
Nihon kaigi o meguru yottsu no taiwa
Tamotsu Sugano; Satoshi Shirai; Masakuni Murakami; Kohei Yokoyama; Akira Uozumi K&K PressGift from K&K Press
Kurosawa's Rashomon: A Vanished City, a Lost Brother, and the Voice Inside His Iconic Films
Paul AndererPegasus Books
Are You an Echo?: The Lost Poetry of Misuzu Kaneko
Misuzu Kaneko (poems); Toshikado Hajiri (illus.); David Jacobson (narrative); Sally Ito and Michiko Tsuboi (trans. and editorial contributions)Chin Music Press
Where simplicity equals elegance… a roll of vinyl tape is a thing of beauty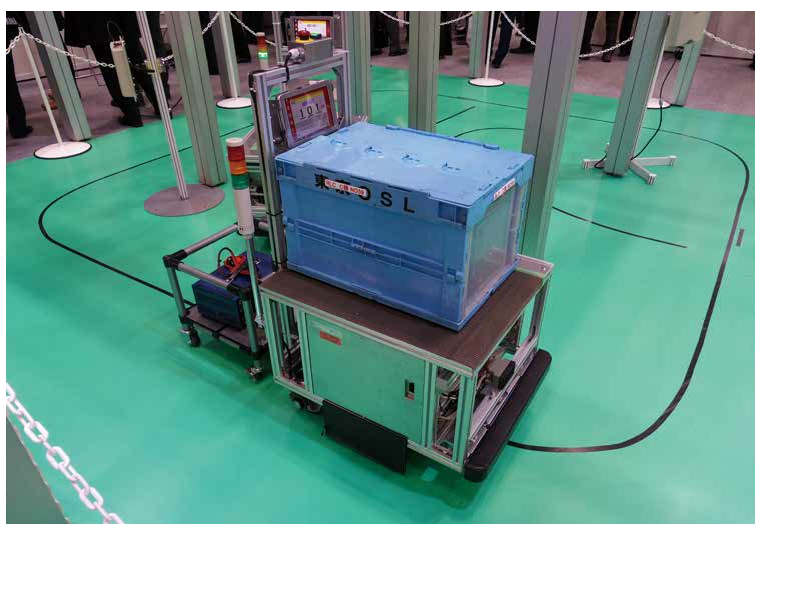 A paradox perhaps, but nothing delights high-tech engineers like an elegantly simple low-tech solution. And for low-tech it's hard to beat a roll of black vinyl tape of the kind likely found in your kitchen drawer. But that humble tape is the guidance system for Ricoh's new Automated Guided Vehicle (AGV) that shuttles goods around warehouses.
Developed by Ricoh Industry, a subsidiary focused on industrial solutions, the compact AGV can carry 60 kg. on its back and tow a 250 kg. trailer, threading its way into spaces, elevators for example, where conventional forklifts can't fit. And AGV has reduced by 70% the labor needed for tasks it now handles in Ricoh warehouses. Even with such dramatic labor savings though, automated systems are hard to justify if they require too much high-tech gear and lack flexibility.
Until now, automated carriers have used magnetic sensors to follow magnetic tape permanently fixed to the floor. But with AGV Ricoh engineers realized, to their delight, they could use less-costly optical sensors to follow ordinary vinyl tape. To change the route, just rip up the tape and replace it. An elegantly simple solution, controlled by an off-the-shelf laptop.
Watch this video of AGV in action:
https://yotrtu.be_HK7stB8EX8