Issue: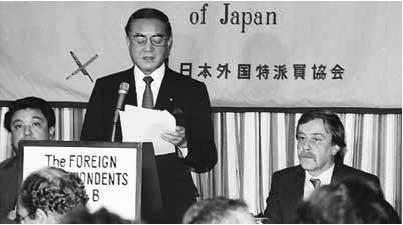 Prime Minister Yasuhiro Nakasone spoke at the FCCJ on Oct. 7, 1985, with Club President Jurek Martin (Financial Times) seated to his left. Nakasone read a prepared statement, including comments regarding his and his Cabinet's taboo breaking official visit to Yasukuni Shrine to pay tribute to Japan's war dead on Aug. 15, the 40th anniversary of the country's surrender. Until then, postwar visits by political leaders to Yasukuni, where 14 Class A war criminals were enshrined in 1978, had been private. Nakasone later told journalists that he had avoided engaging in religious rites to avoid a potential constitutional issue. Still, his official visit sparked domestic and international criticism.
Prime Minister Nakasone was no stranger to our Club, having expressed his opinions to journalists here in various ministerial capacities in previous years. On Dec. 1, 1970, he visited as director general of the Defense Agency, and commented on the suicide of Yukio Mishima less than a week earlier. "The literary genius always had in his left hand the spirit of Zen and in his right hand the pen that produced so many masterpieces," he said. "He had to kill himself when he replaced the pen with the ken, a sword."
Born in Takasaki, Gunma Prefecture, on May 27, 1918, Nakasone attended Tokyo Imperial University and served during World War II as an officer and paymaster in the Imperial Japanese Navy. He became a Diet member in 1946 as a proponent of Japan's traditional values, making his first big splash in 1951 by sending a letter to General MacArthur criticizing Occupation policies and again attracting attention in 1952 by criticizing Emperor Hirohito for losing the war. He became even more controversial with his support for a stronger national defense, including the acquisition of nuclear weapons and nuclear power research. After rising through the LDP's ranks and heading five ministries, he became prime minister in 1982.
Nakasone also served as a catalyst in bringing about major changes in postwar Japan. Internationally, he improved relations with the USSR, China and other Asian nations while solidifying an even closer relationship with the U.S. through his "Ron Yasu" friendship with President Ronald Reagan. Domestically, he made waves by pushing privatization of state owned companies, including the breakup of Japan National Railways, reducing the power of bureaucrats and calling for more patriotism in schools and textbook revisions.
Nakasone sparked another international uproar in 1986 with a comment that Americans were less intelligent than Japanese because of its many immigrants and blacks, then compounded that by saying the U.S. had succeeded despite these drawbacks. In 1987 he was forced to resign after a failed attempt to introduce a value added tax. Though he was one of the many politicians implicated in the next year's Recruit scandal, he remained in the Diet until 2003.
Nakasone, who will celebrate his 99th birthday in May, is Japan's oldest living statesman.